Thigh Wraps for Cellulite: How to Wrap at Home?
Many of us are trying to get back in shape using different home remedies, skincare products, and in-clinic procedures. From extreme diets and fitness workouts to DIY tips and invasive treatments, a woman can be looking for inch loss to look her best. Keeping the needs of their users in view, many skincare manufacturers are hitting the market with new products aimed at improving the shape and reducing the circumference of the body, particularly legs and lower body. Thigh wraps are one of the most touted and revered skincare products known to help lose some inches, tone up the loose skin, and treat cellulite.
Brief History
Thigh wraps for cellulite made of linen sheets were originally introduced decades ago for enhancing the outline of the thighs. They were also called thigh compression wraps due to their ability to reduce puffiness or herbal solutions due to the plant-derived ingredients used in them.

The reason to use them was to enhance the silhouette by treating underlying causes that lead to loose, orange peel-like, or inflamed skin. After these innovative treatments for cellulite took the beauty world by storm in the 1980s and 1990s, the traditional linen were replaced by plastic or thermal sheets.
What is a Thigh Wrap?
Thigh wraps for cellulite are targeted treatments for reducing imperfections due to cellulite and loss of skin elasticity. Thigh leg formulas are formulated with active compounds known for their abilities to remove lymphatic wastes and excess water, repair and renew skin cells, break down fat cells, increase microcirculation, and reduce inches,
help tightening skin after the weight loss
.
Compression wraps for cellulite or thigh slimmer wraps are specialized and most sought-after treatments at spas and clinics. However, at-home DIY wraps for cellulite are also equally popular due to the convenience of use, affordability, easy application, and effectiveness.
How Do Thigh Wraps Work?
Thigh wraps for cellulite work by delivering the skin with potent forms of active ingredients needed for inch loss, rejuvenating the skin, breaking down connective tissue fat deposits, and removing excess water and toxins. These actions ultimately curb the factors that give the skin an uneven or lumpy appearance.
When it comes to anti-cellulite at home treatments, GUAM is a known giant in the body care world due to its unique and powerful formulas.
GUAM Seaweed Mud
offers a wide variety of body treatments including the ones designed specifically for legs and lower body. Different formulas are intended to work for different skin problems and types.
Let's understand how each formula differs from others and what benefits each of them offers!
What are Different Types of GUAM Seaweed Wraps?
1. Slimming Wraps with Infrared Heat:
GUAM FIR Thigh Wraps: Guam thigh slimmer wraps are made of herbal ingredients specifically known for repairing and restoring saggy skin. While it may not be recommended to drink a lot of coffee, you can apply it to your skin to reap its instant slimming effect. Caffeine is a widely used ingredient in wraps for cellulite due to its vasoconstriction action that dilates blood vessels and improves microcirculation. Also, caffeine used in formulation is high in antioxidants, which help to protect the skin from cell damage.



Guam slimming wraps for inch loss also generate
Far Infrared Rays
when applied and produce a heating effect that enters deep into the skin and enhances the absorption of other ingredients as well. Furthermore, the heating effect of FIR accelerates blood flow, triggers fat metabolism, and reduces the volume of legs. These attributes lead to regenerative, firming, and skin tightening actions on the skin.
2. Cooling Thigh Wraps:
This type of wraps for cellulite are particularly suitable for people with sensitive or inflamed skin that can't tolerate heat wraps or other with strong or drying ingredients. The cooling effect comes from the addition of menthol that yields a soothing sensation on the skin.
The cooling complex not only calms inflammation and prevents irritation but also yields anti-cellulite, which helps to restore bumpy and loose skin. These detox
wraps for thighs
works to eliminate
water retention
, relieving heavy or swollen legs.
3. Speciality Thigh Wraps
Draining Thigh Wraps: As the name indicates, GUAM Dren Plus is tailored with powerful anti-inflammatory and detoxifying compounds that promote the removal of excess fluid and toxins by speeding up the lymphatic system. Plant-based extracts and seaweed are some of the commonly used detoxifying compounds. They are ideal for reducing swelling or puffiness caused by water retention.
Stubborn Cellulite. The formula of GUAM stubborn skin is specifically intended for deep-rooted cellulite which are hard to get rid of. They are packed with additional 14% concentration of seaweed. The three-time higher antioxidant power of seaweed is harnessed through the bioliquefaction process, which enables the treatment to work effectively, even on the most stubborn skin to reduce cellulite and restore the skin's firmness.
How Can Thigh Wraps Help You?
While these treatments can't help you lose weight or act as a substitute for a proper diet, they have their own unique set of benefits. There are a number of ways they can help you achieve smooth, sculpted, plump, and healthy skin. Here are a few things thigh wraps for cellulite can do for your skin:
·
Minimize Cellulite:
The main reason why most of us go for the treatments at home or a spa is to get rid of
cellulite on thighs
, legs, and buttocks. Thigh slimming wraps work to diminish the causes behind the skin damage that make the skin appear bumpy or wiggly. The anti-cellulite action includes fat breakdown, removal of excess water, and higher collagen synthesis.
·
Boost Microcirculation:
Thigh wraps contain natural ingredients, like seaweed, black tourmaline, and menthol, which enhance the supply of blood to the treated areas. As we know, a reduced blood supply is among the factors that add to the formation of cellulite. Those with circulation-boosting ingredients can be useful in eliminating this cause and keeping the blood running to the skin.
· Improve the Skin's Elasticity: Good-quality treatments are packed with plant-derived natural anti-aging ingredients, which act as cell regenerating and repairing agents. Also, bioactive extracts and oils in thigh slimmer wraps improve collagen levels in the skin, improving the overall texture and firmness of the skin. The tightening action is helpful in reducing connective tissue and fat pockets under the skin, which give rise to a bumpy appearance of the skin.


· Reduce Inflammation: If you're worried about swollen and inflamed legs due to water weight and toxins, try using formulas with detoxifying ingredients. Thigh wraps for cellulite can eliminate excess liquid and toxins accumulated under the skin, making the skin even, taut, and smooth.


· Exfoliate the Skin: Exfoliating your body is as important as exfoliating the face. Regular exfoliation can help to enhance the tone and texture of the skin. Thigh compression wraps with natural compounds, especially clays, work to slough off the dead and dry layer of the skin cells, revealing a softer and smoother complexion.


· Hydrate and Moisturize: Formulated with hydrating and moisturizing compounds, which restore the skin's moisture level and prevent further loss of moisture through the lipid barrier. This is the reason these are great for dry and dehydrated skin as well.


· Soothe the Skin: If you're experiencing dry, red, or itchy skin, formulas with calming and cooling ingredients can help to relieve your skin issue. The soothing properties make them safe for those with inflammatory skin problems as well. So, if you're worried about your sensitive and inflamed leg skin, just opt for a gentle and soothing formula.
How Do You Use GUAM Wraps for Cellulite?
No matter if you choose to use a DIY thigh wrap for cellulite or purchase one from a trusted seller, the way you apply it matters a lot. It's highly significant to know the proper procedure and the right steps while you use your body mud for cellulite and skin tightening. Here's how you can wrap like a pro and how it works.


Prep the Area: Before you apply GUAM formula, prep the area where you're going to use it, preferably do it in your bathroom to avoid any mess. Line the floor of your bathroom with a plastic sheet or newspaper.
Exfoliate the Skin: The next most important step is to get your skin ready to absorb the goodness of all the natural compounds. The best way is to use a scrub and slough off dead and dry skin from the legs before applying the treatment for cellulite.
Apply the mud: Once your skin is nicely prepared, proceed with slathering it on your legs in a circular massaging motion. Apply an ample amount of thigh wrap to cover the target area thoroughly.
Cover with Cling Film: After you have covered your thighs with the mud completely including wrapping inner thighs, cover the area with a cling wrap. Make sure the cling isn't too loose or too tight. It should be tight enough to hold the mud in place but not too tight that it slows down microcirculation to the skin. You can also cover legs with a bath towel to facilitate sweating.
Leave it on and Rinse: Once applied and covered, it's time to sit back and relax. Time of the application will be suggested on the box ( from 15 to 45 minutes). Rinse the area with lukewarm water to remove the formula and the cling together.
Moisturize and Treat: Pat dry the thighs and follow with your favorite body moisturizing cream or lotion. For a luxurious experience and to take the skin tightening and smoothing effects up a notch, use a boosting gel or cream.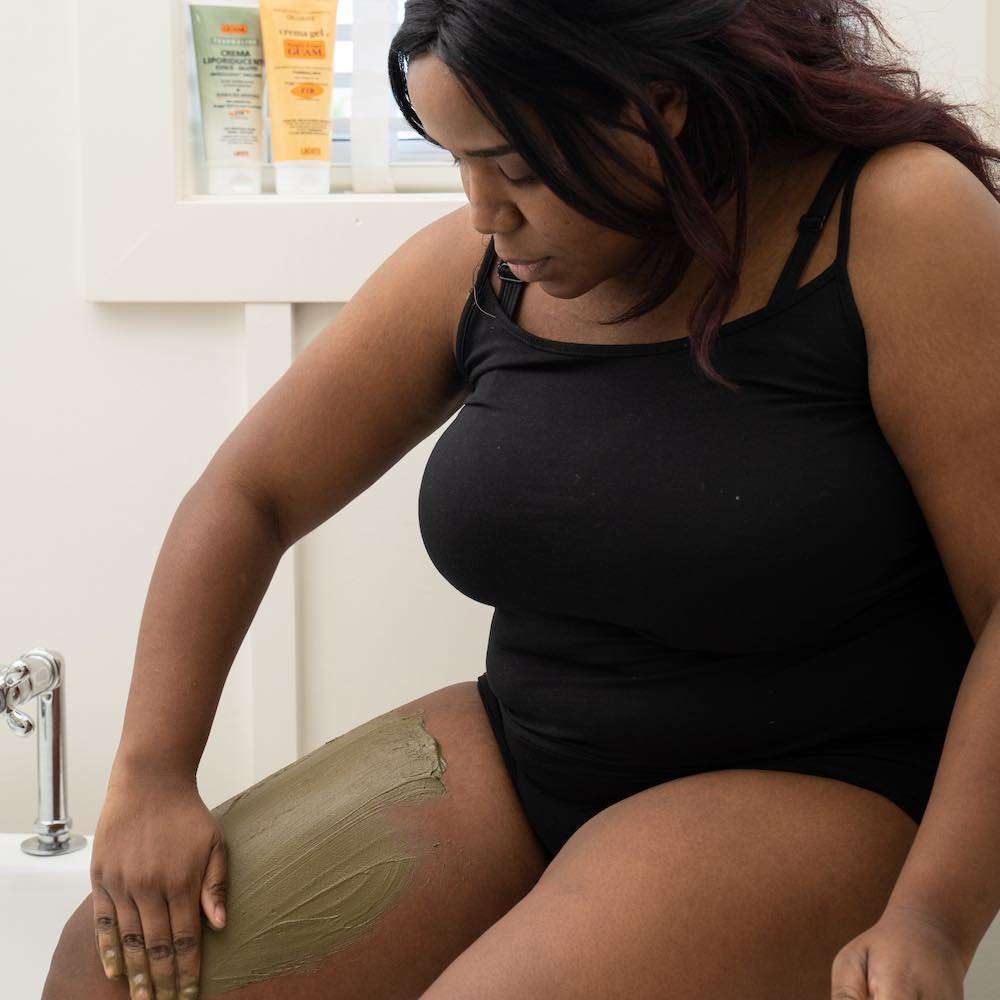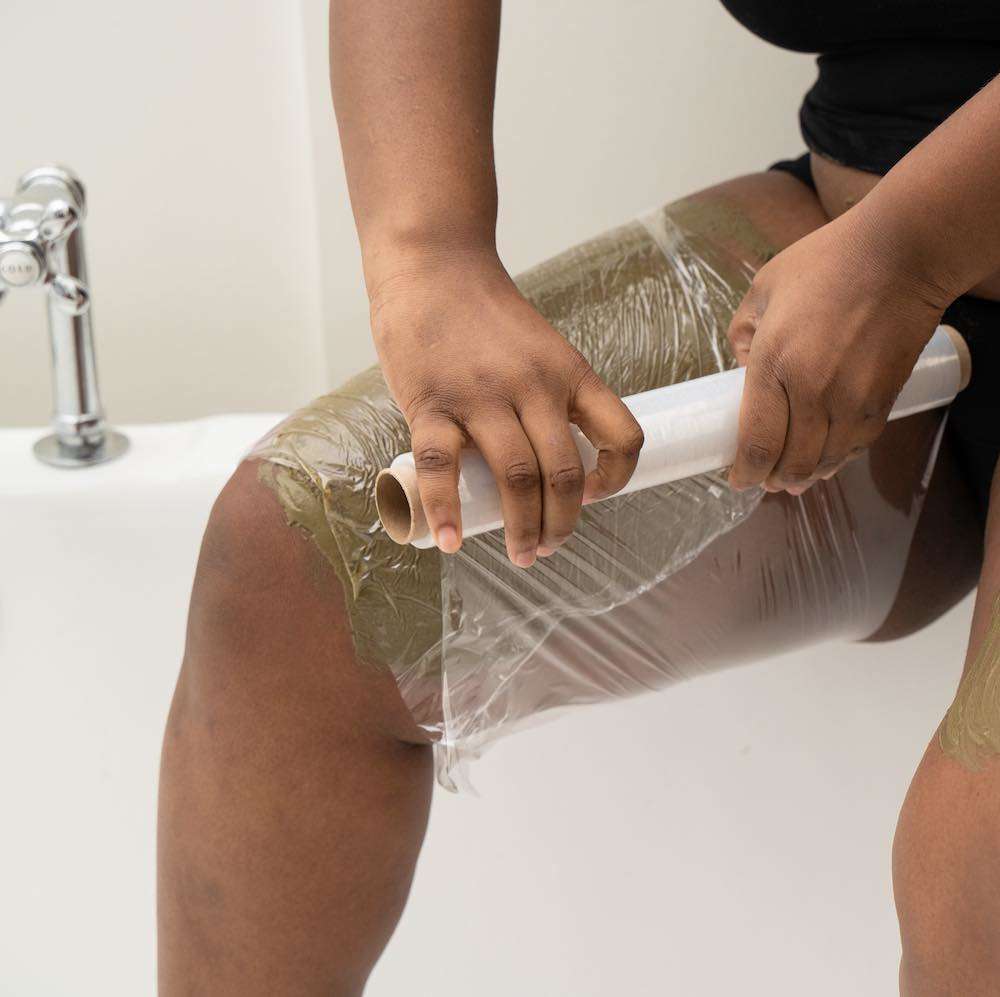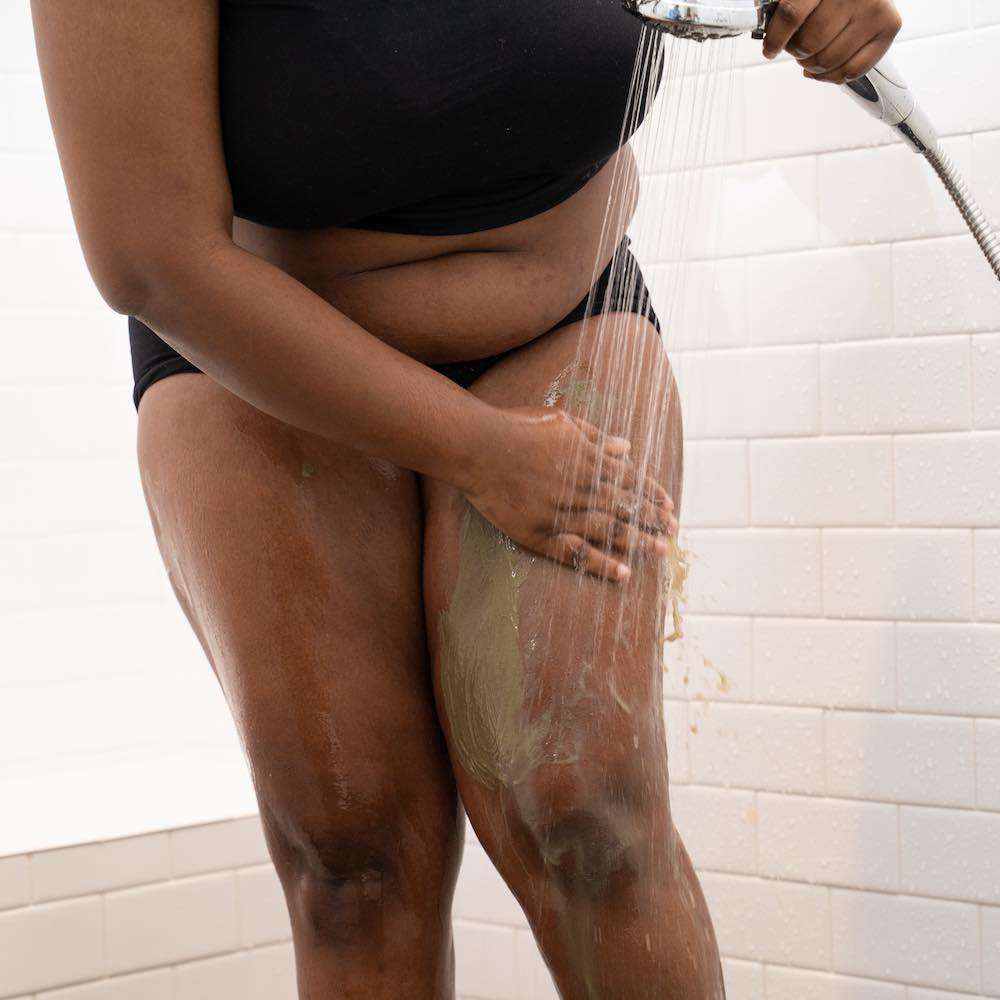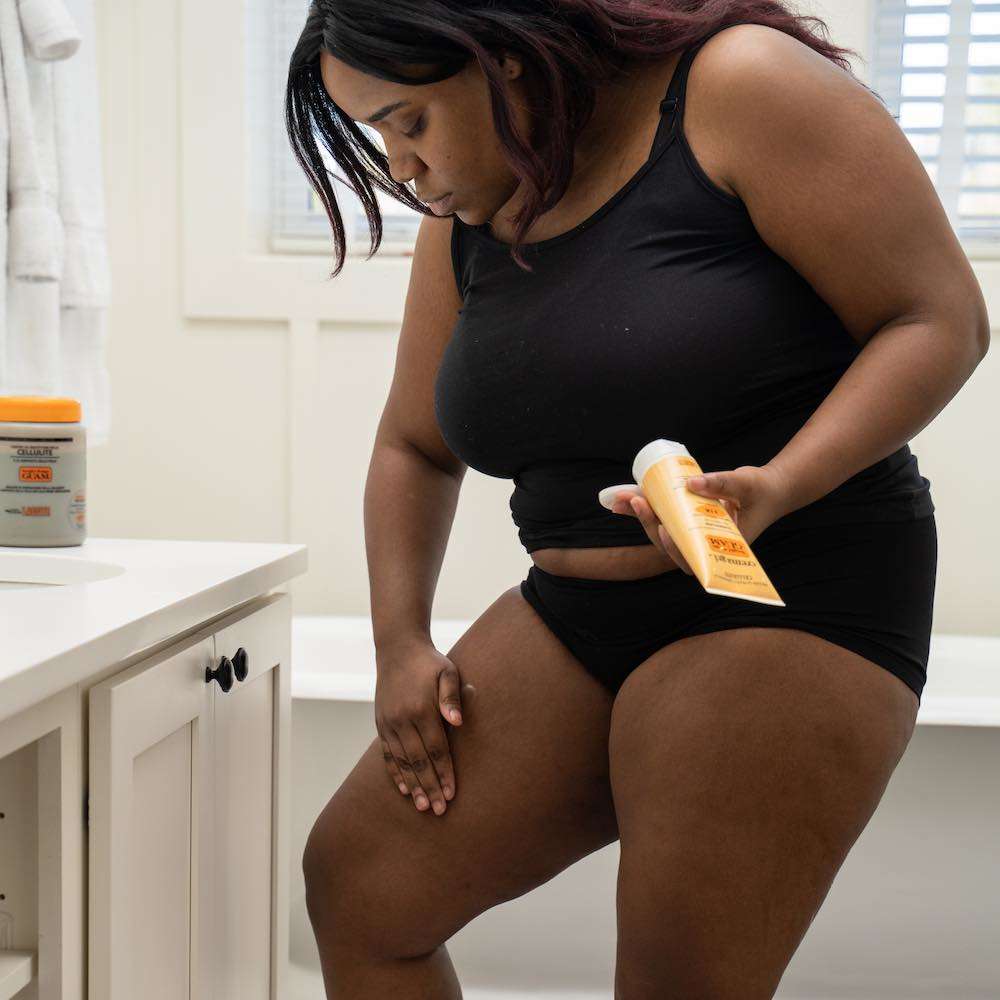 How to Get the Most Out of Your Thigh Wrap?
If you choose to use an at-home wrap for cellulite, it's important to take care of a few things to achieve your desired outcome. Here are some effective tips to help you reap optimal benefits from your DIY thigh wraps for cellulite removal:



Pick the Right Ingredients: Finding the right ingredients that work the best for your individual skin and its problems is the key to reaping maximum benefit out of your thigh wrap. You'll come across diverse types with different ingredients. Also, choose high-quality ingredients that ensure promised results and help you achieve your goal faster.
Exfoliate Your Skin: Exfoliating your legs and thighs before applying a thigh wrap for cellulite can further improve the efficiency. Exfoliation will remove dead skin cell pileup and clear your pores, allowing active components of your thigh wrap to enter deeper into the skin. Better delivery of nutrients will yield quicker and more noticeable anti-cellulite and slimming effect.
Stay Hydrated: Keeping your body hydrated is significant when it comes to getting the most from your thigh wraps for cellulite. Consuming an ample amount of water in addition to your thigh wrap will accelerate the removal of toxins and fat cells from the body. Also, some ingredients, like caffeine, can leave the skin dehydrated. Drinking water can help to avoid that problem.
Be Consistent: While many of treatments can make a difference even after the first application, it's important that you stay consistent and patient for prominent and lasting results. Gentle and natural ingredients might take some time to work their magic, but the wait is well worth your time and persistence. It's crucial that you use it as many times a week as recommended by the company, which is usually 4 to 2 times a week.
Use Boosting Products: Many brands are offering boosting products to use after these testaments. These products are designed to prolong the effects by supplying the skin with a continuous dose of anti-cellulite and firming ingredients. All you have to do is massage a boosting gel or cream and hit the sack or continue with your daily chores. The product will keep doing its work without you making any additional efforts.
Wear Anti-cellulite leggings. GUAM has a variety of cellulite-reducing leggings that can be worn up to 6 hours daily
Precautions
Like any other skincare product or treatment, these skincare treatments may also come with some downsides and may need special attention. It's normal to experience tingling and heating or cooling effect after you apply the formula.

However, if you have an allergic reaction to any of the ingredients, wash your skin immediately and don't use it again. If you have any ailment or skin disease, consult your medical specialist before trying those products on your skin.

Moreover, it's recommended not to use heating solutions during pregnancy to avoid any unforeseen side effects, although, it is safe to use them while breastfeeding.
Final Word
Thigh wraps or thigh compression wraps are one of the common and effective treatments for
reducing cellulite
, tightening loose skin, eliminating water retention, and breaking down stubborn subcutaneous fat deposits. You can choose from a variety of cooling, detoxifying, FIR, and slimming ones with different formulas aimed at treating different skin woes.
To get maximum benefits from the treatment, follow the instructions and apply it properly. It's important to note that like all other skincare products, thigh slimmer wraps may also take some time to give you noticeable and permanent results. Therefore, commitment and consistency are the keys to achieving your desired outcomes.
And don't forget to make some before and after images to track the progress!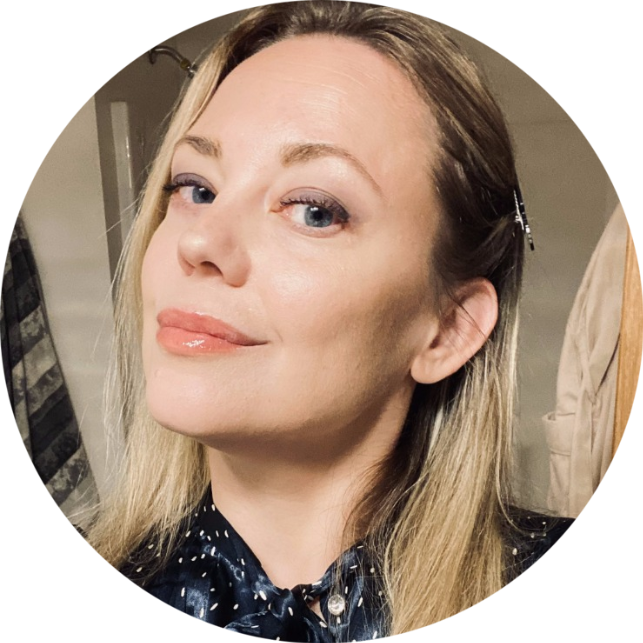 Author of the blog Yana Nesterova
Yana is the writer behind the Guam Beauty blog who firmly believes in the concept that beauty begins in a person's head, not in the mirror. Therefore, she strives to encourage her readers, who are beauty and skincare enthusiasts, to bring mindfulness into their skincare rituals by making more conscious choices. Her philosophy is to enable her readers to salvage mental peace and optimal health by living more mindfully and achieving their skin and body goals through
healthier choices.
Thigh Slimmer Wraps for Cellulite: How to Wrap Like a Pro? Sale 70% Off