Apr 18 , 2019
Cellulite on Thighs and Legs
Some little-known treatments or Alternative treatment ideas
A guide on how you can get rid of cellulite without breaking the bank!
Having visible cellulite on your legs can destroy your confidence like nothing else. It is a very common skin imperfection related to water retention, leg swelling, fatty deposits under the skin, and high estrogen levels. Both men and women can develop cellulite. However, it is more common in women. In fact, almost 90% of women suffer from this unsightly problem.

Luckily, there are highly effective measures you can take to reduce the appearance of cellulite by force removing fatty deposits out, making the skin look significantly more smooth and toned.

If you are wondering if you can benefit from such a treatment, here is a simple test you can try at home! Simply squeeze a large piece of your leg or buttock skin using your thumb and pointer finger. If you see dimpling in your skin that resembles the skin of an orange, this may be the right time for you to start thinking about which cellulite treatment options will best fit your skin needs.

First, let's find out what causes cellulite on legs and other parts of our bodies…
Common factors that cause cellulite:
The ultimate cause of cellulite is still unknown, however, it shows that it occurs due to the connection between the fatty layer and the connective tissue present below the skin's surface. The fatty cells are arranged vertically in women which protrudes within the skin layer leading to cellulite appearance. Check out the few common factors that cause cellulite:

1. HORMONAL FACTORS:
The female hormones play an ultimate role in the formation of cellulite. Hormones such as insulin, estrogen, thyroid hormones, noradrenaline, and prolactin are all known to cause cellulite progression.

2. AGING:
Increased age is also a risk factor leading to cellulite formation. Estrogen levels decrease after menopause leading to reduced blood flow towards the connective tissue. Aging makes skin less elastic, saggy and thinner leading to increased cellulite development.

3. GENETIC FACTORS:
Genes are also involved in the development of cellulite. They are linked with a person's metabolism, ethnicity, and fat distribution along with their circulatory levels.

4. LIFESTYLE AND DIETARY FACTORS:
Healthy lifestyle choices reduce your chances of suffering from cellulite. Individuals who consume increased amounts of carbs, fats along with salty foods are more likely at the risk of suffering from cellulite development. It is highly prevalent in smokers along with the people who live a sedentary lifestyle.

5. WEIGHT LOSS AND PREGNANCY:
Even though weight loss and pregnancy don't cause cellulite directly if you already had slight cellulite development it can become more visible due to those 2 reasons. In fact, losing weight or after pregnancy recovery period could show more cellulite as the skin that used to be stretched is now losing its elasticity and thickness. It needs some time to restore, until then, the weakened and thinned skin will show the cellulite on legs and make it more pronounced. So yes, women with thicker body skin have fewer issues with cellulite.
What if I already have cellulite?
There are several options for treating cellulite and saggy skin that most likely are the result of the last weight loss or pregnancy or any other reason from the list mentioned above.

We are sure you are aware that a healthy diet, hydration, and a regular exercise routine undoubtedly help to reduce cellulite, so we will save you time and skip obvious health and wellness advice and cut to the chase:

PROFESSIONAL CELLULITE REMOVAL DEVICES

As cellulite can't be treated in one time the course of treatment needed depends on the efficiency of the therapy. It can cost upwards of $10k for a full treatment. Most of us simply do not have the funds to spend on a cosmetic procedure however unwanted the problem may be.

1. Acoustic wave therapy. Sound waves are transmitted with the help of a hand-held device for treating cellulite.
2. Laser treatment. Improves cellulite by insertion of probe underneath the skin surface. It increases collagen production and thickens the skin to reduce cellulite.
3. Subcision. A needle is inserted underneath the skin surface for breaking up connective tissue bands.
4. Vacuum. Assisted precise tissue release-it cuts connective tissue bands with the help of small blades.
5. Carboxytherapy. Carbon dioxide is released underneath the skin which might result in reduced cellulite.
6. Endermologie. Deep massage is performed with a vacuum device which lifts up the skin.
7. Radiotherapy. Reduces the visibility of cellulite due to heat transfer
8. Ultrasonic lipo sculpting. This remedy aids in removing minor fat deposits which might help in reducing cellulite.
9. Laser-assisted liposuction. It also destroys fat but due to the lack of research, it is rarely used.


CELLULITE REMOVAL BODY WRAPS

When we talk about topical solutions as a more affordable solution it's mostly spa salons procedures that offer different kinds of body wraps for cellulite removal. The standard process is the following:

- Spa professionals make your skin ready for the treatment with special scrubs to get rid of the dead skin cells to make the skin more absorbing.
- They wrap you with a powerful anti-cellulite body wrap mask based on the clay and other active ingredients and leave you resting for 30-45 minutes
- Then the body wrap gets rinsed off and some strengthening boosting creams or moisturizers are applied.

It's one of the most effective non-invasive approaches but also requires at least 10 procedures and a certain consistency, that not only drains your pockets but also takes some serious time commitments on your part.

ANTI-CELLULITE CREAMS AND LOTIONS

It's well known that Retinol and Caffeine based creams are the only ones that are officially endorsed by the FDA to be efficient against cellulite on legs and thighs.
Unfortunately, the FDA is missing a whole range of other natural active ingredients that fight cellulite and are commonly used in European anti-cellulite brands. They have a great track record of studies and lab tests.
(Check the full list of
natural ingredients that reduce cellulite
and helps to improve skin).
Fortunately for you, you can still have access to all of the cellulite removal creams and treatments that became a Lovemark amongst over 1,000,000 women on the other side of the ocean, Italy.
We were not happy with the lack of selection in cellulite creams offering just common retinol and caffeine-based creams in the US market. So we are more than thrilled to share the amazing discovery of an Italian anti-cellulite cosmetic brand GUAM, that conveniently combines the efficiency of Spa procedures and the convenience of at-home treatments.
Guam has over 30 years of experience in the beauty industry, body care specifically.
They are keen on efficiency tests and studies to prove their products work. Their findings are always backed by real numbers, and they are always inventing new ways to reduce cellulite, by continuously discovering and testing new natural ingredients.

The innovative team at GUAM are always adding more and more convenient ways remedies, starting from spa-grade home body wraps to Infrared leggings, and bath line.

Unique patent formulas that combine Seaweed rich properties harvested from the clean ocean, Marine clays and incredible range of powerful essential oils and botanical extracts (shea butter, essential oils of lemon, sage, jasmine, oregano, rose: fukus, horsetail, bitter orange, horse chestnut phytoextracts - just to name a few).
Learn more about ingredients
In fact, GUAM is so advanced in fighting cellulite that they created products that specifically target each affected area of the body developing a special approach to address the specific needs of that area.

So here are 3 anti-cellulite at-home treatments that are specifically designed to reduce cellulite on legs and thighs: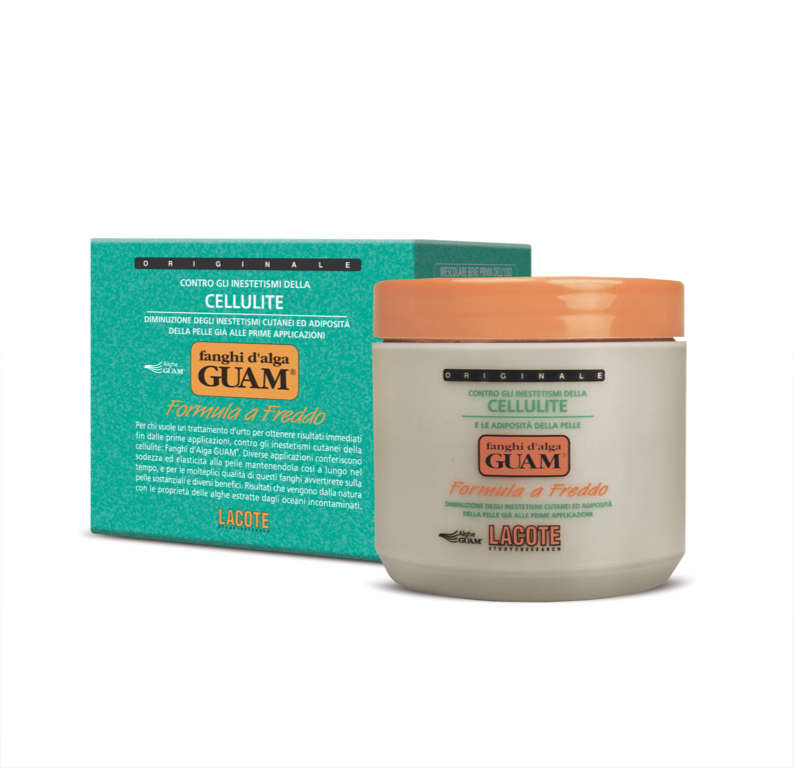 Sculpting & Firming
Anti-Cellulite Body Wrap for Legs
This is the very same the Seaweed Mud Wraps that a salon professional would be using if you visit the salon.

A blend of Mineral-rich marine clay, rejuvenating 21% Seaweed concentrate and nourishing Essential Oils decrease swelling and correct skin imperfections caused by cellulite on legs.

You would have the same instant toning and firming effect after just one application as you would after a spa procedure. The only difference is that you would be saving a ton of money while being in the comfort of your own home at the most convenient time for you.

Any kitchen plastic wrap will work and rinsing the wrap off in the shower will take no time.
Shop product
24hr Boosting Gel for Body Wraps
Cold Formula
This is a very light Seaweed mud-based gel cream to reduce cellulite on legs.

A very similar botanical and marine formula is used in this cream providing even more convenient ways to get rid of cellulite on legs. You can either use it daily as separate treatment or enhance and prolong the mud wrapping effect up to 24 hours.
Shop product
Slimming & Reshaping
Daytime Body Cream for Legs and Buttocks
If you looking not just to get rid of cellulite on legs but also work on your silhouette this anti-cellulite cream has a profound slimming effect.

Exceptionally effective and naturally-based, formulated with Silanetriol Caffeine and Seaweed concentrate this cream restores, rejuvenates, and conditions skin to reduce cellulite. Intensive cell-activating natural ingredients stimulate cell metabolism, microcirculation, and breakdown of fatty deposits.

As the slimming cream flushes toxins and excess fluid out of your tissues, potent antioxidants fight inflammation and repair cells, leaving your skin beautifully toned.
Shop product
Of course, you can use all those products together to enhance the effect and reach your body goals in no time!

Check other products that you might find more suitable for your skin specific needs at our store GuamBeauty.
Check GUAM products
---