How to Deal with Cellulite on Stomach. Quick Tips
Does your summertime body confidence get affected by the presence of cellulite on stomach?
You are not alone. Research has it that
up to 90% of women
struggle with feelings of insecurity due to
belly cellulite
. Luckily, these feelings of insecurity can be done away with since belly cellulite is only temporary with the right exercise and diet discipline.
And, while it is a common occurrence that women develop stomach cellulite and weight loss stretches due pregnancy or weight fluctuations, abdominal cellulite can cause insecurity and self-consciousness for many women. Cellulite on the abdomen is caused by factors such as genetics, lack of exercise, and an unhealthy diet. However, there are various ways to get rid of cellulite fast:
1. Balanced Diet
When reducing cellulite on the stomach area, it is important to stick to a healthy diet. You ought to incorporate fruits and vegetables in your meals and do away with fried foods. Fruits contain antioxidants which protect the body against the formation of free radicals which damage skin cells and lead to the formation of cellulite on the stomach.


Letting go of the alcohol and midnight snacks will go a long way in helping you get rid of the lumps around your waist. Alcohol and snacks that contain processed carbs have a high carbohydrate level and promote fatty tissue formation. The result is an increase in total body fat and high chances of cellulite formation.
Maintaining a
healthy diet
filled with fruits, vegetables, lean proteins, and healthy fats can also aid in reducing the appearance of cellulite on the abdomen. Overall, maintaining a healthy lifestyle is crucial for reducing the appearance of tummy cellulite and promoting overall health.
2. Exercises for Cellulite
One effective solution for reducing the appearance of cellulite on the abdomen is through regular exercise.
Short and highly intense workout routines are recommended for cellulite exercises.
It is important to focus on both high-intensity cardio sessions and weight training to prevent further cellulite formation.
Cardiovascular exercises, such as running or cycling, can help burn calories and eliminate excess fat in problem areas such as the stomach.
Targeted exercises, such as crunches and planks, are also effective in toning and tightening the abdominal muscles.
3. Creams for Cellulite in Stomach
Another effective solution for reducing cellulite on the abdomen is through the use of topical anti cellulite creams or treatments. These products typically contain caffeine, which has been shown to improve circulation and tighten the skin. When applied regularly, these anti cellulite creams can help reduce cellulite on belly safely.

Caffeine is rich in antioxidants, which help with eliminating cellulite and is also an exfoliant that tones your skin and makes it appear fresh. Caffeine is also the most widely known lipolytic chemical (lipolytic is a chemical that "break down" fat)., the antioxidants contained in coffee, tea, and green tea have an anti-cellulite effect, due to their anti-glycation, antioxidant, anti-adipogenic and anti-inflammatory action.

There are numerous cellulite removal creams in the market, and it can be hard to choose one. We would recommend tummy creams with natural and organic ingredients that has multiple benefits to the body, such as a caffeine or essential oil of lem.
GUAM Duo Slimming Tummy Cream,
Stomach Skin Tightening
One of the primary culprits of stubborn cellulite is less skin elasticity in tummy area, resulting in sagging and dimpled skin. Slimming Tummy Cream contains a blend of natural ingredients that help to restore skin firmness and tone.
Dehydrated skin is another common cause of cellulite. When skin cells lack moisture, they can shrivel up and lose their plumpness. Our cream is designed to provide deep, long-lasting hydration to minimize the appearance of cellulite.
Our formula contains ingredients that work to reduce the size of fat cells and fatty tissue in the stomach area.
Shop here
GUAM Tummy Tightening Cream
for Stomach Cellulite
An ultimate solution to combat the stubborn belly fat and fatty tissues that affect your skin elasticity. This cream contains a mud-based formula that deeply penetrates the layers of your skin, resulting in increased blood circulation and reduced cellulite tummy.

The antioxidant rich exclusive blend of natural ingredients in this anti-cellulite cream includes the renowned Guam Seaweed as well as black pepper essential oil, which has been known to promote skin firmness and elasticity.
Shop here
4. Stomach Body Wraps
If you are looking for a quick solution how to lose belly cellulite before summertime hits, body wrapping is your ultimate hack. Stomach wraps involve the use of a sheet (can be plastic or linen) which is wrapped around the stomach. Its purpose is to increase the rate of sweating in this area and get rid of unwanted fat faster.


Before wrapping the stomach, a layer of natural products containing active ingredients like Seaweed, Marine Clays, Algae is applied to the stomach to help reduce the production of cellulite by the belly tissues. When using
body wraps for stomach
, it is important to stay hydrated to prevent water loss instead of cellulite elimination.
Seaweed is eich in iodine, iron, calcium. Restore, rebalance, depurate, moisturize and soften the skin, effective against orange peel dimpling caused by
water retention
. Remineralizing (the mineral content is higher than that of terrestrial plants), they are a precious source of active ingredients, fight cellulite and skin aging.
Marine clays hve high absorbency rate, removes toxins purged from the skin, sloughs of dead surface skin cells, natural cleanser, leaves skin silky smooth.
White kaolin clay is the gentlest and thus great for sensitive dry skin.
Red kaolin clay has the most absorbing powers of the bunch and is best for oily skin. This is a great addition for acne/detoxifying masks for the face or body.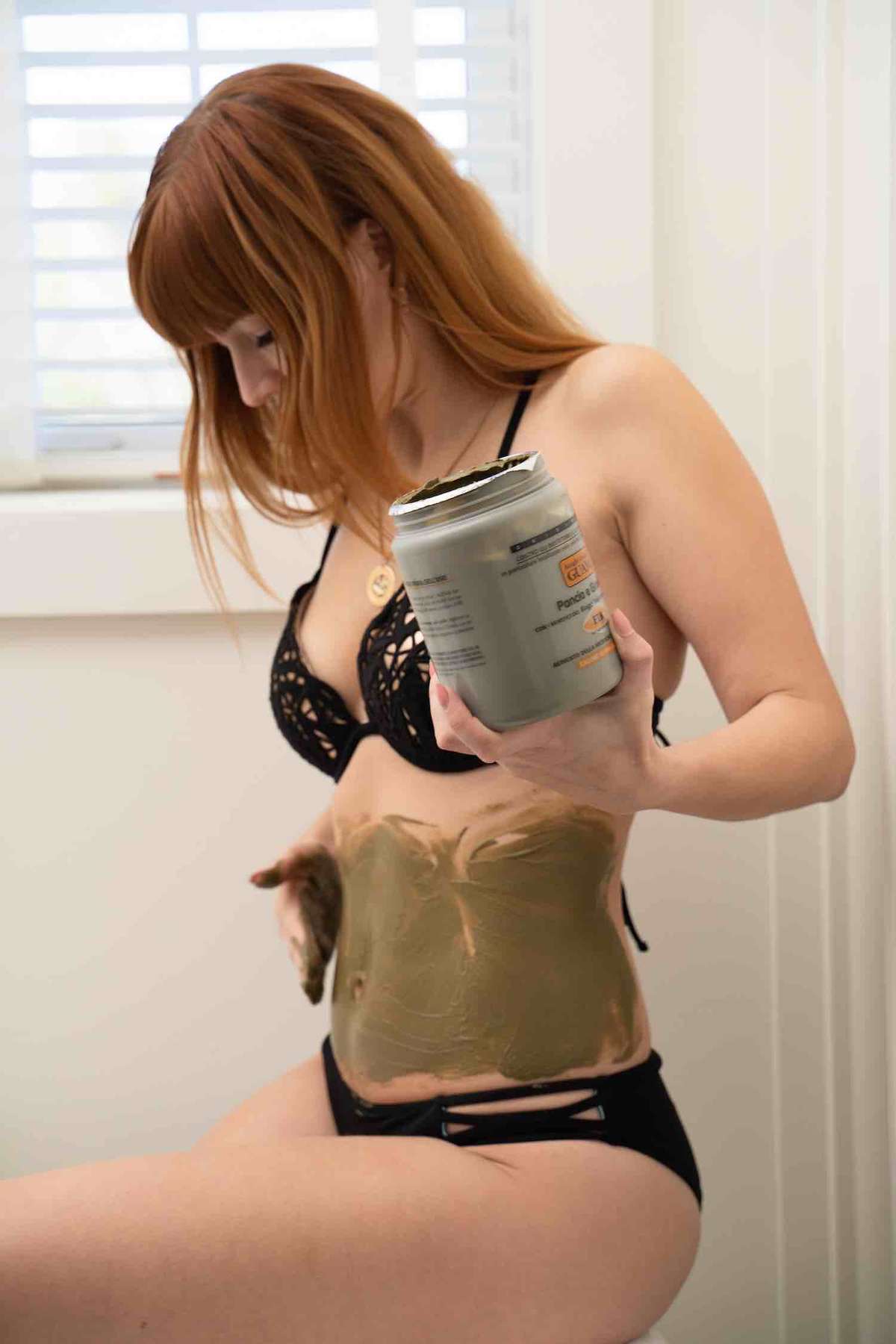 GUAM Tummy Tightening
Cellulite Stomach Wrap
This product designed to target stubborn belly fat and cellulite on the tummy. This innovative product is formulated with a powerful blend of
Seaweed and Marine Clay
that work together to penetrate deep into the skin tissue to stimulate the breakdown of belly fat cells.
Fat cells accumulate in the belly region due to various factors such as genetics, poor diet, lack of exercise, and
weight gain
. These factors can cause the skin's connective tissue to weaken, leading to the development of cellulite.
The seaweed contains a high concentration of minerals, such as iodine and iron, which promote healthy skin and aid in the detoxification process. The hydrating mud helps to improve the skin's elasticity by nourishing it with essential nutrients that penetrate deep into the epidermis.
Shop here
5. Belly Cellulite Massage
Additionally, massage therapy has also been shown to be effective in reducing the appearance of cellulite on the abdomen. This is because massage helps increase circulation and lymphatic drainage, reducing cellulite on the abdomen.


Choose the Right Massage Oil:
To enhance the effectiveness of your belly massage, select a high-quality massage oil that contains ingredients known for their skin-toning and cellulite-reducing properties. These cellulite massaging oils can help stimulate blood flow, promote detoxification, and improve the overall appearance of your skin.
Massage Technique:
Start by applying a generous amount of massage oil to your belly area. Using gentle to moderate pressure, perform circular motions with your fingertips or palm. Focus on massaging in an upward direction, as this helps encourage lymphatic drainage. Gradually increase the pressure as you feel comfortable, targeting areas with visible cellulite or uneven texture. Remember to maintain a consistent and rhythmic motion throughout the massage.
Incorporate Kneading and Pinching:
In addition to circular motions, incorporate kneading and pinching techniques during your belly massage. This helps target deeper layers of tissue, stimulating collagen production and improving skin texture and eliminate cellulite. Gently pinch and lift small sections of skin, moving along the contours of your belly. Knead the skin between your fingers using a gentle squeezing motion. These techniques can aid in breaking down body fat deposits and improving the overall texture of your skin.
Stay Consistent:
Consistency is key when it comes to achieving noticeable results. Aim to perform belly massage at least 2-3 times a week for optimal benefits. Consider making it a part of your self-care routine or incorporating it into your post-shower skincare regimen. Over time, with regular practice, you may start to notice a visible reduction in belly cellulite and an improvement in skin tone and texture.
Getting Rid of Cellulite on your Stomach
In conclusion, cellulite on the abdomen is a cosmetic problem that can be treated effectively by making some lifestyle changes, undergoing treatments, and using effective products. Whether you choose to change your diet, exercise more, or get professional help, getting rid of
cellulite on body
may require some patience and commitment. But with consistency and a positive attitude, you can achieve smoother, firmer, and more toned skin, and enjoy a healthier lifestyle in the long run. Be sure to incorporate the right diet and exercise plan, use reliable treatments and products, and follow a consistent routine to reduce cellulite.
Eliminating cellulite is a process that requires consistency. Whether you choose the workout plan, diet, skin care creams, or body wraps, it is important to stay consistent.
Visit our product page for more solutions to the problem of
cellulite on stomach
and gain your summer body confidence back!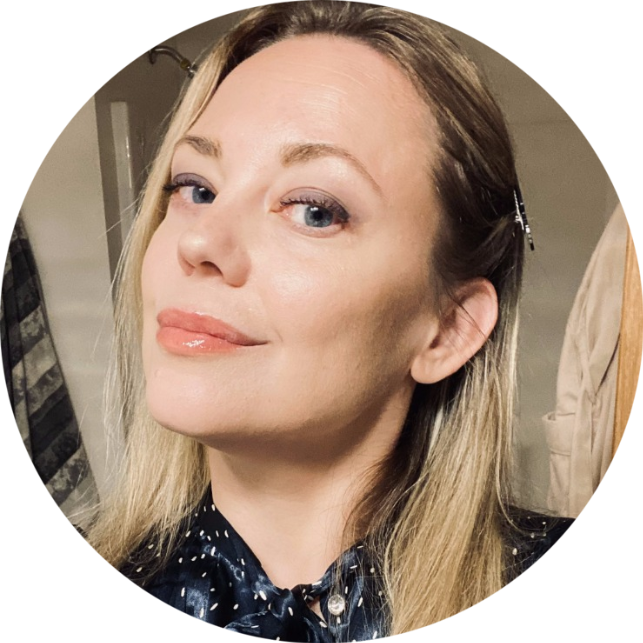 Author of the blog Yana Nesterova
Yana is the writer behind the Guam Beauty blog who firmly believes in the concept that beauty begins in a person's head, not in the mirror. Therefore, she strives to encourage her readers, who are beauty and skincare enthusiasts, to bring mindfulness into their skincare rituals by making more conscious choices. Her philosophy is to enable her readers to salvage mental peace and optimal health by living more mindfully and achieving their skin and body goals through
healthier choices.
How to Deal with Cellulite on Stomach Sale 70% Off