Unveiling the Secrets of Weight Loss Body Wraps: How They Work and What to Expect
Are you struggling to lose those last few stubborn pounds? Weight loss body wraps might just be the secret weapon you've been looking for. These popular spa treatments claim to help you shed inches and detoxify your body. But how exactly do they work, and what can you expect from a body wrap session?
In this article, we will unveil the secrets of weight loss wraps and provide you with all the information you need to know. We'll dive into the
science behind body wraps
and explore the different types available. From seaweed wraps to clay wraps, we'll discuss their effectiveness in helping you achieve your weight loss goals.
We will also delve into what you can expect during a body wrap session, including the application process, duration, and potential side effects. Additionally, our expert tips will guide you on how to maximize the results of your body wrap treatments.
If want to discover if they're worth the hype, keep reading. It's time to uncover the truth behind this popular beauty trend.
What Are Body Wraps for Weight Loss?
Body wraps for weight loss are treatments that involve wrapping the body in a combination of natural materials such as seaweed, clay, or herbal substances, often in combination with a heated blanket or other devices. The aim of the treatment is to help detoxify the body and to promote weight loss by reducing
excess water weight
and the appearance of cellulite.
During a body wrap treatment, the skin is first exfoliated to remove any dead skin cells and to help open up the pores. Then, the wrap mixture is applied to the skin, and the body is wrapped in a special type of cloth or plastic film. This helps the body absorb the ingredients in the wrap mixture and promote sweating, which can help to flush out toxins and reduce water retention. The duration of a body wrap for
weight loss treatment
can vary, but a usual weight loss wrap typically lasts between 45 minutes to an hour.
How Do Body Wraps Work?
These wraps work in a few different ways, depending on the types of body wraps and its ingredients. However, generally speaking, wraps work by helping to detoxify the body, reduce water retention, tighten the skin, break down fat cells deposits, lose inches, and promote weight loss.


The process typically involves exfoliating the skin to remove any dead skin cells and to help open up the pores. Then, a mixture of natural ingredients, such as clay, seaweed, or herbal extracts, is applied to the skin. The body is then wrapped in a special type of cloth or plastic film to help the skin absorb the ingredients and promote sweating.

The ingredients in the wrap mixture can vary depending on the specific goals of the treatment. For example, clay wraps are often used to help detoxify the body and reduce water retention, while herbal wraps are used to promote inch loss and reduce the cellulite.
Types of Body Wraps for Weight Loss
There are various types of body wraps for weight loss and inches loss, and these weight loss wraps can differ in their ingredients and methods of application. Some of the most common types include:
Clay wraps: These wraps use clay or mud to help detoxify the body and reduce water retention. The clay is usually applied to the skin, followed by a wrap to help the body absorb the ingredients.
Herbal wraps: These wraps use herbs like caffeine and essential oils to help promote fat loss and reduce the appearance of cellulite. The herbs and oils are often combined with other ingredients, such as clay or seaweed, for added benefits.
Seaweed wraps: Some wrap treatment uses seaweed to help detoxify the body and promote inch loss. Seaweed is rich in vitamins and minerals that can help improve the appearance of the skin and reduce water retention. It is believed to help stimulate the metabolism and improve circulation.
Infrared body wraps: Infrared wraps use heat to help lose weight by reducing abdominal fat and lose inches in other areas. The heat can help increase blood flow and metabolism, which can lead to reducing the number of fat cells.
Best Ingredients to Check for
Here are some of the best ingredients in body wraps that are believed to help lose weight:
Clay: Clay is a common ingredient in body wraps that is known for its detoxifying properties. It can help to draw out toxins and impurities from the body, which may help to reduce water weight.
Seaweed: Seaweed is rich in vitamins and minerals that can help to nourish the skin and improve its appearance. It is also believed to help detoxify the body and reduce water retention.
Herbal extracts: Herbal extracts, such as green tea, caffeine, and aloe vera, are often added to body wraps to help stimulate circulation and promote weight loss. Green tea and caffeine can also help to boost metabolism, which can increase calorie burn.
Essential oils: Essential oils, such as peppermint, eucalyptus, and lavender, can be added to body wraps to help promote relaxation and reduce stress. This can be beneficial for overall health and wellness, which may indirectly support weight loss efforts.
Caffeine: Caffeine is a stimulant that is often used in wrap treatments due to its potential to help with weight loss. Caffeine may help to reduce the cellulite by stimulating blood flow and promoting the breakdown of fat cells. It is a diuretic, which means that it can help the body to release excess water and reduce bloating.
Apple cider vinegar: It's known to have weight balance benefits due to its ability to help regulate blood sugar levels and promote satiety. It may also help to reduce bloating and water retention.
Best Weight Body Loss Wraps
Not sure which wraps for losing weight and weight loss belly wraps to invest in? No worries! Here are our picks to make your search easier: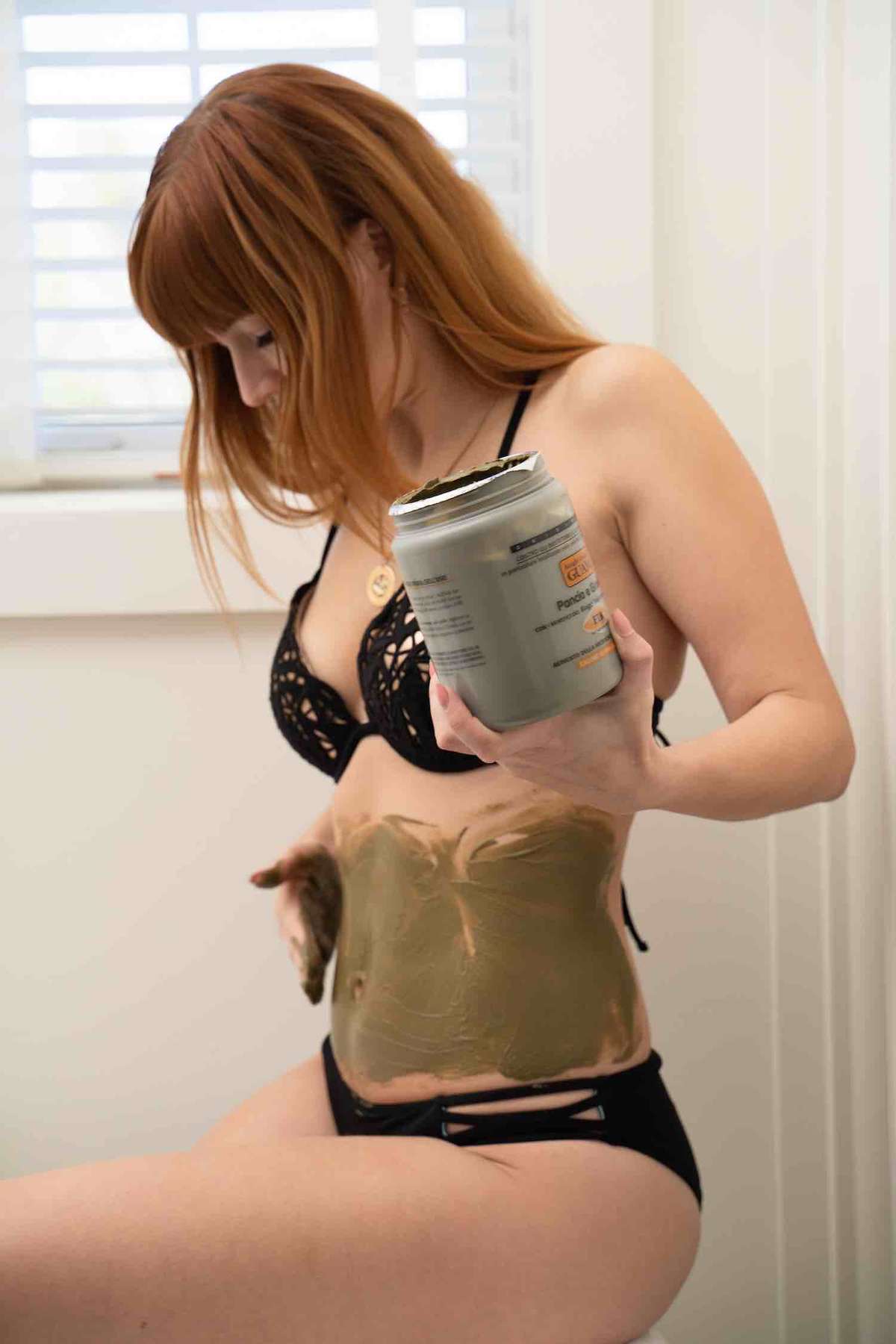 Tummy Tightening
Cellulite Stomach Wrap FIR
This tummy-firming Infrared body wrap for the stomach with Infrared Heat is specifically designed to tighten and tone the belly area. This tummy wrap visibly smoothes out lumps and bumps caused by cellulite in the stomach, tightens loose skin and reduces fatty tissues for a toned stomach you can't wait to show off.

The formula is a mixture of natural bioactive ingredients, such as Guam seaweed, black tourmaline, marine clay, essential oils, and plant extracts.


When you are pregnant, it's best to get the extra care you need right away. This natural weight loss wrap for the stomach helps with recovery after pregnancy, reducing swelling in the belly area, firming loose skin, and restoring your tummy to its previous shape.
SHOP NOW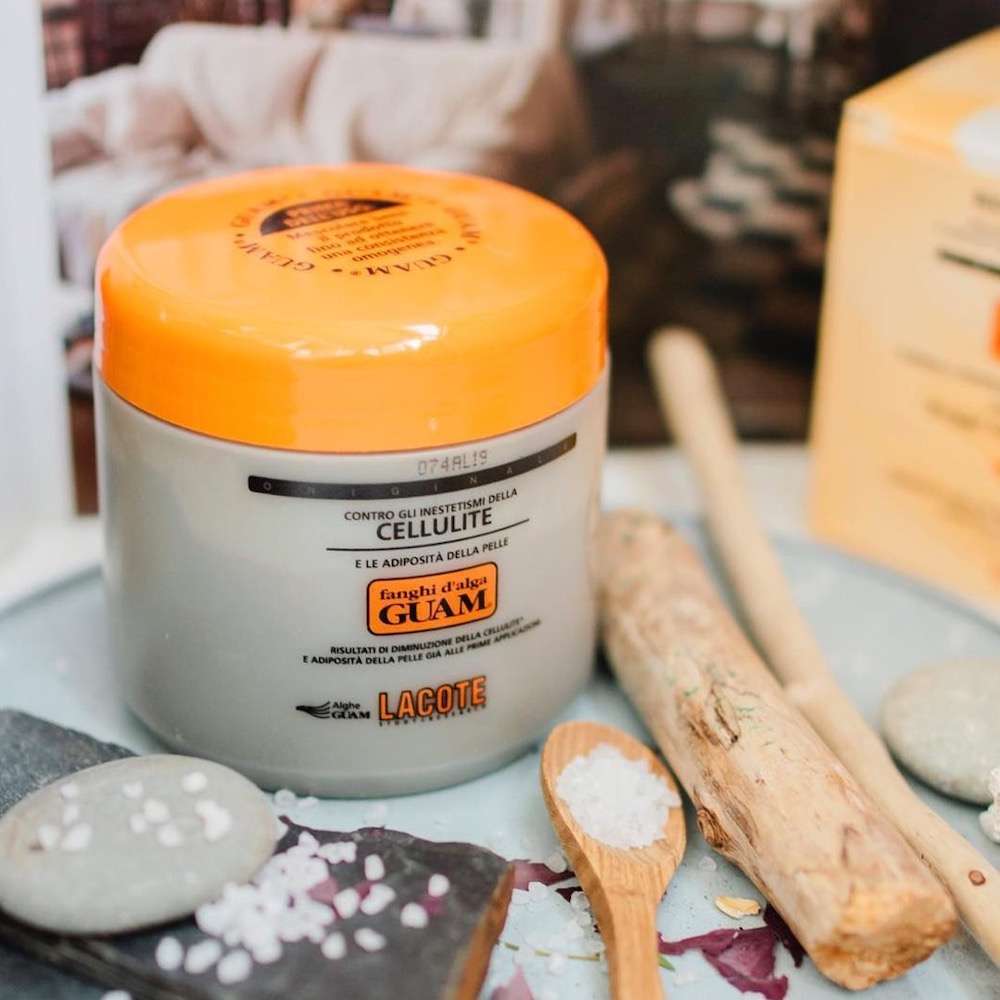 Max Strength
Anti-Cellulite Body Wrap for Stubborn Skin
Get rid of deep-rooted fat deposits under the skin and other causes of cellulite by using Max Strength Anti-Cellulite Wrap for Stubborn Skin. Containing the finest seaweed mud from Guam in the South Pacific Ocean, this concentrated weight loss body wrap works to reduce stubborn fat and cellulite in just three weeks.

Guam Extra Strength Anti-Cellulite Clay Wrap is a potent antioxidant-rich blend of highly concentrated and pure dried Guam Seaweed, triple-strength Seaweed Phytoextract, all-natural Botanical Essential Oils, Plant-derived Extracts, and Mineral-rich Marine Clay.

If you have tried every weight loss body wrap out there, but nothing seems to have worked, this max strength wrap might be the answer to your problem.
SHOP NOW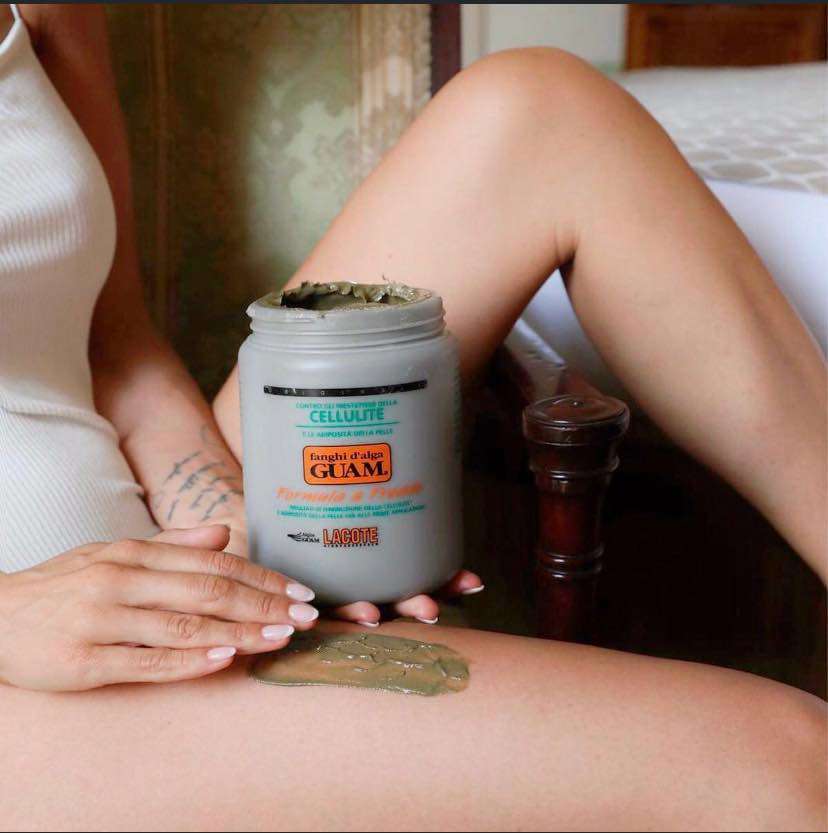 Sculpting & Firming
Cooling Anti-Cellulite Body Wrap
The specialized formula of this weight loss wrap is particularly effective for those trying to minimize cottage cheese-like appearance and tighten and uplift loose skin of their legs.

The contents of this weight loss body wrap work by deeply absorbing into the skin to stimulate the lymphatic system, encouraging the removal of excess water and toxins that cause heavy, inflamed, and puffy legs. The wrap contains menthol in addition to the usual Guam Algae, plant extracts, mineral-packed marine clay, and nourishing natural oils.

Menthol in the formula yields an instant cooling and soothing effect on the skin and delivers anti-inflammatory benefits. So, if you want to achieve toned and slender legs while getting rid of loose skin and cellulite, this wrap is your best shot at it.
SHOP NOW
How to Use Body Wrap for Weight Loss?
To reap the most benefits out of wraps for weight loss, here is the correct sequence and method of using it:
Prepare the skin: Begin by taking a warm shower or bath to help open up the pores and prepare the skin for the body wrap. Use a gentle, non-irritating exfoliating scrub to remove any dead skin cells and improve circulation.
Apply: Apply the wrap mixture to the skin, focusing on areas where you want to target weight loss. Use a brush or your hands to apply the mixture evenly, taking care not to apply too much.
Wrap : Wrap the body in plastic wrap or a special type of cloth to help promote sweating and to keep the wrap mixture in place. You can also use compression garments to help promote weight loss and reduce the appearance of cellulite.
Relax: Once the body wrap is in place, relax and let it work its magic. Most body wraps should be left on for 30-60 minutes, depending on the specific instructions.
Rinse off: After the recommended time has passed, remove the plastic wrap and any remaining mixture with warm water. Apply a moisturizer to the skin to assist in locking in hydration and nourish the skin.
Conclusion and Final Thoughts
Weight loss body wraps can be a relaxing and indulgent spa treatment that offers temporary inch loss and detoxification benefits. While the science behind body wraps may not be fully understood, many individuals have reported positive experiences.When considering weight loss wraps, it's important to approach them with realistic expectations and understand that the results may vary.

Remember, the key to long-term weight loss and overall wellness lies in adopting a healthy lifestyle that includes balanced nutrition, regular exercise, and self-care practices. Weight loss wraps can be a part of that journey, but they should not be relied upon as the sole solution.

So go ahead, indulge in a body wrap session, relax, and enjoy the pampering experience. Just remember to listen to your body, stay hydrated by drink plenty of water, and embrace a holistic approach to your wellness goals.
Join Guam Beauty Newsletter
for more articles like this and special in-email only exclusive promotions!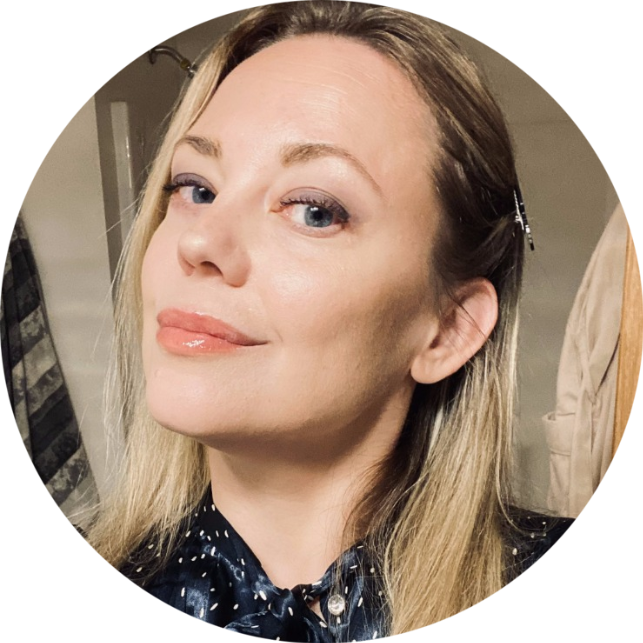 Author of the blog Yana Nesterova
Yana is the writer behind the Guam Beauty blog who firmly believes in the concept that beauty begins in a person's head, not in the mirror. Therefore, she strives to encourage her readers, who are beauty and skincare enthusiasts, to bring mindfulness into their skincare rituals by making more conscious choices. Her philosophy is to enable her readers to salvage mental peace and optimal health by living more mindfully and achieving their skin and body goals through
healthier choices.
Unveiling the Secrets of Weight Loss Body Wraps: How They Work and What to Expect Sale 70% Off