Are Anti-Cellulite Leggings Really Effective?
Are you struggling with cellulite? Well, you're not alone. Cellulite is a normal part of development for most of the women around the world. It's basically the byproduct of the way our bodies store fat. It may seem to be a minor aesthetic concern for a few, but reducing its appearance can be remarkably confidence-boosting for many. That's the reason women are continuously in pursuit of finding the best anti-cellulite products and treatments. Anti-cellulite leggings are among those few products being touted as one of the best remedies to reduce the appearance of dimpled skin.

The trend of anti cellulite compression leggings that started from social media went viral and rapidly gained popularity in the entire beauty world. Many brands are coming up with different types of anti cellulite pants to help people feel more comfortable in their skin. If it sound too good to be true to you, keep on reading to have a closer peek at how to choose best leggings for cellulite reduction, do anti cellulite leggings work, and what are the different options available before you spend a fortune on them.
What Are Anti Cellulite Leggings?
These are basically specially designed tight stretchy pants that are meant to tone up your muscles, help in shedding extra weight, and reduce the
cellulite on legs
, thighs, buttocks, basicllay all lower parts of the body. Think of these leggings as corsets and girdles for your lower body.
Anti-cellulite leggings maybe tighter and different from typical pants. The material used in the production of these leggings is specially formulated to perform the aforementioned functions in helping to tighten the muscles and minimize cellulite. The synthetic fabric provides a firm grip whereas typical cotton or sports pants lose their firmness after a few usages.
Generally, anticellulite leggings cover the area from the waist all the way down to the calves or ankles to provide full coverage to all problematic parts of the body. Most brands keep the design attractive and elegant so you can use them in your everyday routine. The slim-fit style of no cellulite reducing leggings allows you to wear them under most clothing comfortably and seamlessly.
What to Look for When Buying Anti-Cellulite Leggings?
Choosing the best anti cellulite leggings can be a hectic and challenging task since there are plenty of options available, all claiming to work the best. Here are a few factors to consider in such a case:


Material: It's needless to say that the quality of the material used will determine how well they perform. The most commonly used materials are nylon or neoprene, spandex, polyamide, and polyester. These materials offer great flexibility, smoothness, and fit tightly along the skin for a comfortable and classy choice. Also, anti-cellulite panties with breathable material and the addition of any active ingredients is the best option.
Waistband: Anti-cellulite leggings usually come with a steady and firm high waistband to ensure there is no stomach bulge and the band stays firmly in place during exercise or while you run errands throughout the day. Too high or too low waistband can also make it uncomfortable to wear the leggings for longer. So, look for cellulite leggings that are high waisted or mid waisted so the stay on your mid-section.
Durability: This factor becomes particularly more significant when buying anti-cellulite leggings. You can be sure in its durability when leggings are made of high-quality synthetic material. Also, they must have gusset sewn into them to improve their durability and flexibility and be a squat-friendly choice.
Performance: The shape wear should have anti-odor, anti-bacterial, and moisture-absorbing abilities so you can wear them to the gym or in daily routine without having to worry about sweating or stickiness.
Size: You can find leggings in various sizes and lengths, such as low waist, high waist, knee-length, or ankle-length. If you have some deposits around your waist or on your abdomen, make sure to buy high-waist leggings to smooth out fat deposits a.k.a. cellulite beneath the skin. It's a great idea to measure the circumference of your thighs, calves, and knees to find the best fit for you and avoid creasing or crumpling of fabric and women feel confident wearing them.
GUAM Anti-Cellulite Leggings Review
Now that you know all the basics of good-quality leggings, let's get an in-depth view of why GUAM anti-cellulite leggings have become the talk of the town and how do they work.



Emana fabric Leggings. The motion-activated fabric of GUAM Active Wear is made using Emana Guam Technology, which tones and tightens your thighs, buttocks, and calves. GUAM leggings also boost microcirculation and improve the skin's suppleness, leading to a reduction in cellulite. The flexible material makes them super comfortable and allows a range of movement even though no compression is used while production.
Seaweed micro-capsules. Moreover, they contain bioactive ingredients in combination with microencapsulation technology that facilitates the gradual and consistent release of active ingredients, including GUAM seaweed and caffeine. These cellulite leggings allow your skin soaks the goodness of these ingredients along with working on making cellulite look lesser noticeable.
Infrared leggings. That's not all, bioactive minerals in Emana fabric get absorbed into the body and turned into Far Infrared Rays that targets the deeper layers of the skin and speed up the process of sculpting effect.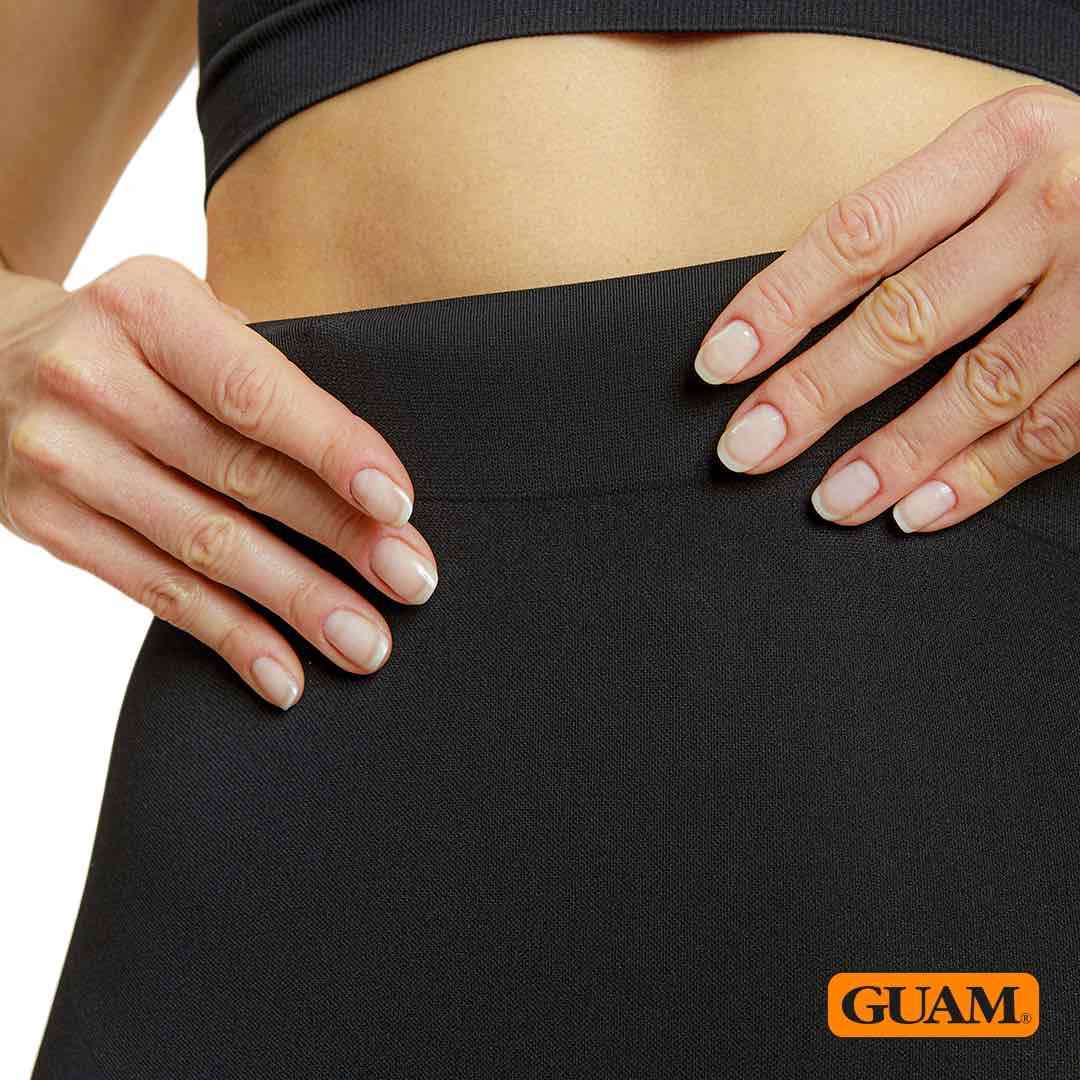 Guam Leggings and Capris are mid waisted and have a comfortable, body wrapping waistband for a great tummy control.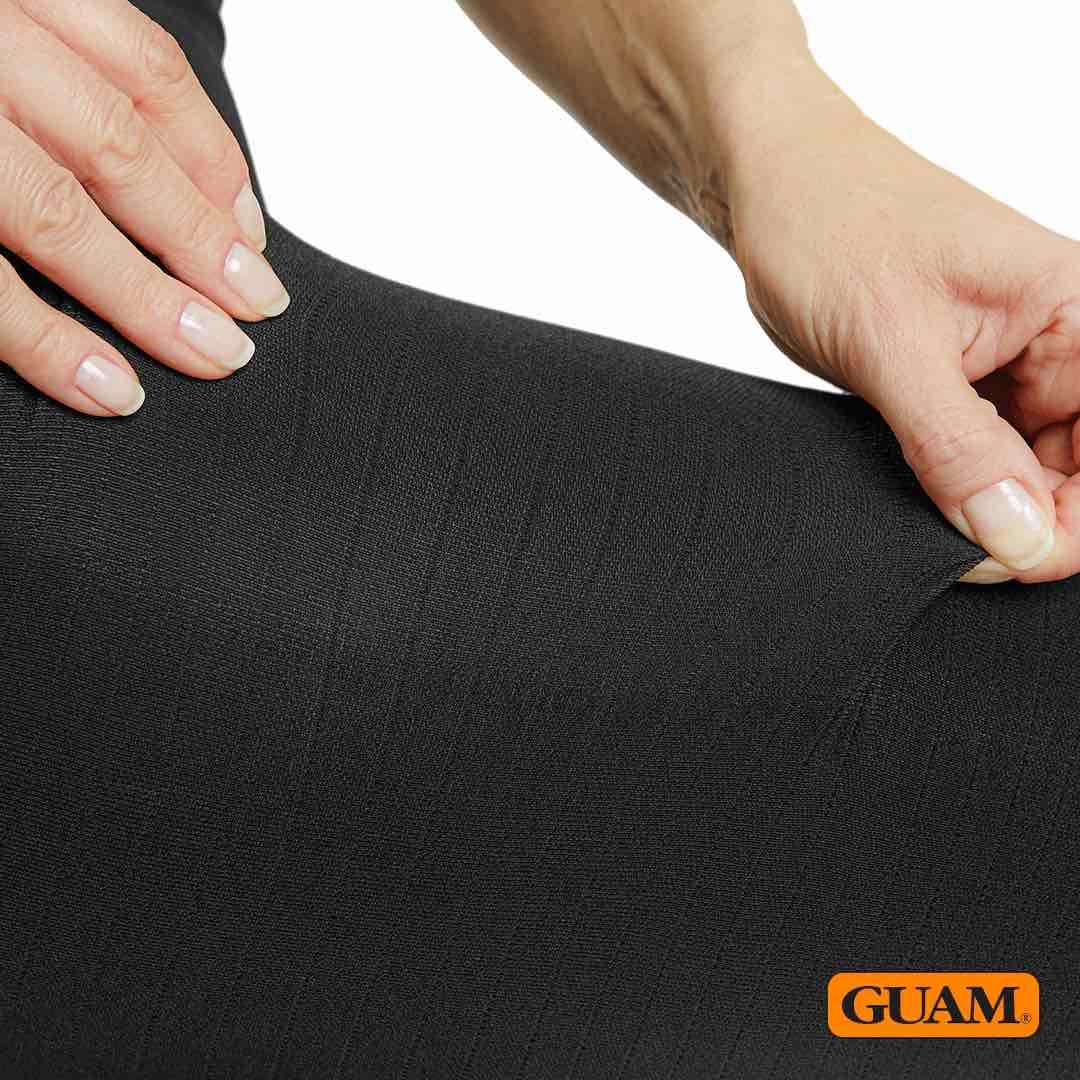 Cellulite tights with Heat reflecting fabric is stretchable, super comfy, durable and can be washed with high temperature.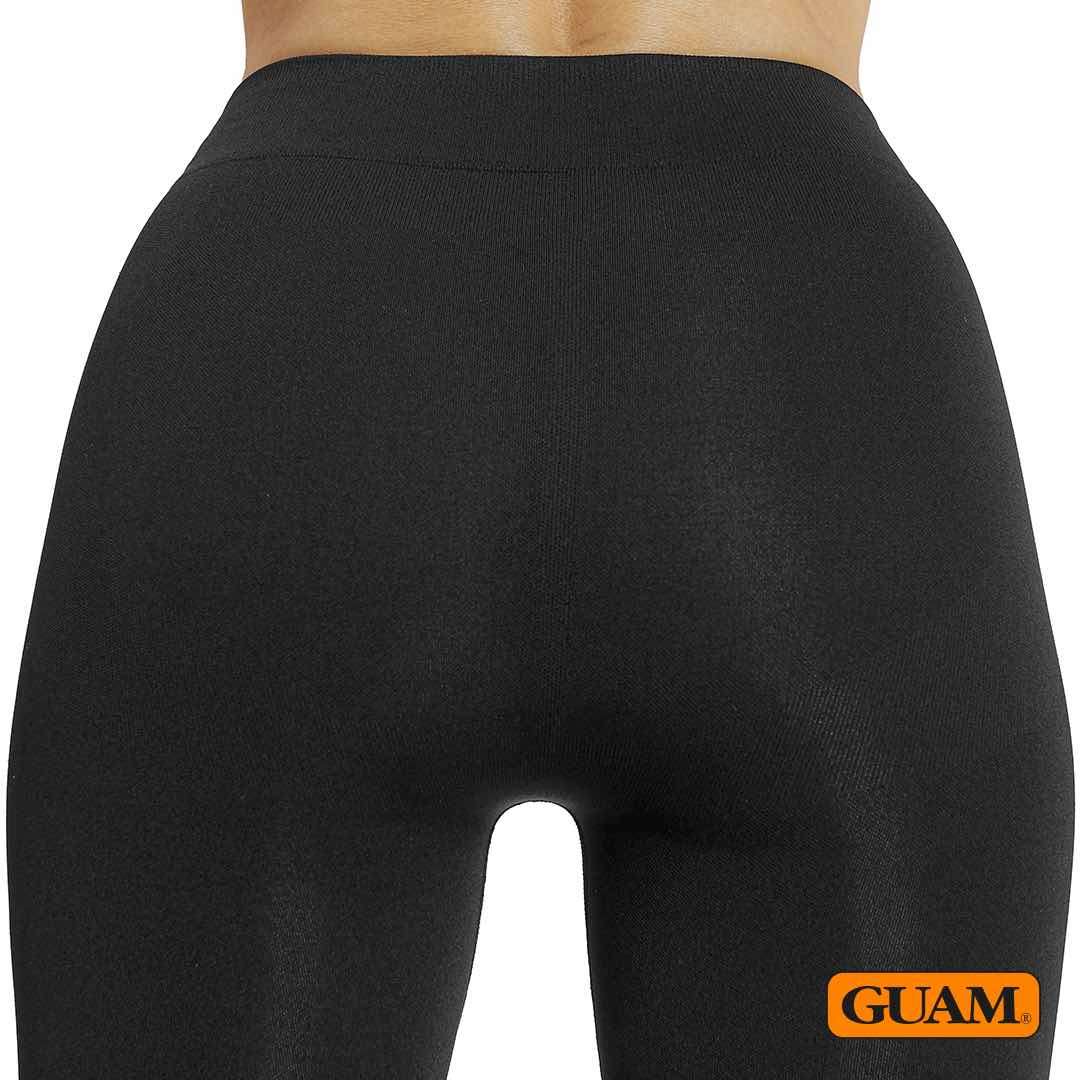 Some Guam Leggings have a buttocks shaping effect.
How Do GUAM Anti-Cellulite Leggings Work?
Polyamide is known as the most effective and highest quality material due to its skin firming and smoothening properties. The state of the art Emana polyamide microfiber of GUAM Active Wear is incorporated with bioactive mineral crystals that perform to minimize even the most stubborn cellulite.


Emana technology was initially used by NASA in the production of space suits to enhance blood flow during the long periods of inactivity. The textured fabric absorbs the body's heat and converts it into Far Infrared energy that penetrates deep into tissues and works on a cellular level to aid in your quest toward skin imperfections removal.


Additionally, the GUAM leggings use a microencapsulated technique that allows the microencapsulated seaweed to be released into the skin throughout the day. GUAM Seaweed is scientifically proven to revitalize skin cells, break down fat cells, and reduce the appearance of cellulite.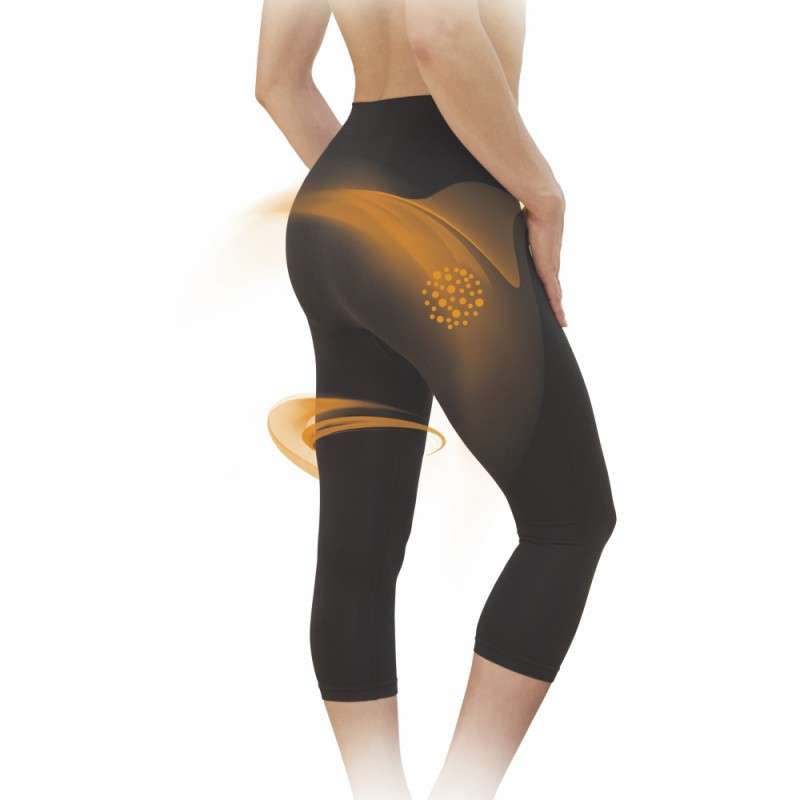 Target cellulite on legs, thighs, ankles with Infrared heat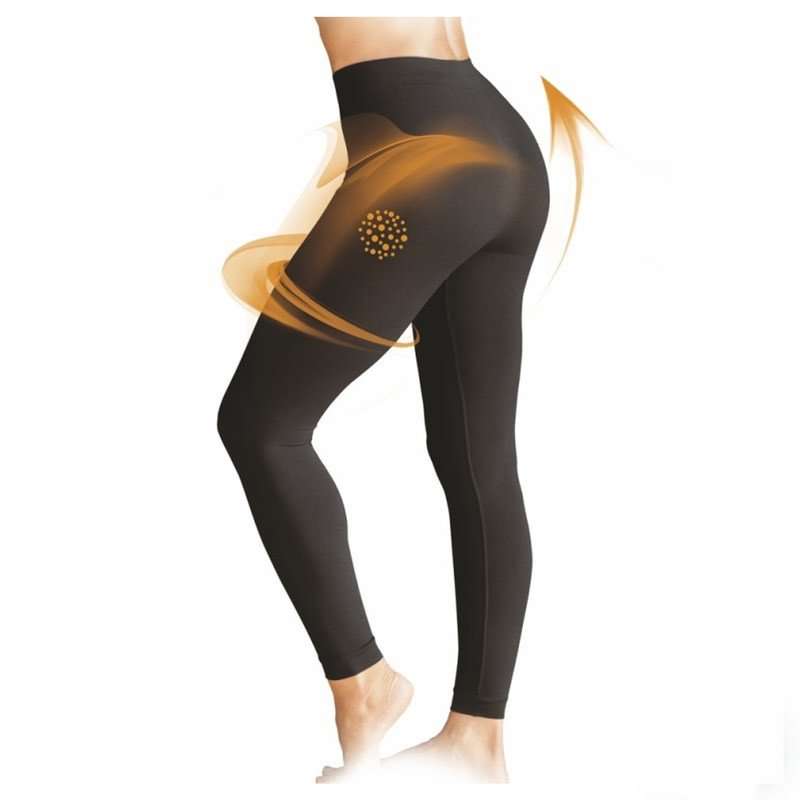 Shape and lift your buttocks, increase microcirculation
How to Chose GUAM Anti-Cellulite Leggings?
At GUAM we understand that not all of our customers have similar concerns and needs. Therefore, we offer a range of leggings for everyday wear to fit all your specific requirements and provide an optimum sculpting effect.



SHOP GUAM LEGGINGS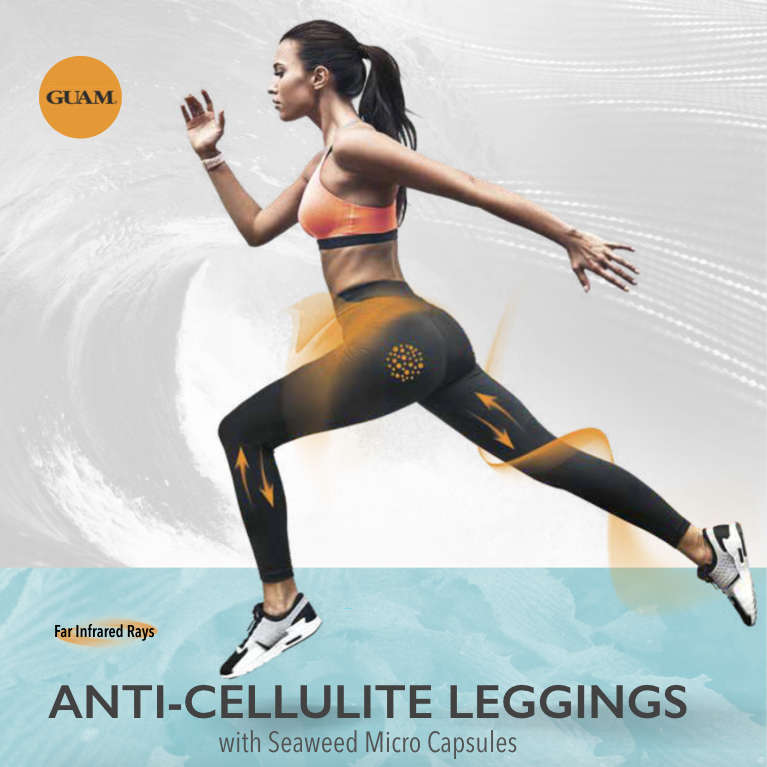 Guam Classic
Anti-Cellulite Leggings
and
Capri
with Infrared Heat are ideal for everyone and highly beneficial in firming and toning hips, buttocks, and legs. Those leggings not only hide cellulite but work on reducing it.
Pros
Smooths away imperfections caused by cellulite
Improves skin's elasticity and tone
Slims fatty tissue deposits
Visibly contours legs, hips, and buttocks
4 different colors
Seamless design
High waist tummy control


Cons
See-through, better to use at home or under outdoor pants.
Shop now
GUAM Pro Massage
Anti-Cellulite Leggings
If you're into sports and fitness take your regular workout to a whole new level. The new textured breathable fabric of these leggings with advanced micro-massaging effect makes it a perfect anti-cellulite treatment.

Fibramar® is more than mere fabric; it's a testament to elegance and sophistication. With its meticulous construction and infusion of nature's treasures, these garments harmoniously enhance your innate contours, making a statement of grace and refinement.

Pros
Boosts microcirculation with massaging effect
Smooths away imperfections caused by cellulite
Improves skin's elasticity and tone
Thick non see-through fabric for sports activities
Textured leggings
High waist tummy control
Cons
Only comes in black color
Shop now
GUAM Comfort Fit
Anti-Cellulite Leggings
In addition to infrared energy and microencapsulated ingredients, these cellulite leggings come with micro-massaging technology that promotes blood circulation, activates the lymphatic system to enhance slimming while workouts, tightens the muscles.
Best leggings for gym or outdoor!

Pros
Maximizes the slimming action during fitness
Thick no-see fabric great for sports and workouts
Boosts blood circulation with massaging effect
Improves skin's elasticity and tone
Textured fabric
High waist tummy control
Cons
Only comes in black color
Shop now
GUAM Power Fit
Anti-Cellulite Leggings
Behold the fusion of science and style in our reshaping and lifting leggings, a masterpiece born from the synergy of potent Guam® Algae, bioactive minerals, and the penetrating energy of far-infrared rays (FIR). At its core lies the revolutionary fabric, FIBRAMAR®, a hallmark of innovation that imparts unmatched slimming and toning effects to these cellulite leggings making them an ideal yoga pants!

Pros
Boosts microcirculation with massaging effect
Smooths away imperfections caused by cellulite
Improves skin's elasticity and tone
Slimming properties
Thick non see-through fabric for sports activities
Textured fabric
High waist tummy control
Cons
Only comes in grey and blue color
Shop now
GUAM Buttocks Pushup Cellulite Leggings
These butt-lifting anti-cellulite leggings are aimed at sculpting and supporting buttocks while taking care of your cellulite at the same time.

Pros
Special design visually lefts and shapes buttocks
Improves skin's elasticity and tone
Slims fatty tissue deposits
Visibly contours legs, hips, and buttocks
Seamless design
High waist tummy control
Cons
See-through, better to use at home or under outdoor pants.
Shop now
Do GUAM Anti-Cellulite Leggings Work for Weight Loss?
Well, they might not be able to help you lose weight on their own, but can definitely speed up the
process of weight loss
when used during workout and sports activities. Emana fabric offers skin tightening and contouring benefits by compressing the skin. GUAM seaweed, infrared heat, and micro-massaging technology target deeper layers of the skin and break down fatty tissues. Improved microcirculation activates muscles during workout and promotes muscle recovery afterward.
Wearing anti-cellulite leggings can also prevent muscle injury and relieve sore muscles after heavy exercise. The thermal properties cause more sweating, removing toxins from the body and burning fat faster. The addition of
Caffeine
also increases the slimming effect. However, all these reshaping, firming, and relaxing effects only smoothen the outlines of your body and don't help you shed extra pounds. If you're looking to shape your lower body, then GUAM leggings are best anti cellulite leggings you need.
Are GUAM Anti-Cellulite Leggings Really Effective?
If you wear the cellulite leggings regularly for 30 days, you'll definitely see a visible difference in the appearance of your dimples, body contours, and ski's elasticity and smoothness. However, we recommend using GUAM anti-cellulite leggings in combination with proper exercise and other
GUAM anti-cellulite products
to boost the effectiveness of the cellulite reduction leggings and achieve the desired outcome faster. An amalgamation of all these factors is more likely to provide you a long-lasting effect.
How Long Should You Wear GUAM Anti-Cellulite Leggings?
There's no doubt that all of us want quick fixes to all our skincare woes. Unfortunately, no miracle treatment can reduce imperfections overnight. It takes patience and consistency to see visible results with any treatment. The size of the treatment area and the extent of the skin damage are also important factors while determining the time needed to see the efficacy.

The ingredients and technology used in tights may take some time to provide an effective and lasting effect. You are required to wear GUAM cellulite leggings for 6 hours every day while staying active for a month to see a reduction in the appearance of cellulite. Since you will be wearing them every day, make sure to buy several pairs to have an endless supply throughout the week.

The microcapsules incorporated in the fabric have a slow release on the skin due to the active ingredients in Guam Marine Algae. The Microcapsules carry release until the active ingredients are exhausted. This process involves a slow release and microencapsulation occurs after 4-6 weeks. However, leggings do not stop working over time the process of remodeling and reduction in cellulite.
Are GUAM Leggings Safe for Everyone?
Ensuring the safety and effectiveness of the fabric and ingredients used in the manufacturing of anti-cellulite leggings is one of the most crucial things to consider. At GUAM, we are always striving to provide our customers with safer and healthier alternatives to all their skin concerns. GUAM pants for reducing cellulite are no exception in that regard. They are formulated using natural active ingredients, well-researched technology, and high-quality Emana fabric to ensure the safety of our consumers.


For that reason, GUAM cellulite hiding tights are suitable for use by everyone except during pregnancy. Nevertheless, it's common for most women to develop cellulite during or after pregnancy, so you can use anti-cellulite leggings after pregnancy to shape your body and reduce cellulite.
Final Word
It can be quite overwhelming to search for the best anti-cellulite leggings with so many products to choose from. Since you're spending your hard-earned money on buying the, you should have the basic knowledge about them so you don't experience a shopping disaster. Make sure they possess all the essential features of good-quality pants mentioned above to offer you value for your money and provide satisfactory results. By reviewing all the best anti cellulite shapewear options available, you can choose the one that suits your specific needs perfectly. Dont forget to make before and after images!
At GUAM Beauty, we take pride in offering the most innovative and effective active wear tights to hide cellulite containing a cocktail of active anti-cellulite and skin-loving ingredients. Our top priority is to provide the safest and most effective anti-cellulite leggings to those looking to embark on their journey to achieving a well-sculpted body.
Shop anti-cellulite leggings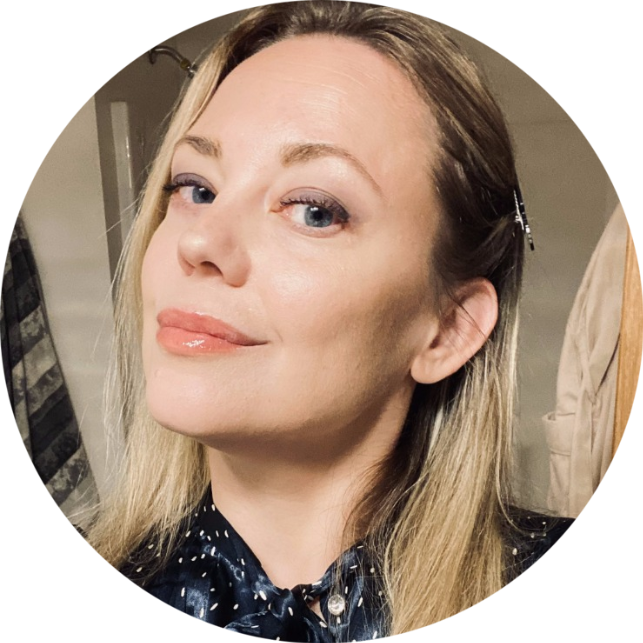 Author of the blog Yana Nesterova
Yana is the writer behind the Guam Beauty blog who firmly believes in the concept that beauty begins in a person's head, not in the mirror. Therefore, she strives to encourage her readers, who are beauty and skincare enthusiasts, to bring mindfulness into their skincare rituals by making more conscious choices. Her philosophy is to enable her readers to salvage mental peace and optimal health by living more mindfully and achieving their skin and body goals through
healthier choices.
Are Anti-Cellulite Leggings Really Effective? Sale 70% Off