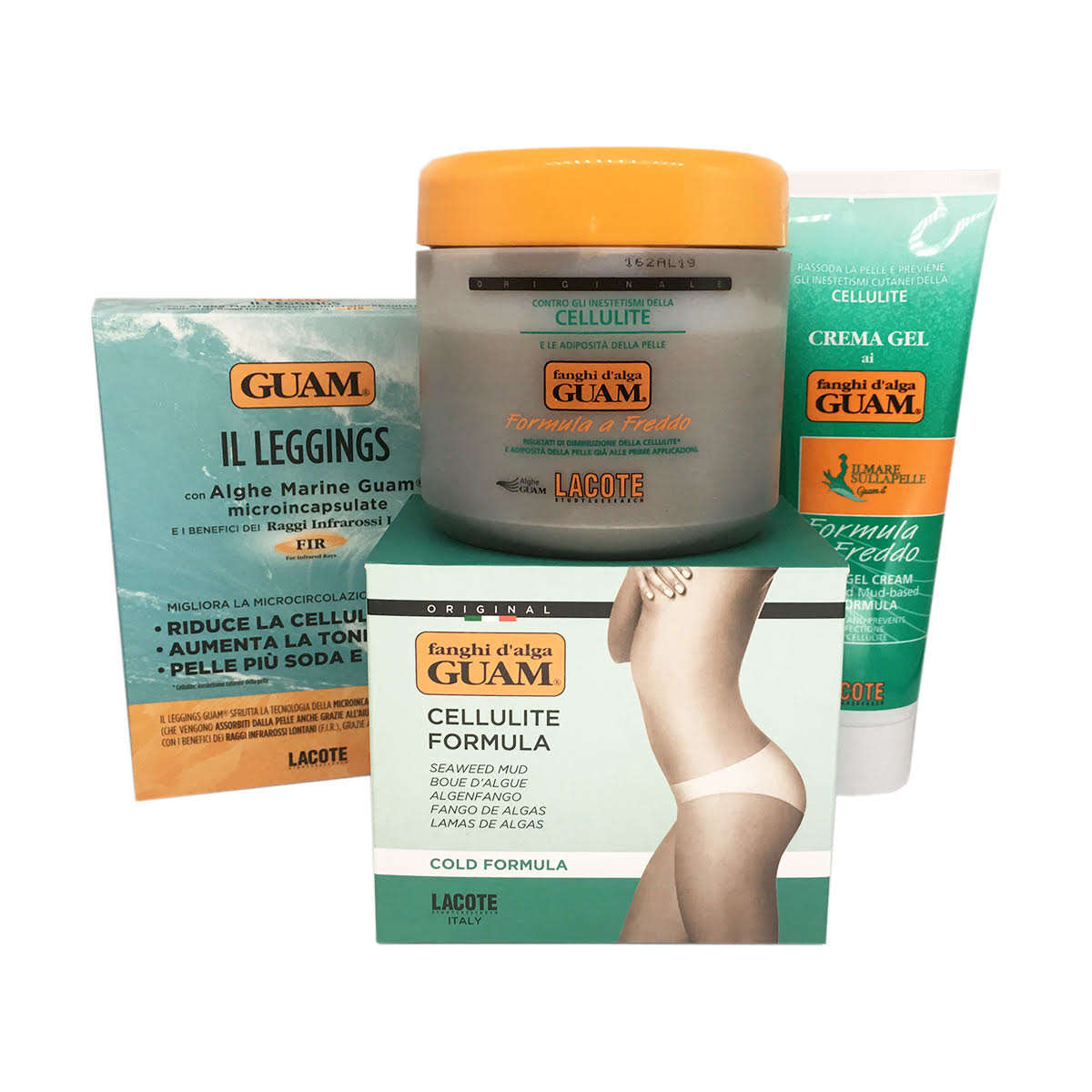 Ultimate Slender Legs
Cellulite Treatment
Perfect for those who need to reduce cellulite on legs and thighs fast but also prone to legs swelling and water retention or have sensitive skin.

Menthol-infused cooling Seaweed Body Wrap, Cold Formula and Strengthening Gel in combination with Anti-cellulite leggings with motion-activated fabric: this combo firms and reshapes your legs and buttocks, improve microcirculation and skin elasticity while reducing the cellulite and swelling.

GUAM has developed anti-cellulite leggings with bioactive ingredients that exploit micro-encapsulation technology with the slow release of active ingredients containing Guam® seaweed and caffeine. These active ingredients are absorbed by the skin effortlessly reducing cellulite.

Treatment includes:
Cold Formula Body Wrap. 1.1LB/2.2LB
Cold Formula 24Hr Boosting Gel, 8.5oz
Anti-Cellulite Leggings (S, M, L Size)
BUY NOW
Cold Formula Body Wrap and Gel
Formulated for
swollen, heavy legs
and gentle enough for sensitive skin - this revitalizing
menthol-infused formula
penetrates deeply to depuff and visibly get rid of cellulite on thighs, calves, and hips,
decreasing swelling.
Carefully tested and perfected for more than 30 years, an innovative blend of Mineral-rich marine clay, rejuvenating 21% Seaweed concentrate, and nourishing Essential Oils, every ingredient in this formula works to decrease swelling and correct skin imperfections caused by
cellulite on legs
.
Special plant extracts, including cooling Menthol, help boost microcirculation and promote healthy fluid balance in your legs. As excess water flushes out and essential blood flows in, your tissues become healthy and renewed, leaving skin noticeably more toned. Gentle and non-sensitizing, this is an effective body wrap for inch loss without irritating sensitive skin.


Guam Infrared Anti-cellulite Leggings
Made with revolutionary
EMANA©
fabric, these high-tech infrared-powered
leggings
are clinically proven to reduce stubborn cellulite on legs, thighs, and hips.
EMANA©
is a highly advanced polyamide microfiber integrated with bioactive mineral crystals. Previously used by
NASA
astronauts to boost circulation during long months of physical inactivity in space, this smart fabric captures your body heat and reflects it back as cell-stimulating
Far Infrared Rays (FIR).

With every movement, hundreds of Microcapsules embedded within the fabric gently warm and massage your skin, slowly releasing a continuous dose of Guam Seaweed while wearing these cellulite leggings. Proven through decades of research to achieve extraordinary cellulite reduction, skin rejuvenation, and breakdown of fatty tissue, these nourishing algae extract is the European secret for how to get rid of cellulite on thighs and body.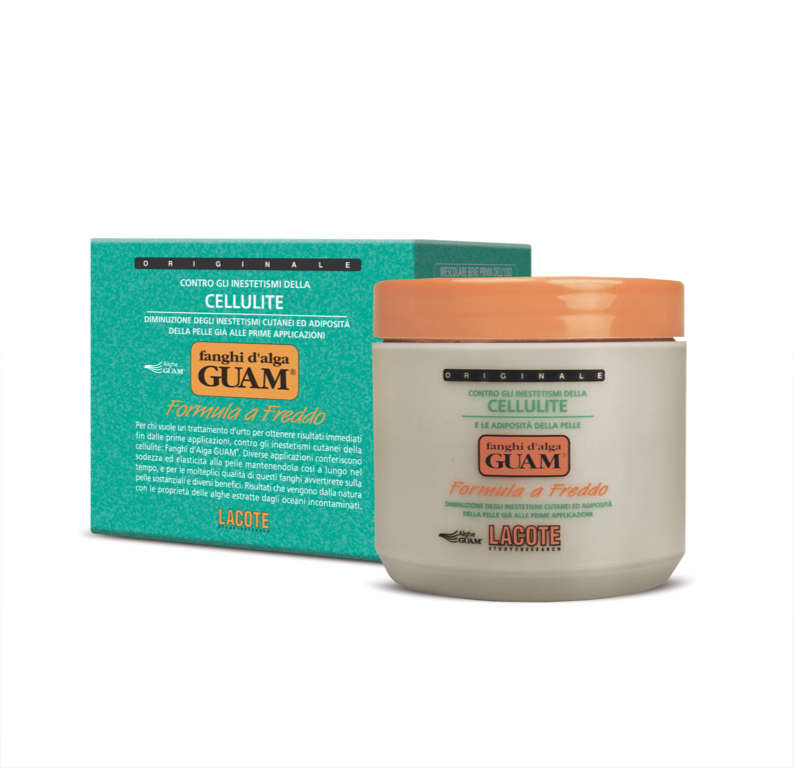 Reveal touchably firm, slender leg contours with the Cooling Guam Seaweed Mud anti-cellulite body wrap. Formulated for swollen, heavy legs this revitalizing menthol-infused formula penetrates deeply to depuff and visibly get rid of cellulite on thighs, calves, and hips, decreasing swelling.

Apply this Body Wrap 3 days in a row first days, then once per other day, then 2 times per week.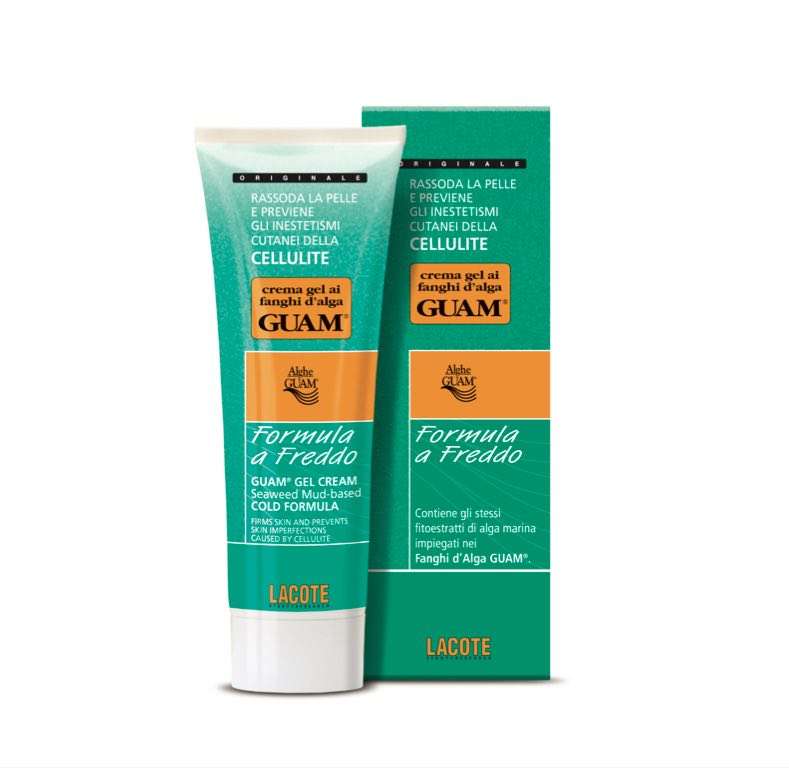 This cooling Menthol-infused gel prolongs your cellulite treatment for a full 24 hours to remove excess fluids. Perfect for firming swollen, puffy areas, it uses nourishing marine and plant extracts plus skin-fortifying natural Essential Oils of Lemon and Ivy to get rid of cellulite on legs, thighs.

Apply it right after your Body Wrap to prolong the effect up to 24 hours.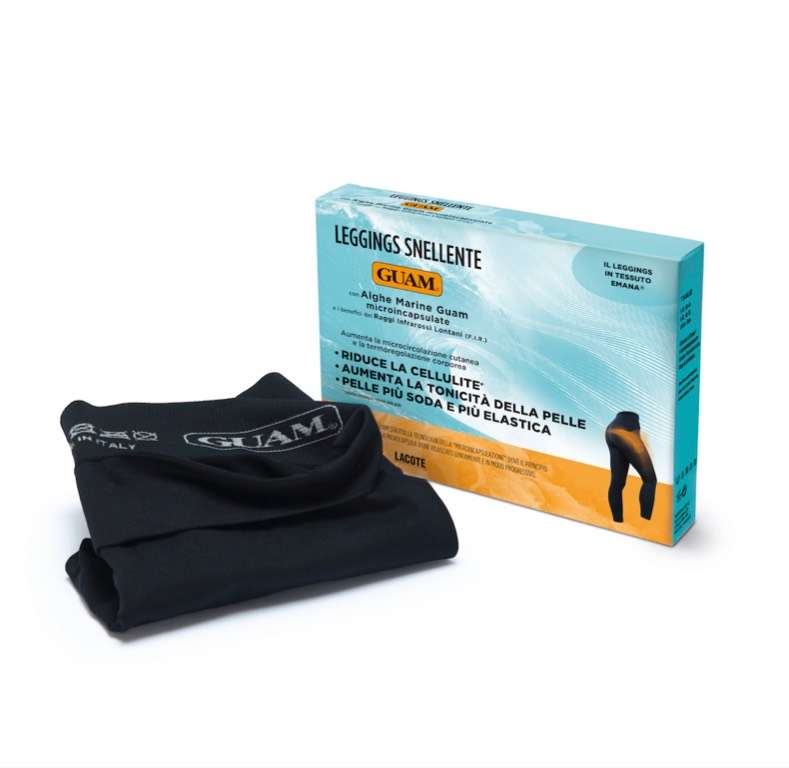 Made with revolutionary EMANA fabric used by NASA astronauts, these high-tech infrared-powered leggings are clinically proven to reduce stubborn cellulite on legs, thighs, and hips. As the movement-activated material hugs your skin, patented microencapsulation technology delivers a continuous release of slimming Guam Seaweed for a comfortable, hands-free cellulite treatment.

Wear up to 6 hours per day.
HOW TO APPLY GUAM BODY WRAP