10 Best Cellulite Treatments to Use at Home in 2021
When it comes to removing cellulite, there is not a shortage of ways to go about it. However, make sure you choose the right cellulite treatment approach that targets and treats effectively yet safely. If cellulite bothers you, but you're not interested in expensive and invasive laser treatments or surgeries, there are many natural alternatives to try instead. And, if you're struggling to find the right anti-cellulite treatment for use at home, you're not alone. But, fret not. We have thoughtfully compiled a list of the 10 best cellulite treatments to use at home to improve the appearance of unsightly orange peel skin.

Cellulite is one of the most widespread beauty concerns among women. No matter your age, weight, or body type, anyone can be plagued with this skin condition. You might already know that many factors play a role in the formation of cellulite, including excess fatty tissue, reduced blood flow, genetics, hormonal imbalance, lifestyle, and the natural process of aging. It mostly appears in areas like thighs, buttocks, and stomach. Cellulite gives a dimpled and lumpy appearance to the skin that most women don't feel happy about, and rightfully so. After all, who wouldn't want to flaunt their summer body in a beautiful swimsuit, bikini, or crop top?
Body wraps to reduce cellulite
This is probably one of the most popular and quickest ways of diminishing cellulite. The best thing about using home body wrap is that it will help to melt away fat deposits under the skin, and purge out toxins, aiding to lose some inches, tone up loose skin, detox the body, and reduce orange peel-like skin. Most of the anti cellulite body wrap treatments contain herbal and marine active ingredients and offer additional skin and health benefits as well. All you have to do is thoroughly slather the anti-cellulite product and cover the specific area tightly with saran wrap you can find at your kitchen.
Infrared body wraps are particularly gaining popularity due to their advanced and fats-acting technique. Luckily, you don't necessarily have to visit a spa and lie under infrared light to reap the anti-cellulite benefits of infrared heat. GUAM Beauty takes pride in providing its customers with spa-like
infrared body wraps
at home. GUAM infrared anti-cellulite body wraps are manufactured using premium quality ingredients lie seaweed harvested from the pure ocean. Besides powerful botanical and marine ingredients, the formula contains Black Tourmaline, known for its unique infrared properties.
These seaweed body wraps work by improving blood flow to the affected areas, dissolving fat deposits under the skin, and removing toxins from the cells, while tightening skin on your body and recovering its elasticity. Some other active ingredients used in GUAM cellulite body wraps are ventilated clay, Fucus Phytoextract, Ivy extract, Horse chestnut extract, Essential oils of Lemon, Sage, Oregano, and a lot more.
The best thing about these at home cellulite wraps is that they are free from PEGs, parabens, silicones, synthetic dyes, and paraffin.
Shop Body Wraps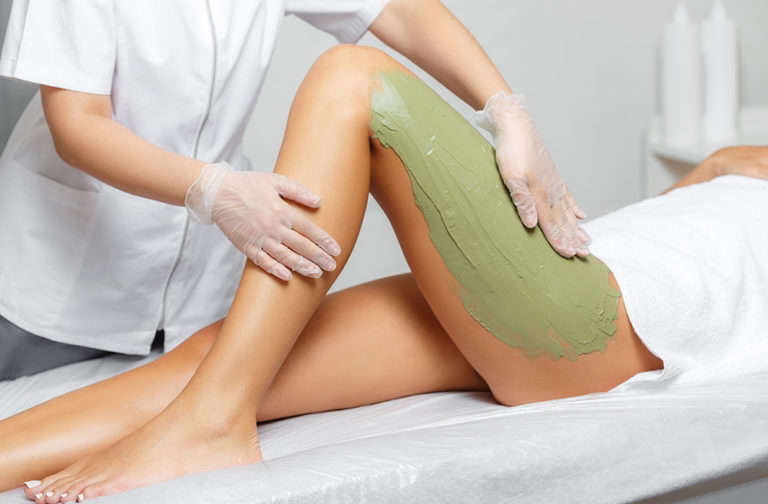 2. Best Anti-Cellulite Creams
Thanks to the ever-increasing number of skincare brands, a variety of new products are hitting the market every other day. The same goes for anti-cellulite creams. There is now a myriad of anti-cellulite creams for getting rid of cellulite on legs, buttocks, stomach, and thighs at home. With the discovery of Black Tourmaline, anti-cellulite creams have become all the rage in the skincare world these days. The formula helps to speed up metabolism and eliminate toxins and fat reserves from the tissues. These anti-cellulite creams work two ways; first, they minimize the appearance of cellulite; second, they provide toning and slimming effect, fighting saggy skin, tightening the skin on the belly area, legs, buttocks.
Moreover, there is a wide range of
anti-cellulite creams
, including bestsellig anti-cellulite infrared
Fangocreama cream
based on seaweed, anti-cellulite night cream with 8 essential oils, and anti-cellulite pre-workout cream for day time. You can choose a cream according to your preference and specific needs of your skin, even some very specific tightening creams for arms and inner thighs.
GUAM anti-cellulite creams are jam-packed full of the wonders of seaweed, black tourmaline, and marine clays. These ingredients break down fatty tissues, draw out toxins, and promote the absorption of other anti-cellulite ingredients in the creams, assisting to reduce the occurrence of rippled-looking skin.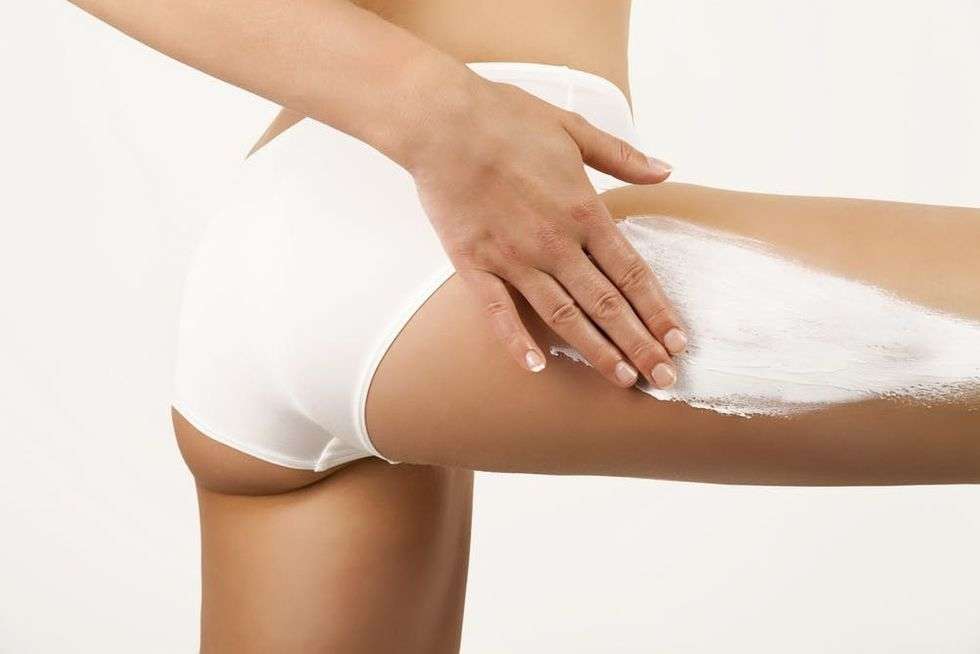 3. Anti-Cellulite Body Scrub
Many brands have come up with inexpensive and effective at-home treatments for cellulite removal and reduction. Anti-cellulite body scrubs are at the top of those pocket-friendly options that work. Similar to dry brushing, body scrub also sloughs away dead skin cells, regulates blood flow, activates the lymphatic system, boost microcircultion, and improves the texture and appearance of the skin.
Keeping your frustration about stubborn bumps and lumps in view, GUAM has manufactured different types of anti-cellulite scrubs to meet your individual needs.
GUAM AlgaScrub
with seaweed, sea salts, and natural essential oils is tailored to draw out impurities and regenerate cells, which thickens the skin and reduces the appearance of cellulite.
GUAM AlgaScrub Dren-Cell
is aimed at removing dead cell buildup, excessive fluids, and toxins from the body to amp up the activity of anti-cellulite products.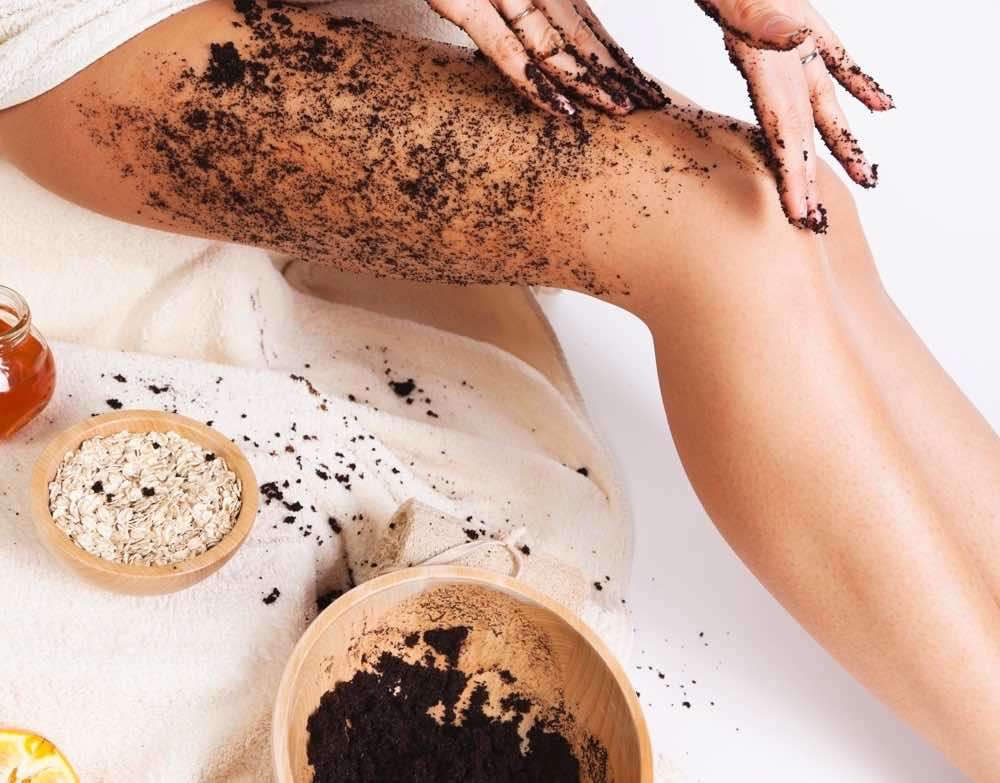 4. Anti-Cellulite Leggings
Well, isn't that the easiest way of toning down those bumpy legs and buttocks? This method of removing cellulite just requires you to wear a pair of leggings and do your chores while they work their magic. GUAM
anti-cellulite leggings
with infrared heat are developed using micro-encapsulation technology in combination with bioactive ingredients slowly releases
seaweed
and
caffeine
into the skin. These ingredients penetrate deeper into the subcutaneous layer and help to reduce cellulite.
EMANA fabric is another exciting technology used in these celullite reducing leggings. This breathable material promotes blood circulation and prevents the fat deposits from accumulating under the skin. Like other GUAM cellulite products, you can choose your desired type from a range of leggings of various various shapes and additional benefits. Wear these anti-cellulte leggings regularly to achieve toned, smooth, and firm lower body at home.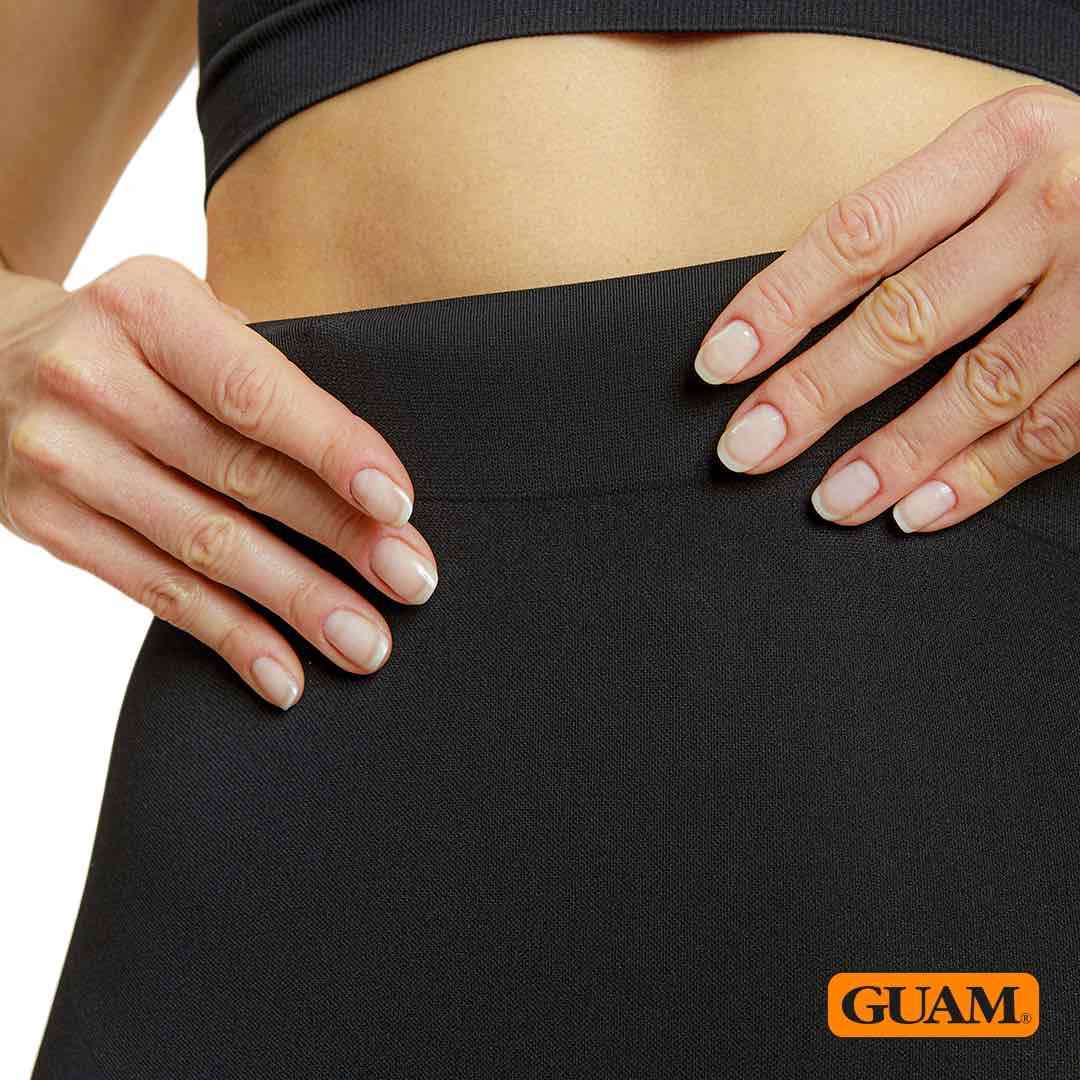 All Guam Anti-cellulite leggings and Capris are mid waisted and have a comfortable, body wrapping waistband.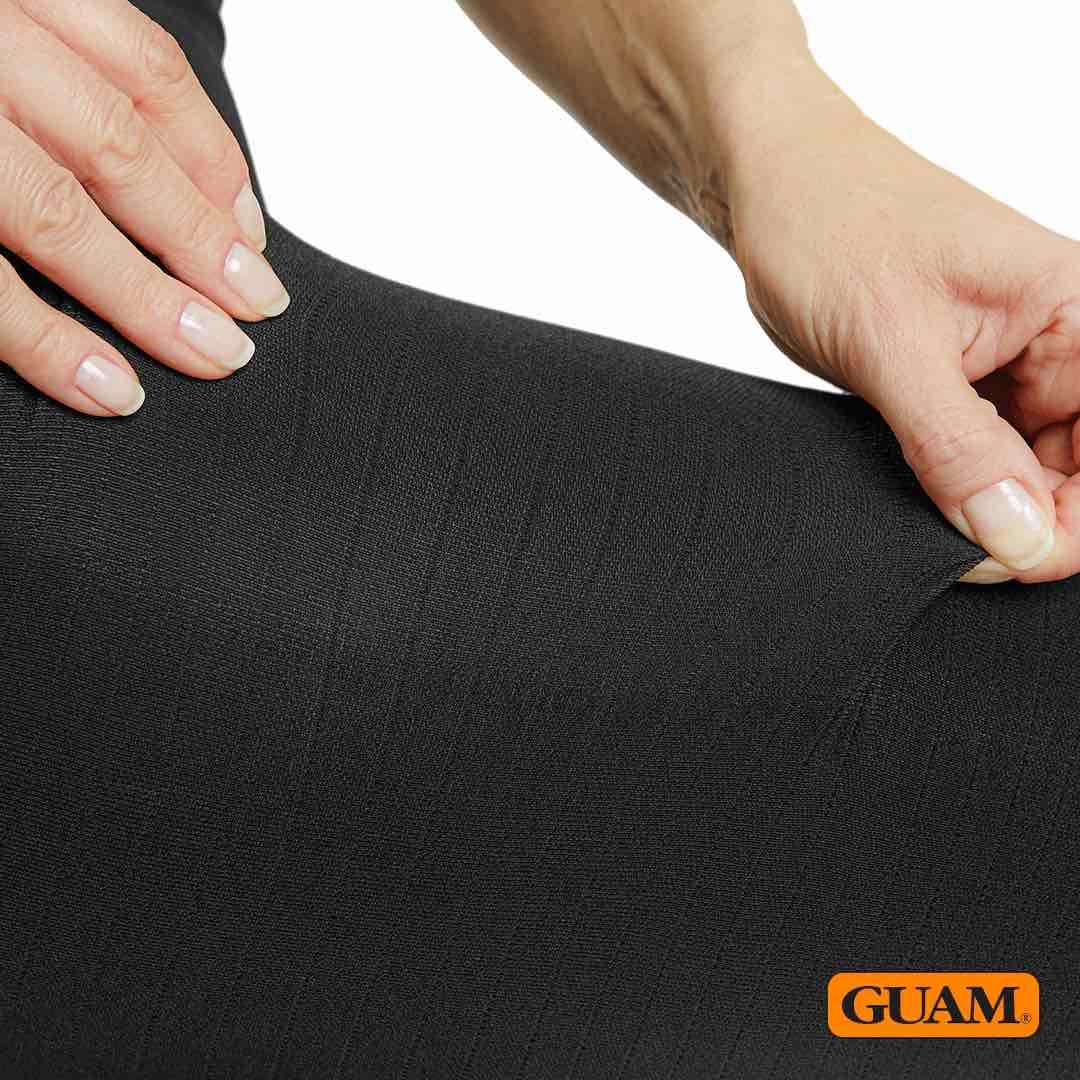 Heat reflecting fabric is stretchable, durable and can be washed with high temperature.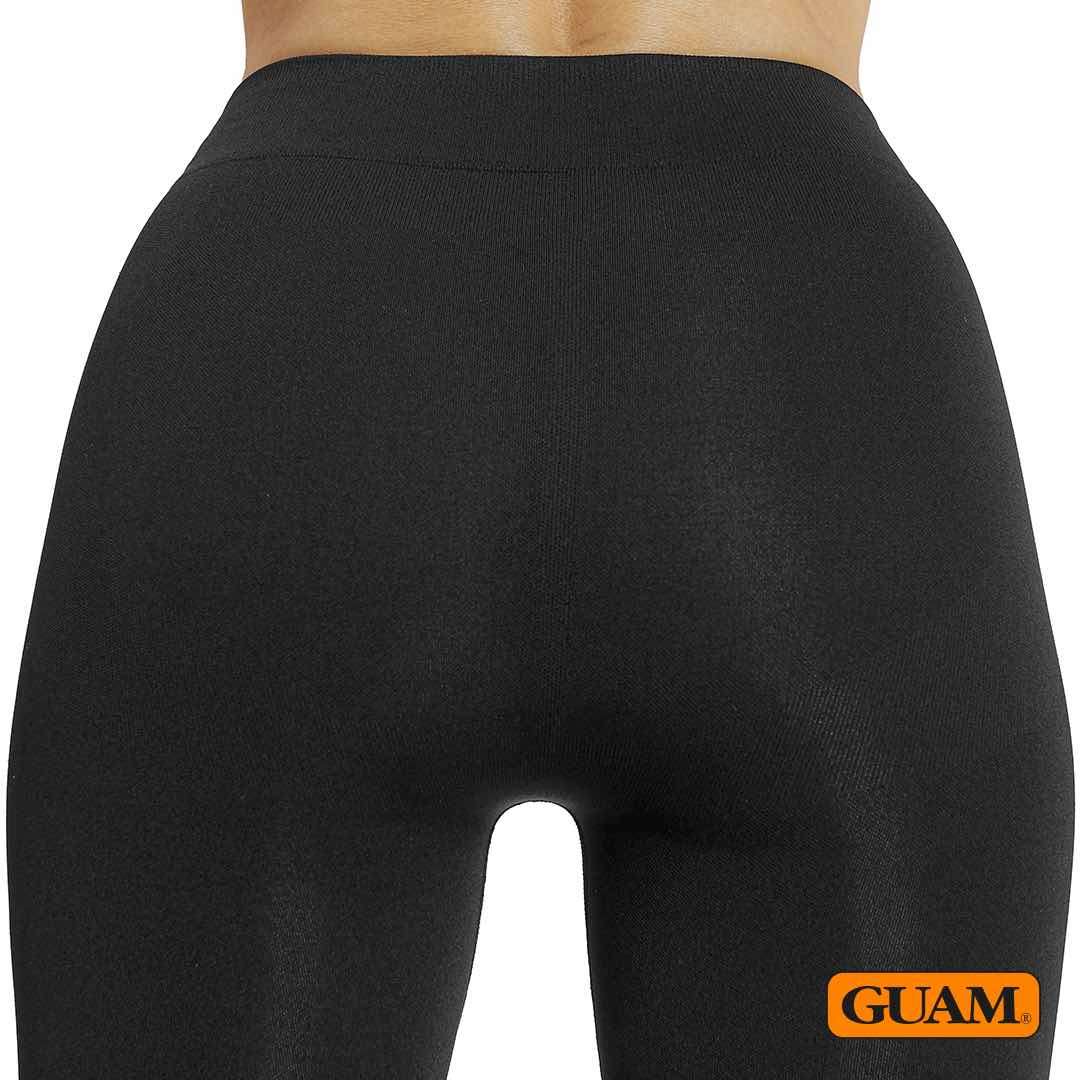 Some Guam Anti-cellulite Leggings have a buttocks shaping effect, check Guam Pushup Leggings.
5. Boosting Gels after Body Wraps
If you want to enhance the results of your anti-cellulite body wraps at home, follow them with a strengthening cream or gel. These products are specifically created to provide added anti-cellulite and firming effect throughout the day after your anti-cellulite body wrap treatment.
To take the anti-cellulite game up a notch, GUAM has introduced infrared
Strengthening gels
to apply following body wrap procedure. The cream-gel formula of these products is rich in seaweed mud, pink clay, essential oils, and many other botanical ingredients. The effect of these potent natural ingredients is boosted by the Cell-energizing Infrared Technology that carts off the most dreaded skin problem, cellulite. The result of using this lightweight cream-gel consistently is supple, smooth, and tighten skin.
6. Detox Baths
There is nothing as enjoyable and luxurious as spending some time pampering yourself with a hot bath. We all love to indulge in a detox bath once in a while to relax and clear our heads after a long day. But did you know that these baths can also help to wave those pesky skin bumps goodbye?
As discussed earlier, one of the reasons behind cellulite formation is the buildup of fats and toxins in the tissues beneath the skin. GUAM has made it easier to use detox baths to combat cellulite with its innovative blend of seaweed, sea salts, and essential oils. Salinated Algae contains the power of cellulite-fighting ingredients that also rejuvenates and softens the skin. Sea salts detoxify the body and reduce fluid retention, decreasing the likelihood of cellulite development. Just add 5 or 6 tablespoons of the product in a hot tub and soak in for a few minutes.
Use
GUAM Seaweed Bath Salt
two or three times a week for the best outcome. Enjoy fresher, tighter, and beautiful-looking skin after every bath. So, take a break from your bustling routine and enjoy a spa-like experience at home while treating your cellulite at the same time.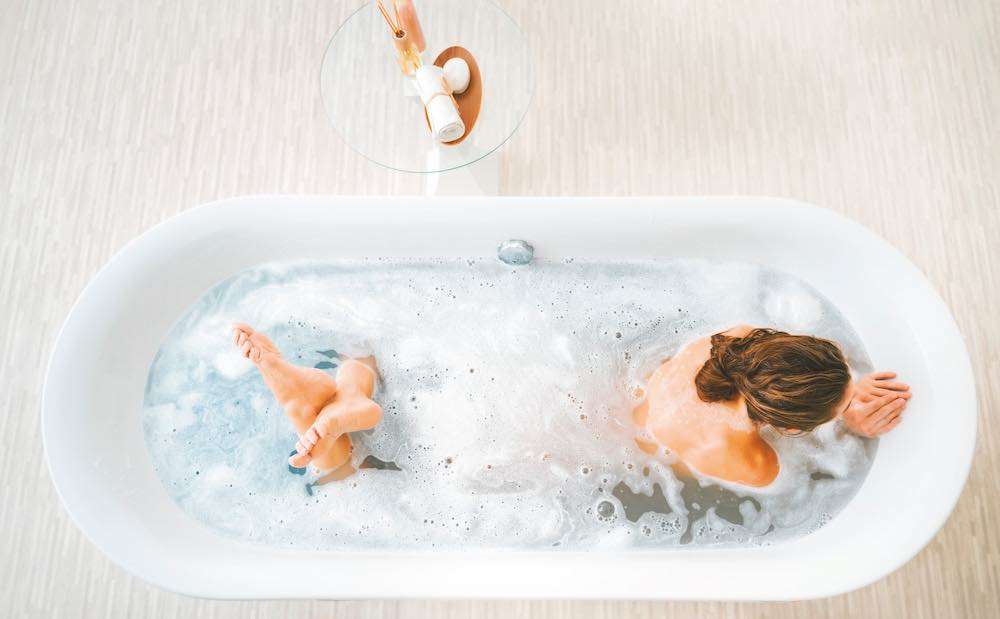 7. Anti-Cellulite Body Massage
Cellulite is formed in superficial fascia or the layer of connective tissue beneath the skin that contains fat cells. Hence it's believed that massaging the affected areas of the body can stimulate the distribution of fat cells and provide a smoother appearance. Massage also helps to soothe and relieve tired and aching muscles and makes the skin healthier. To enhance the effect of massage even further, you can combine it with an anti-cellulite cream or lotion.
8. Anti-Cellulite Exercises
This is one of the most wallet-friendly anti-cellulite options to combat dimpled skin. If you are an active and sporty person, you won't have to put in a lot of effort. Just find the best anti-cellulite exercise program that targets cellulite and stick to it. In the age of the internet, it's very easy to find some exercises online or check Pinterest pins, for example.


Some of the best anti-cellulite exercises are one-legged lunges, all-four kickbacks, wall plie squats, lateral lunges, V-leg pulls, and inner-leg lifts. Exercise helps to strengthen and tighten muscle fibers, which in turn gives you a leaner body, that will lead to firmer and smoother-looking skin. It also replaces fat with muscles, leading to a reduction in cellulite.



Physical endurance exercises, like cycling, brisk walking, jogging, and swimming, cause fatty cells in the body to draw their fuel from reserves of fat and restore muscle tissue that has been lost. This reduces the number of fat cells causing bulging of the skin and makes cellulite less noticeable. Workout at least three times a day and try to combine strength training and aerobics to achieve the desired result faster. So, get moving today to speed up your journey to a cellulite-free body.
9. Anti-Cellulite Diet
No matter what your skin concern is, the significance of proper diet can never be denied. Healthy and firm skin isn't possible without providing the cells with essential nutrients needed for their optimal functioning. In the case of cellulite, it becomes even more important. Whether you build up excessive fat deposits under the skin, including cellulite, depends on your diet to a great extent.


Therefore, diet is a big factor in helping to curb out bumps and lumps from the skin. Eating a lot of fatty junk food increases your chances of developing cellulite. Foods filled with processed sugar can also cause the accumulation of toxins and fat in the body, ultimately leading to cellulite.


The right kind of diet rich in fiber (like vegetables, beans, lentils, and wholegrain foods), lean proteins (such as fish, chicken, and turkey), and omega-3 fatty acids (such as fatty fish, walnuts, soybeans, and chia seeds) will pay off in the long run. There is no absolute or easy way to get rid of cellulite for good, but a balanced diet will help to reduce the problem. Another thing to keep in mind is that starving yourself to lose fat will not help to get rid of those fat stores under your skin. It will cause muscle loss and highlight your cellulite, making the problem even worse.


Choose foods rich in potassium (zucchini, tomatoes, peppers, melon, peaches, salads of all kinds, nuts, beans and beans, spinach, kiwi), which stimulate diuresis and help to eliminate excess fluids.



Increases food rich in bioflavonoids, powerful antioxidants that protect the capillaries, with anti-edematous function (cellulite stage), especially in the lower limbs. You can find them, in particular, in buckwheat, vegetables, fruit, especially citrus fruits, grapes, blueberries, apricots, plums, cherries, blackberries, melons and papayas.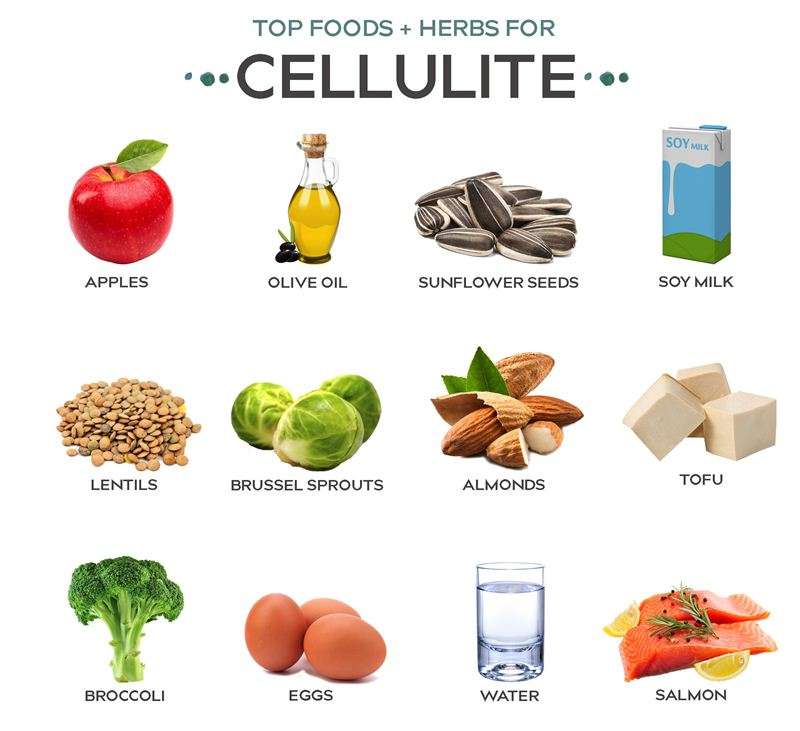 10. Dry Brushing to Reduce Cellulite
Just like massage, dry brushing is also a famous at-home treatment to remove or minimize cellulite. Other than removing dull and dead skin from your body, it stimulates the distribution of fat cells under the skin, improves lymphatic drainage, and boosts blood flow in the body and cell regeneration.


Consequently, your skin will feel and look tighter, softer, and smoother. A brush with natural, preferably plant-derived, bristles is considered ideal for dry brushing. The bristles should be semi-firm, and the handle of the brush should allow access to all parts of the body. The right way of brushing cellulite-ridden areas is to move the brush in brisk, upward strokes or circular motions. To see noticeable results faster, you'll need to dry brush every day, or even twice a day, for an extended period.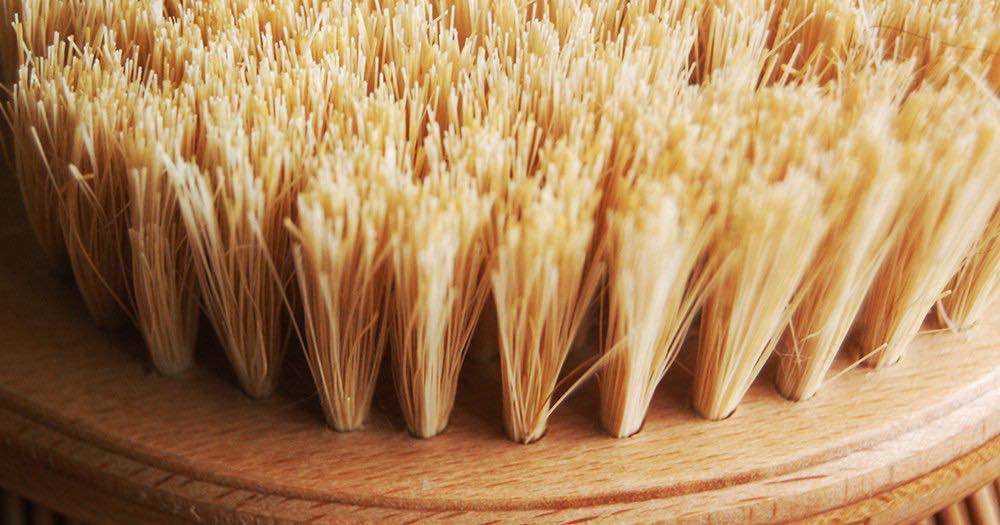 The Bottom Line
Home cellulite treatments mentioned above are aimed at helping to address the many possible causes of cellulite or balance the connective tissue in the body. One method may work better for your problem than another, so try a few to figure out which one works best for you.


Though each of these anti-cellulite treatments has its own set of potential benefits, if you need faster and more satisfying results, use a combination of different approaches. So, don't get discouraged and follow the treatment course consistently. Since these are all-natural and safe ways, so you don't have to worry about the adverse effects. It's worth giving it a whirl to achieve smooth and tight skin.
10 Best Cellulite Treatments to use at Home in 2021
Sale 70% Off