What is Cellulite and How to Get Rid of It Quick and Safe?
Are you noticing dimpled and uneven skin on your thighs, buttocks, stomach, or hips? Lumpy skin is an indication of it. It's a common skin problem that affects a large proportion of the population, particularly women, around the globe. So, there is nothing to be spooked about because you're not alone in this battle. It appears in varying grades and can happen to anyone irrespective of their weight, color, ethnicity, race, etc. The comforting news is that it isn't harmful or painful. Keep on reading to get a clearer picture of what cellulite is and how to get rid of it.
What is Cellulite?
So what exactly is cellulite? It is the name given to a skin condition that involves the accumulation of fat pushing against the layer of connective tissue under the skin. Cellulite is basically the result of higher amounts of fat cells in the subcutaneous layer of the skin and loose skin due to the breakdown of collagen and elastin.

The Orange peel-like or cottage cheese-like appearance of the skin is a product of increased fat deposits protruding through the loose connective tissue strands, making the outer surface of the skin lumpy, wobbly, and furrowed. Excess water buildup under the skin can also pave the way to lumps on the skin.


Another common term you might have come across while searching is cellulitis infection. Many may confuse cellulite with cellulitis. To discern between the two, it's important to find out what is cellulitis infection. It's a painful infection that arises because of bacteria (mainly staphylococcus and streptococcus) that enters the damaged skin, causing redness, swelling, and irritation.
Causes of Cellulite
What is cellulite caused by?
The first step toward getting to the root of the problem is to identify its causes. There are innumerable factors that contribute to its formation. These include:


Gender: Cellulite can occur in both men and women, but women are more prone to it. The reason behind this inclination is the difference in the amount and distribution of fat in the body. In men, subcutaneous fat cells and connective tissue are assembled in a criss-cross manner, while women have them vertically arranged, which puts them at a higher risk of developing this condition.
Age: Whilst people of any age can get it, its likelihood increases with age, probably due to a decrease in the skin's elasticity caused by collagen breakdown and increased fat cells in certain areas. Thin and inelastic skin is more disposed.
Body Type: The grade or severity of cellulite also varies and can increase according to your body type and the level of fat in your body. People with hourglass bodies are more likely to have it all over their bodies, especially on the hips and breasts. Those with a peer-shaped body get it below the waist, while an apple-shaped body is more apt to have it on the stomach and breast.
Weight Gain/Loss: A rapid gain or loss in body weight can also lead to the formation of deposits on the body due to an increase or decrease in fat cells or stretching or loosening of connective tissue fibers.
Improper Nutrition: Inadequate supply of essential nutrients to the body that doesn't support the firmness and vitality of the skin can cause it too. Also, unhealthy food, comprising high amounts of fats, salt, and carbohydrates, can also increase the probability of getting cellulite.
Hormonal Factors: Hormones, such as insulin, estrogen, thyroid, prolactin, and noradrenaline, play a role in its formation. For instance, when estrogen levels drop in menopausal women, they are more susceptible to getting cellulite.
Sedentary Lifestyle: If you have an inactive lifestyle and unhealthy habits, you are more in the cards for developing this condition. Some of the factors to be mindful of include smoking, sitting or standing in the same position for a long time, and wearing tight clothing.
Genetic Factors: Slow metabolism, body type, and fat distribution are some of the genetic factors that make you predisposed to it. However, preemptive measures can reduce or prevent their appearance.
Grades of Cellulite
According to the severity level, cellulite is ranked in three grades to help you identify where you stand and help you choose an appropriate treatment. Here are the three grades or levels you can develop:


Grade 1: Cellulite is milder at this level, and your skin appears to be smooth and even when you stand up. You'll see negligible bumps or slight dimpling of skin while sitting down or when you pinch the skin.
Grade 2: This is the moderate severity level in which deeper depressions are observable on the skin as compared to grade 1. Moderately cottage cheese-like appearance of the skin is present when you are sitting or standing.
Grade 3: This is the severe level that is characterized by the appearance of deep depressions on the skin. The skin may give the impression of deep peaks and valleys with elevated and hollowed areas on the skin. Uneven skin is clearly visible whether you're standing or sitting down.
How Common is Cellulite?
As mentioned before, cellulite is quite a common skin condition that is commonly more prevalent among women. Around 80 to 90 percent of the female population is struggling with this skin woe. According to another study, less than 10 percent of men suffer from it too. Some factors that make this problem so common include body fat distribution, aging, genetic predisposition, weight, body type, lifestyle, and
diet
.
Luckily it doesn't appear on face and, therefore, is not as visible and bothersome as other skin problems. It is more common in parts of the body where subcutaneous fat deposits are more than usual. Commonly, deposits are formed on thighs, legs, buttocks, stomach, breast, and upper arms.
What is the Best Treatment for Cellulite?
Even though there is no fail-safe way of getting rid of cellulite, you can try various skincare products and treatments, natural home remedies, and in-clinic procedures to find out how your skin responds to them and which one is more effective for you. The best treatment for your individual skin is the one that works the best for you.

So, it's not necessary that what is good for cellulite and stretch marks for one person will be as good for another. Besides the commonly known ways like anti-cellulite products, treatments, and home remedies, some lifestyle changes can also help to reduce their appearance and prevent them from forming in the future.
What is the Fastest Way of Cellulite Removal?
Topical treatments are touted as one of the fastest, most effective, and safest ways of reducing the appearance of
cellulite on stomach
, legs, thighs, buttocks, etc. Cellulite wraps, creams, scrubs, and oils are believed to help reduce and prevent it by enhancing the skin's elasticity, breaking down fat deposits, drawing out excess fluid, boosting microcirculation, and nourishing the treated parts of the body. As a result, you'll notice smoother, firmer, and healthier skin.
However, it's imperative to be mindful that in order to achieve long-lasting and fast results, you'll have to use your creams, scrubs, wraps, and oils on a regular basis. Also, the effectiveness of the products depends on the quality of the ingredients added to them, the concentration of active compounds in the formulas, and the technology used during their formulation.


Some of the ingredients largely incorporated into skincare products are caffeine, seaweed, clays, natural oils, minerals, and plant extracts. All these agents can work on a cellular level to curb the reasons behind.
Can You Get Rid of Cellulite on Stomach?
Skin imperfections on stomach is probably most annoying and unattractive for most women combatting this skin problem. Fortunately, there is a wide range of products and remedies known to help reduce cellulite in that area. Anti-cellulite wraps are among the top-trending and most effective skincare products targeted at diminishing lumps and bumps on stomach.

In addition, creams, oils, and lotions are also some of the common treatment options available in the market. A question that might arise in your mind is whether these widely touted products deliver results or not. It's important to know that these topical products are formulated with active compounds known to improve the appearance of your skin.

However, to further enhance the outcome, it's highly recommended to pair your topical treatments with regular exercise and an appropriate diet. Moreover, when you're searching for the most effective cream to tighten skin on the stomach, the key is to scan through the ingredient list to make sure you find the best anti-cellulite cream available in the market. The same goes for other products.
GUAM Tummy Tightening Cream
for Stomach Cellulite with Infrared Heat
The GUAM Tummy Tightening cream is designed specifically for those looking to firm their stomach and waistline. Black Tourmaline works its magic by reducing fatty tissue on your abdomen, evens out the belly area while transforming loose skin into smooth & tight tones that you'll absolutely adore!
Visibly tones stomach and love handles
Corrects imperfections caused by cellulite
Firms and tightens skin
Enhances breakdown of fatty tissues in belly
Silky texture absorbs instantly
Learn more
GUAM Tummy Tightening
Cellulite Stomach Wrap with Infrared Heat
The stomach wrap is specifically designed to firm and tighten your belly area. It uses a special blend of natural Essential Oils with Guam Seaweed Mud that delivers dramatic results from the very first treatment! The anti-cellulite properties will smooth out lumps or bumps caused by cellulite in this part, tighten loose skin around it for an aesthetically pleasing look when wearing clothes after use, as well reduce fatty tissues.
Instantly reduces cellulite on the stomach, back, and love handles
Activates reducing fatty tissues in belly area
Firms tummy loose skin and improves elasticity
Best belly wrap for post-pregnancy period
Visible stomach tightening results in just one treatment
Learn more
Home Remedies for Cellulite Removal
If you're on a budget, you can give home remedies a try to smooth out orange peel-like skin. Just like cellulite-fighting natural ingredients in most topical products on the market, you can prepare your at-home wraps, scrubs, oils, etc. If you're after the most effective home remedy, here are some options to opt from.


Massage: Body massage can be useful in toning down the uneven and lumpy appearance of the skin by triggering better microcirculation and lymphatic drainage. Massage also stretches the connective tissue and enhances the elasticity of the skin, making it tighter and smoother.
Dry Brushing: Dry brushing parts of your body can be effective in smoothing out cottage cheese-like skin on the legs, thighs, buttocks, and stomach. It doesn't just boost blood circulation to the treated areas but also helps to slough out dead skin cells and trigger growth or healthier cells. Dry brushing should be done before the shower for a better outcome. It can also improve the efficacy of products used afterward.
Mud Body Wraps: If you are not able to get your hands on the natural body wrap products manufactured by various skincare brands, prepare one at home. You can use the same natural ingredients, such as caffeine, natural clays, plant extracts, and oils, to create your at-home body wrap.
Work Out: Another low-cost yet beneficial way of reducing cellulite at home is by working out. Search for workouts for specific body parts that you want to target and follow them regularly for fast and lasting results. Exercise can boost microcirculation, lymphatic system, and firmness of the skin.
GUAM Seaweed Mud
Sculpting & Firming Cooling Body Wrap for Legs
Reveal touchably firm, slender leg contours with the Cooling GUAM Seaweed Mud anti-cellulite and draining body wrap. Formulated for swollen, heavy legs and gentle enough for sensitive skin - this revitalizing menthol-infused formula penetrates deeply to depuff and visibly get rid of cellulite on thighs, calves, and hips, decreasing swelling.


GUAM Body Wrap Benefits:
The cooling effect relieves heaviness, swelling, and inflammation
Fights puffiness from liquid retention
Visibly slims and contours lower body
Detoxifies and tightens skin
Learn more
GUAM Dren Oil
Moisturizing and Draining Body Oil for Massage
GUAM Dren Anti-cellulite Oil for Legs and Buttocks helps prevent skin imperfections caused by swelling and
water retention
. The nourishing emollient effect of sunflower and olive oils blended with the anti-swelling properties of GUAM Algae and green tea, gives your skin a radiant, supple and velvety smooth finish. GUAM Dren Oil is non-greasy, absorbs quickly and will leave your skin light, silky, firm and moisturized.
Contains a blend of anti-swelling ingredients
The formula is lightweight, non-greasy, and fast-absorbing
Rich in moisturizing and nourishing natural compounds
Reduces skin imperfection and water retention
Ideal for drainage massage on a lower body
Learn more
Bottom Line
Cellulite is a very common skin woe that can affect anyone, but it's particularly prevalent among women. Other than gender, various other factors also make you predisposed to this skin condition, such as genetic inclination, inactive lifestyle, inadequate nourishment, unhealthy habits, hormonal imbalance, changes in body weight, etc.

Despite the high rate of occurrence of cellulite, many of us are not comfortable with the way cellulite makes our bodies appear. There is an unlimited range of anti-cellulite products to help you flatten out dimples on your body. You can also try some home remedies discussed above or go for professional treatments. Remember that you won't get rid of cellulite overnight. So, stay consistent with whichever treatment option you opt for.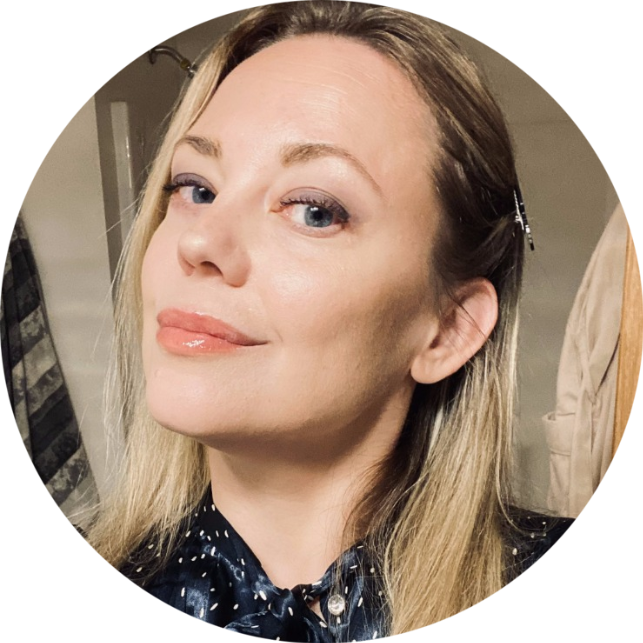 Author of the blog Yana Nesterova
Yana is the writer behind the Guam Beauty blog who firmly believes in the concept that beauty begins in a person's head, not in the mirror. Therefore, she strives to encourage her readers, who are beauty and skincare enthusiasts, to bring mindfulness into their skincare rituals by making more conscious choices. Her philosophy is to enable her readers to salvage mental peace and optimal health by living more mindfully and achieving their skin and body goals through
healthier choices.
What is Cellulite and How to Get Rid of It? Sale 70% Off