Sagging Skin Home Remedies -
6 Best Natural Treatments in 2023
There are various internal and external elements that can lead to or speed up the appearance of signs of aging. No matter the reasons, unfortunately, the annoying signs of skin aging are inevitable. While sagging skin doesn't cause any pain or discomfort, it can have an adverse impact on our self-image and confidence. There are countless skincare products and procedures that can help to restore the skin's firmness, with home remedies to firm skin being one of the safest and most used methods to tighten skin at home. Keep on reading to find out more about home remedies for skin!
What is a Natural Skin Tightener?
As the name indicates, a natural skin tightener for face and body can be any ingredient or formula that acts as one of the saggy skin home remedies to help restore the firmness of the skin. There are a number of options available to tighten skin at home, including skincare products, firming creams, skincare supplements, exercises, and DIY tight skin home remedies with natural ingredients from your pantry. Although surgical and non-surgical clinical procedures are also considered to be the fastest and most effective treatments for sagging skin, many people are not comfortable with undergoing these treatments and prefer skin tightening natural remedies.


Some of the common ways or home remedies to
tighten skin
include natural oil massage, DIY masks, ground coffee scrub, honey, aloe vera gel, egg, and other natural or plant-based ingredients used as tight skin remedies. We hope this information has answered your queries regarding 'what is a natural skin tightener'.
6 Home Remedies to Tighten Skin
Now that we have explored what may cause sagging of the skin and what is a natural skin tightener, let's move to home remedies to tighten skin or natural skin tightener for face and body.


We all know that cosmetic treatments and anti-aging products can be pretty heavy on the pocket and, sometimes, may not suit your skin. Skin tightening natural remedies are an excellent option for you if you're looking for skin tightening natural remedies. Scroll down to have a look at some of the really effective, inexpensive, and safe tight skin remedies that comprise natural and easily available ingredients.
1. Coconut Oil Massage
How it Works:


Coconut oil is among the top natural tight skin home remedies due to its countless potential anti-aging benefits for the skin. Coconut oil is jam-packed with the goodness of fatty acids, antioxidants, and anti-inflammatory compounds. These components help to deeply moisturize the skin and retain moisture by fortifying the lipid barrier, protecting the skin against oxidative damage, repairing the skin, boosting the collagen production, and soothing inflamed skin. All these skin-savvy attributes lead to the restoration of elasticity in the skin, leading to a firmer and healthier complexion of skin texture. Furthermore, using coconut oil for massage increases the supply of oxygen and nourishment-rich blood to the skin, which can tighten skin at home over time. Here's how you can reap its amazing benefits:


What You'll Need:
Virgin coconut oil



What You'll Need to Do:
Massage the skin on the desired area with coconut oil in upward or circular movements
Keep massaging the affected area for around 5 to 10 minutes
Leave the oil on the skin overnight
Use it regularly, if possible every night, for quick results
2. Egg White and Honey
How it Works:


Another home remedy for skin tightening or a natural way to tighten skin at home is applying a mixture of egg white and honey to the affected areas of the body or the face. Eggs are naturally packed with protein albumin. This protein repairs damaged skin cells and refurbishes the skin elasticity, which acts as a natural skin tightener for face and body. Honey is a known natural ingredient that offers rejuvenating, moisturizing, antibacterial, and anti-inflammatory effects for loose skin. The amalgamation of these two ingredients can provide a powerful natural skin tightening home remedy.

Here's how you can prepare and use this pack for sagging skin:

What You'll Need:
1 egg white
2 tablespoons honey

What You'll Need to Do:
Make a pack by mixing the egg white and honey together in a bowl
Apply the mixture to the face, neck, or other affected areas
Leave it on the skin for 15 to 20 minutes
Rinse it off with lukewarm or cold water
Use this remedy at least once a week for the best results
3. Ground Coffee Scrub
How it Works:


Coffee is one of the most popular ingredients when it comes to tightening and de-puffing the skin instantly. The reason behind the fast and potent firming action of coffee lies in its ability to cause constriction of blood vessels, which encourages a higher delivery of nutrient-enriched blood to the skin. Coffee is also filled with antioxidant compounds that can repair and prevent cell damage, restoring the skin to its healthier shape.

Moreover, caffeine has been shown to accelerate the lymphatic system and reduce excess fats under the skin, which contributes to a tighter and smoother appearance of the skin. Coconut oil, cinnamon powder, and brown sugar in the scrub will yield additional skin tightening, nourishing, and repairing benefits. The exfoliating effect of coffee and other ingredients to tighten skin at home further enhances the renewal and repair of the skin cells.

What You'll Need:
¼ cup ground coffee
2 tablespoons coconut oil
¼ cup brown sugar
½ teaspoon cinnamon

What You'll Need to Do:
Add warm melted coconut oil, ground coffee, cinnamon, and brown sugar to a mixing bowl and blend well
Leave the mixture to come to room temperature
Apply the coffee mixture to the affected areas of the body
Massage the mixture on the target areas in a circular motion for a couple of minutes
Wash it off or take a shower using lukewarm water and apply moisturizer
Use it once or twice to exfoliate the skin
4. GUAM Skin Tightening Products
If you want hassle-free home remedies for skin tightening that don't require you to gather and mix different ingredients together, you can choose from the range of skin-tightening products from GUAM.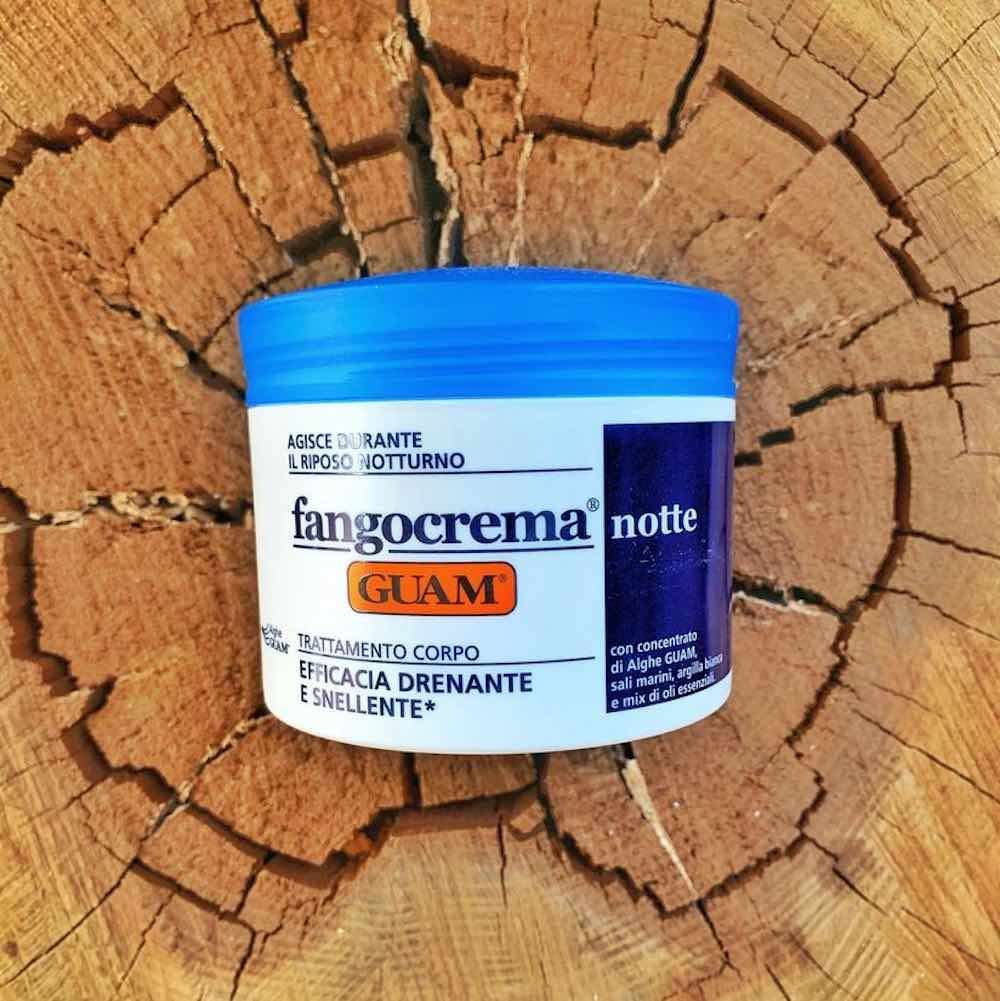 GUAM Firming and Skin Tightening Night Cream
Designed for use at night so that the constituents of the cream perform their skin-firming and restoring actions in line with a natural body detox nightly process.

The mineral-rich GUAM seaweed, along with shea butter, sea salt, Kaolin clay, and a powerful mix of 6 essential oils, and botanical extracts provide deep hydration, nourishment, rejuvenation and skin hydration.

The active ingredients of the cream help to drain lymphatic fluid, trigger the meltdown of fat deposits, enhance collagen production, improves blood circulation, and moisturize the skin. As a result, you'll see visibly firmer, smoother, and supple skin.


Benefits of Skin Tightening Night Cream:
Provides noticeably sculpted and toned body
Encourages better blood flow to the skin
Helps improve skin elasticity and moisture level
Trigger lipolysis of excess fats under the skin
Minimize puffiness and bloating in the body
SHOP NOW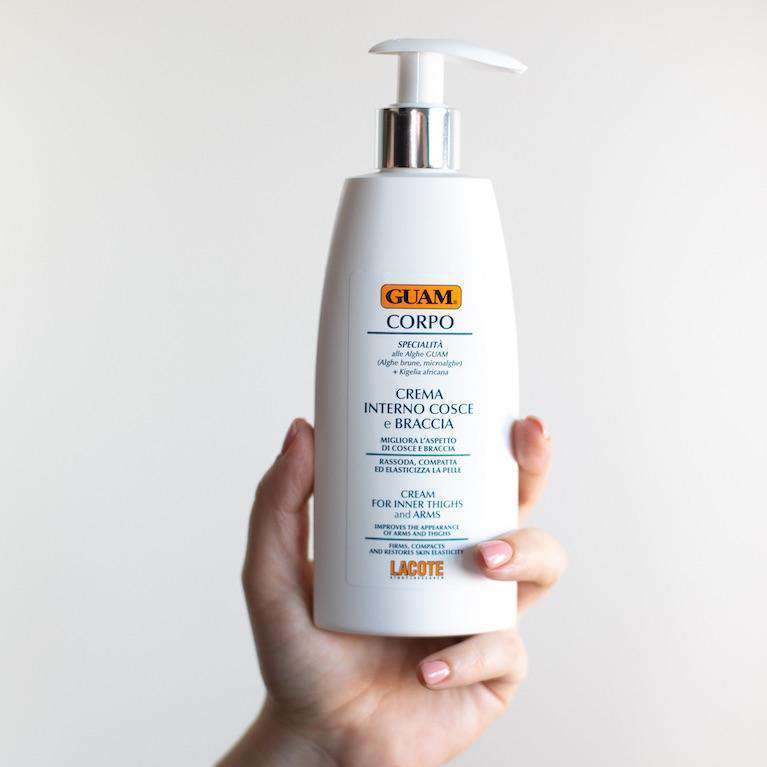 GUAM Body Firming Cream
For Arms and Inner Thighs
If you're particularly concerned about loose skin on the arms and inner thighs and looking for skin tightening home remedies in these areas, this cream is the perfect fit for you. It's is packed with the natural properties of Guam seaweed, marine clay, and plant extracts (Kigelia African and Nannochloropsis).


The formula of this home remedy for skin tightening works to improve the skin's elasticity by boosting the production of collagen, stirring the flow of nutrient-filled blood, and amping up the removal of lymphatic wastes. The cream also keeps the skin amply hydrated and moisturized, strengthening the skin's lipid barrier.


Benefits of GUAM Firming Cream
· Promotes collagen levels in the skin
· Deeply hydrates and moisturizes the skin
· Enhances the drainage of lymphatic fluid
· Fortifies the skin's external lipid barrier
SHOP NOW
5. Bentonite/Green Clay and Yoghurt
How it Works:


Bentonite and green clay are touted as excellent home remedy for skin tightening. These clays work by drawing out impurities, dead skin, and excess oil from the pores, leaving the skin smooth and soft. Applying clay mask regularly can help to reduce pore size and encourage a higher production of collagen in the skin, helping to improve the skin tone. Yogurt is naturally packed with lactic acid, which can further enhance the skin's elasticity by shrinking the pore size.


What You'll Need:
2 tablespoons clay (bentonite or green)
2 tablespoons yogurt
Rosewater (as required to make a paste)

What You'll Need to Do:
Add bentonite or green clay and yogurt in a mixing bowl
Add rose water to the bowl and mix all the ingredients well to make a smooth paste
Slather the paste on your skin (face and neck) for 15 to 20 minutes
Rinse off the clay mask with lukewarm water
Pat dry your skin and apply a moisturizing cream or lotion
Apply this clay mask once a week to tighten skin at home
You can apply this mask to other areas of the body as well
6. Papaya Mask
How it Works:


Papaya is another natural skin tightener for face and body that can be effective as a home remedy for skin tightening. What ranks it among the saggy skin home remedies is its high amounts of the enzyme papain, vitamin A, and vitamin C that aid in accelerating the synthesis of collagen. All of the compounds are known for their skin-firming and rejuvenating effects that can assist in restoring loose skin health.


What You'll Need:
3 tablespoons papaya pulp
2 tablespoons rice flour

What You'll Need to Do:
Add papaya pulp and rice flour in a bowl and mix well
Apply the mixture to the skin and leave for 15 minutes
Gently massage in upward circular movements for a few minutes
Clean the mask off with lukewarm water, and pat dry the skin
Apply the papaya mask once or twice a week
What Causes Sagging of the Skin?
Let's begin by first comprehending the causes and mechanisms behind the saggy and dull appearance of the skin. When your skin ages, you'll see wrinkles and furrows before visible sagging of the skin on your face, neck, chin, hands, arms, and other areas of the body. Some of the major reasons why your skin starts to lose its firmness include:


Low Collagen and Elastin: With the progression of the process of premature skin aging, the levels of vital proteins, elastin and collagen, that support the connective tissue in sustaining the appearance and structure of the skin, bone, and cartilage start to decline. Lower production of these components weakens the support system of the skin, triggering the loss of firmness.
Gravity: Well, gravity is quintessential for the sustenance of life on earth as it prevents us from floating in space. However, this natural phenomenon is among the main factors behind the skin sagging. Sadly, there isn't much you can do to prevent the role of gravity in the process of skin aging, but you can take treatment and preventive measures to counter its effects.
Sun Exposure: It's a no-brainer that the sun's ultraviolet rays reaching the earth can have profound deleterious effects on the skin, especially premature aging of the skin. Prolonged unprotected exposure to UV rays can trigger the breakdown of collagen and elastin, paving the way to skin sagging.
Reduced Amount of Fat: You might already know that fat deposits in the body are critical for maintaining the shape and structure of the skin. As you age, changes to adipose tissues under the skin begin to happen. This causes a low amount of fat cells in the connective tissue, which leads to the sagging of the outer layers of the skin.
Facial Movements: Certain movements of the facial muscles can also lead to wrinkles and sagging of the skin, such as frowning, laughing, crying, etc. Although it's inevitable to prevent this factor from affecting the way our skin appears, you can do facial exercises, use anti-aging skincare products, or look for a natural skin tightener for face.
Sleep Positions: Sleeping in the wrong positions can also lead to the acceleration of the process of aging. For instance, if you regularly sleep on your stomach or side, you can get premature wrinkles and sagging on your face, neck, décolleté, and chest. It happens due to the inappropriate position of the muscles and the pressure of the pillow against the skin.
Unhealthy Habits: Some unhealthy lifestyle choices can also have negative effects on the integrity and health of the skin, leading to loss of firmness. Drinking and smoking, in particular, are seen to speed up the process of aging by damaging the blood circulation, collagen production, elastin, and the skin loses natural lipid barrier. Poor eating habits are also a major reason behind it.
Weight Loss and Pregnancy: If you have lost a lot of body weight rapidly, this can put you at a higher risk of having saggy skin on your face and body. Sudden weight loss causes a reduction in the volume and structure of fat deposits and connective tissues, which can cause sagging skin. Additionally, hormonal fluctuations and structural changes in the body during pregnancy can also initiate the skin elasticity.
The Bottom Line
While it's impossible to avoid the unwanted markers of aging, such as sagging skin, fine lines, and wrinkles, there are many ways you can slow down the skin's aging process. Skin tightening home remedies are one of the approaches to taking good care of your skin and maintaining a youthful skin and its elastic complexion.

A home remedies for skin tightening is your best bet to deal with sagging skin if you're looking for natural ways to tighten saggy skin at home. You can make your own skin tightening natural remedies using olive oil, avocado oil, fruits, aloe vera leaf, almond oil, lemon juice, cucumber juice or cucumber slices, clay, honey, and other natural anti-aging ingredients to tighten your skin. Look for ingredients packed with plenty of antioxidants, fatty acids, minerals, and vitamins to reap the optimal skin anti-aging benefits of your saggy skin home remedies.


References:
Join Guam Beauty Newsletter
for more articles like this and special in-email only exclusive promotions!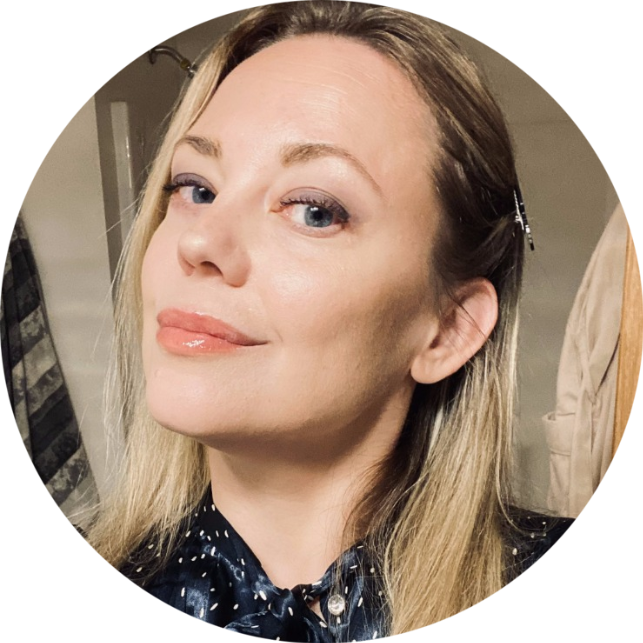 Author of the blog Yana Nesterova
Yana is the writer behind the Guam Beauty blog who firmly believes in the concept that beauty begins in a person's head, not in the mirror. Therefore, she strives to encourage her readers, who are beauty and skincare enthusiasts, to bring mindfulness into their skincare rituals by making more conscious choices. Her philosophy is to enable her readers to salvage mental peace and optimal health by living more mindfully and achieving their skin and body goals through
healthier choices.
Sagging Skin Home Remedies - 6 Best Natural Treatments in 2023 Sale 70% Off