Is Cellulite Normal or Dangerous?
Does that dimpled skin on your thighs, buttocks, and hips make you feel self-conscious? You're not alone. Many women struggle with cellulite, an unsightly type of fat that leaves its mark on nearly everyone, even supermodels. You might have come across countless beauty and skincare articles and blog posts explaining what cellulite is, what leads to its formation, can it be treated, what are the different treatment options available, etc.


While it's important to dig into all the details related to this condition in order to get rid of it effectively, it's significantly imperative to understand that cellulite is normal. This skin condition is known to affect a majority of women and is considered to be completely normal. Gone are the times when people were judged based on their body size, shape, and appearance. This article is an attempt to help you dig into facts, how much is normal, and when it is normal to have it. So, keep on reading!


What Cellulite Really is?
Cellulite is a type of lumpy bumps and grooves that form on the skin's surface, especially on the legs, buttocks, stomach, and arms. It often appears as a cottage cheese-like texture on the skin's surface. It forms as the subcutaneous fat accumulates under the skin and pushes upward through the connective tissue, and gives an uneven appearance to the outer surface of the skin.


It is not a disease or a health condition. It's purely cosmetic, and it's something that almost everyone has to some degree. It occurs when the connective tissues below the skin begin to degenerate, and fat builds up in the area near the surface of the skin. This creates a dimply appearance and interferes with the smoothness of the skin. It can occur at any age, and if you're a woman, you are more likely to have cellulite.
The Mechanism Behind the Formation of Cellulite
The development of cellulite on the body involves the fibrous connective cords that bind the skin to the muscles beneath and the fat cells in connective tissue sandwiched in between. Due to certain internal or outside elements, these fat cells or fat deposits start pushing upward to the outer layer of the skin through the tough and long connective tissue strands, pulling them down.

The whole process leads to the creation of dimples on the exterior surface of the skin. The lumpy and uneven appearance of the skin caused by the projection of fat through connective tissue is often described as orange peel or cottage cheese texture. Common parts of the body where these bumps appear include thighs, buttocks, abdomen, hips, breast, and upper arms.
How Do You Know if You Have Cellulite?
You can usually tell if you have it by looking in the mirror. If you see dimpled skin, particularly on your thighs, buttocks, hip area, and stomach, it's likely cellulite. You can also have it on your arms, on your calves, and on your lower back. Mild cellulite is easily seen when you pinch the skin in areas with dimples. Severe one creates deeper peaks and valleys on the skin and can be seen without even pinching the skin.


It's often thought that these results due to having high body weight. In reality, having this condition doesn't necessarily mean that you have a high body weight. It simply means that you have an increased amount of fat stored subcutaneously in your lower body or parts of the body with more fat deposits. Having lumpy skin does not mean that you're overweight or unhealthy; it's simply a result of the way your body stores and metabolizes fat.
Is Cellulite Dangerous?
It is not dangerous at all. It's simply an aesthetic concern for some people, while others may be completely unaffected by it and unconcerned about these rack-ups of subcutaneous fat deposits and connective tissue on their bodies. It is usually harmless, but some people may be more concerned about their appearance and feel more self-conscious as a result.

Some people may find it more troubling than others and might be in chase of treatment to reduce dimples on their thighs, buttocks, stomach, etc. If you struggle with your self-esteem and confidence because of cellulite, talking to your doctor about ways to manage your insecurities can help to modify your opinion of your body.
Can You Reduce the Appearance of Cellulite?
While it may seem challenging to reduce cellulite, the good news is that having it is not a lifelong issue. It's something that many people get in their younger years and manage to rid themselves of through healthy living and the right skincare regimen. It may take a few years of consistent effort, but you can get rid of it. Eating well and doing regular exercise also play an important role.


Furthermore, there is an unlimited range of remedies, treatments, and clinical procedures that can help you reduce lumps and bumps on your body. If you have it on your tummy, to smooth out dimples and
tighten stomach
skin cream, wrap, scrub, and gel are some of the commonly touted topical anti-cellulite treatments available on the market. Similarly, you can find products specifically designed to target and treat it on other areas of your body.
GUAM Home Anti-cellulite Treatments
GUAM Seaweed Mud
Sculpting & Firming Cooling Body Wrap for Legs
The GUAM Body Wrap is a revolutionary way of decreasing cellulite on your thighs, calves and hips. This formula contains menthol which provides refreshing cooling effect while improving blood circulation in the affected area. The deep penetrating power will enlighten you with its effectiveness as it gets out harmful toxins from within so that they can't accumulate outside such as fluid build-up or fat cells.


Proven to reduce cellulite on legs
The cooling effect relieves heaviness, swelling, and inflammation
Fights puffiness from liquid retention
Visibly slims and contours lower body
Detoxifies and tightens skin
SHOP NOW
GUAM Fangocrema Tourmaline:
Anti-Cellulite Cream with Infrared Heat
Say hello to a new you with our bestselling Guam Fangocrema Tourmaline, an Original Seaweed Cream.

Rich in Guamanian Algae and Marine Extracts that are scientifically proven by independent research companies around the world as effective for tightening your skin (Far Infrared Rays) while also correcting dimples on legs, hips, stomach or other parts of our bodies!
SHOP NOW
How Much Cellulite is Normal?
The most dreaded orange-peel texture on thighs, buttocks, abdomen, and hips, happens to almost everyone. Whether you're young, old, athletic, or inactive, everyone is susceptible to getting it. And while it can be very frustrating to deal with, we are happy to report that it's completely normal! Having cellulite is not a sign of poor health or an indicator that you're overweight. In fact, many healthy people develop visible fat and fibrous tissue pockets as a result of genetics, hormones, sedentary lifestyle, inadequate diet, and other factors. Despite what can causes it, almost all of us have different levels of this issue on different parts of our bodies, and women are a lot more likely to have it than men.
Is it Normal to Have Cellulite on Your Stomach at 15?
You might think that it's not possible for teenager girls to have
cellulite
as their skin is naturally elastic and able to repair and renew faster as compared to those in their 20s or 30s. The fact is that even teenagers are not immune to it. It's perfectly normal to have imperfect skin at 15, especially on your stomach, hips, and buttocks.
Although cellulite is typically something that many people develop in their 20s and 30s, you can develop it at a younger age. If you're noticing first signs on your stomach at 15, it doesn't necessarily mean that you're sick or there is something wrong with your skin. It points toward the fact that you have an increased amount of fat stored in the abdominal area of your body, which can cause it to develop.
Is it Normal to Get Cellulite during Pregnancy?
During pregnancy, women are more likely to notice cellulite, especially around their tummy area. One reason is that the
weight
you put on during pregnancy can make your already present one more prominent. Also, stretching of the abdominal skin can give the impression of more noticeable issue.
Another reason is that higher levels of estrogen cause an upsurge in the enzyme lipoprotein lipase, which encourages fat growth in the lower body in women during pregnancy. Prolactin, the hormone responsible for lactation, is another hormone that can influence the unpleasant appearance. It elevates the amount of water retained in the fatty tissue, increasing the size of fat cells.
As a result, you may observe more lumps and bumps on your body.
GUAM DREN
Draining Body Oil for Massage
This product contains a blend of anti-swelling ingredients, which will leave you skin firm and smooth. The formula absorbs quickly into the skin without leaving any residue or greasiness behind and ideal for pregnancy massage!


GUAM DREN Oil Benefits:
The formula is lightweight, non-greasy, and fast-absorbing
Rich in moisturizing and nourishing natural compounds
Reduces skin imperfection and water retention
Ideal for drainage massage on legs and buttocks
SHOP NOW
Is it Normal for a Child to Have Cellulite?
As discussed earlier, the formation of it isn't related to or limited to your, and you can develop it even at a young age; even children can have this condition. In babies, cellulite is more noticeable in the butt area as this part of the body has more fat cells. You might be wondering how children can have it at such a young age. Well, unfortunately, we have little to no control over it.

Females, in particular, are destined to it from the very start due to their body structure, hormonal state, and lipodystrophy or disruption in normal fat distribution. Also, our genetic tendency makes us easy prey, and we can get it at any stage of our lives.
If Most Women are Prone to Cellulite, Is it Normal?
As we know that around 80% to 90% of women are susceptible to having it at some point in their lives, does it imply that cellulite is normal and we should just accept it and do nothing about it? The simple answer to this question would be that common may not always mean normal.

Saying that most women will suffer from it no matter what, so nothing should be done about it only shows that you're giving up on yourself and your body. There are plenty of things happening around us that are considered to be normal or frequently occurring but may not necessarily be normal. The logic of equating the common with normal seems illogical.

Moreover, as a woman, you might be more likely to have it, but with proper preemptive measures, you can delay or prevent its formation. And if you already have it, you can reduce its appearance with some changes to your lifestyle and skincare rituals.
Is Striving for Cellulite-Free Skin Wrong?
Well, many of us may not be bothered by other people's opinions or judgments regarding our appearance but still want to get rid of rumpled skin on our thighs, buttocks, belly, or other areas. This is the same as with acne scars, wrinkles, and dark spots. Would any of us like to have these skin problems? Your answer is probably no. This is why we put a lot of effort into treating or reducing these skin woes.

Similarly, if there are ways to prevent, reduce, or banish dimples, why would you miss the opportunity? There is absolutely nothing wrong with taking care of your body and feeling comfortable with the way it looks. If reducing cellulite is about body pride and having smooth and dimple-free skin, why not go for it? What counts is that you accept and love your body despite all its imperfections, and if there is a solution to improving those imperfections, you can always give them a try.
Bottom Line
Contrary to the mainstream conception that cellulite is a skin disorder and it ruins the skin, there is nothing wrong with having it. So, if you've been feeling annoyed or disgusted about having some bumps on your skin, you should stop stressing yourself because it is really not such a big deal.

Most of the women have lumps and bumps on different parts of their bodies, and that's perfectly fine. If you feel comfortable with the orange peel-like appearance of the skin on your stomach, thighs, hips, and buttocks, there's no need to make any decision due to insecurities and shame attached to this harmless skin condition.

You should focus on showing love and compassion for your body and do things with it that you feel comfortable with. Don't forget that all bodies are beautiful, no matter skin tone, texture, size, or shape.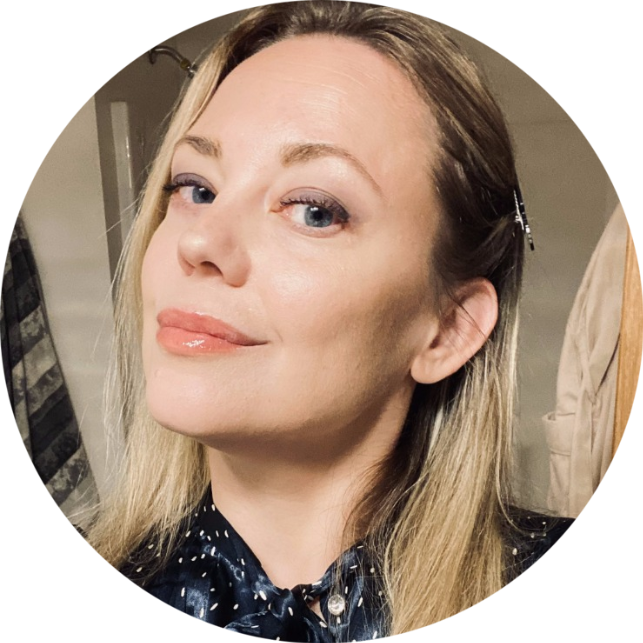 Author of the blog Yana Nesterova
Yana is the writer behind the Guam Beauty blog who firmly believes in the concept that beauty begins in a person's head, not in the mirror. Therefore, she strives to encourage her readers, who are beauty and skincare enthusiasts, to bring mindfulness into their skincare rituals by making more conscious choices. Her philosophy is to enable her readers to salvage mental peace and optimal health by living more mindfully and achieving their skin and body goals through
healthier choices.
How Much Cellulite is Normal? Sale 70% Off