Choosing Stomach Skin Tightening Cream. 11 Things to Look for
There are only so many sit-ups and crunches you can do to get rid of
stubborn fat around your waist
. Cellulite is one of those things that doesn't go away no matter how much you exercise. Fortunately, the industry has caught on and you can now find skin tightening cream for stomach that will minimize unsightly lumps and bumps.
With the temperature rising and more reasons to show your skin, we are all starting to wonder if our bodies are ready to hit the beach or sport some shorts and sandals. With your confidence looming, you want a solution that will get the job done and quickly. Fortunately, stomach firming products will give you a solution within a few weeks that will get you summer dress ready.


Not all products are alike. Here are some benefits and what to look for when buying a skin firming cream.
1. Your skin needs water
It's no secret your skin needs to be hydrated. Doctors recommend you should drink
eight glasses of water
a day. Keeping up this routine will keep you looking young as the hydration plumps up your skin, giving wrinkles a run for their money.
Many companies use the word "firming" when they talk about skin tightening creams for stomach. According to
Dr. Baxt from the Mayo Clinic,
your skin will look plumper and more firm when it is moist, not dry. When looking for a product that will smooth out cellulite, look for one that has water as one of the ingredients. It's only natural for us to know to drink water. Buy a product that makes sense for your body like those that will give you that good old H20.
Also, topical application of tummy firming creams with hydrating and moisturizing ingredients, such as vitamins E and A or shea butter can be highly beneficial in maintaining healthy skin elasticity and preventing further cell damage. These ingredients strengthen the skin's natural barrier, which helps to maintain well-hydrated and supple skin.
2. Scan the labels
Whether it's due to cellulite or your skin is losing its elasticity after pregnancy or weight loss, choose your
firming cream for belly
wisely. The firming lotion for stomach work in two ways. Firstly, the cream tighten skin. Secondly, tummy firming creams reduce the appearance of cellulite. So, don't forget to scan the label if you're striving to find the best skin tightening cream for stomach after pregnancy or weight loss that will actually work to restore elasticity.
There are a plethora of skincare ingredients that function to lift and firm saggy and crepey skin. Always make sure to choose the active ingredients that will boost blood circulation, reenergize and repair the skin, improve collagen synthesis, and accelerate cell metabolism. Massaging the skin with tummy firming creams containing these ingredients will not only improve the appearance of the skin tone but also work on a cellular level to
burn fat deposits
and improve the elasticity of the skin.
3. Collagen is Key
We all are well-versed with the fact that collagen is the building block of all the organs in the body, including the skin. A healthy level of collagen is essential to promote skin cell rejuvenation and help to tighten inelastic and droopy skin on the tummy. It's needless to say that a decline in the level of this key player will speed up the process of aging and lead to loss of firmness in the skin.

Therefore, it is important to look for tummy firming creams that contain collagen-forming components. Peptides, antioxidants, and multiple growth factors to reduce collagen breakdown and facilitate its production. An optimal amount of collagen in the skin cells enables the body to address almost every imaginable skin woe. A belly tightening cream that enhances the production of collagen will make the skin feel and look plumper and healthier, even help with stretch marks.
4. Collagen loves Retinol
After a time, your skin will start to sag. It's what mother nature intended. There's not much we can do to prevent gravity besides going under the knife. Since many of us don't have Kardashian-sized bank accounts, we do what we can with what can afford. Retinol acts as a mattress for your skin. It helps with collagen production and therefore connective tissues become stronger so it is less likely to contribute to sagging skin and skin crepiness.

Topical application of retinol in stomach tightening creams can boost the synthesis of glycosaminoglycans, a component of connective tissue requires for retaining moisture. Besides, it prevents free radicals from affecting the skin which may lead to an adverse effect on the collagen levels in the body.

Retinol or vitamin A has long been used to treat stretch marks, cellulite, and saggy skin. A stomach skin firming cream with retinol will thicken the skin and add firmness back to it. Normally a product with at least 0.3% retinol is recommended for achieving the results faster.
5. Caffeine Can Be a Lot More Than You Think
When talking about key ingredients in the best stomach tightening creams, caffeine is one of the most effective and commonly used ingredients. You must be now wondering what makes it so special. Well, for starters, it is an excellent anti-aging ingredient that makes your skin look more youthful and healthy. It dehydrates fat cells and acts as a vasoconstrictor, giving a smoother-looking complexion.

This is the reason it is often used in tummy firming creams and anti-cellulite creams. Moreover, caffeine is known as a natural antioxidant that protects the skin cell from oxidative damage, preventing the breakdown of collagen. We hope these reasons are enough to endorse the significance of caffeine as it may significantly decrease belly roughness but it may sometimes not work for a sensitive skin so patch test is highly recommended.
Recommended Tummy Creams:
Tummy Firming
Stomach Cellulite Cream with Infrared Heat
This stomach tightening cream has a dual effect: cellulite reducing and stomach skin firming.

It contains Caffeine, Seaweed extract, Bitter orange phytoextract and powered by essential oils and other natural plant extracts. Formulated with Black Tourmaline this infrared stomach tightening cream dissolves fatty tissue in stomach and transforms loose skin for noticeably smooth, cellulite-free results you'll love. Intensive cell-activating natural ingredients stimulate cell metabolism, microcirculation, tightening skin, and breakdown of fatty deposits in the abdomen area.

The formula is cruelty-free, 100% vegan, non-toxic and contains no harsh ingredients like Parabens, SLS, Pegs, Silicons, etc. For all skin types.
Learn more
Duo Slimming Tummy Cream,
Stomach Skin Tightening
Innovative skin tightener for stomach with Guam Seaweed, Noirmoutier sea spring water, and Pink Pepper extract. This tummy cream targets stubborn fat deposits under the subcutaneous layer of the stomach and waist. Thanks to its lipolytic action it triggers fat breakdown, remodels the silhouette, firms and tightens stomach skin, improves microcirculation. Clinically proven fat burning formula makes it one of the best skin firming cream for stomach.

The formula is cruelty-free, 100% vegan, non-toxic and contains no harsh ingredients like Parabens, SLS, Pegs, Silicons, etc. For all skin types.
Learn more
6. Natural ingredients in modern tummy creams
We all have done it. We looked at a label and thought to ourselves "How the heck do you pronounce this ingredient?" You should understand everything you put in and on your body. Your skin is your largest organ so it's best to treat it like a temple.


Companies will try to sell you on magic ingredients that are "clinically-proven" but you should look for what mother nature intended all-natural ingredients in the best cream to tighten belly skin.


As we become more conscious of the environment and how we are affected, buying products that are socially responsible is important. When looking for a skin firming cream, find ingredients in nature such as
seaweed
, different
marine clays
and plant extracts that have been used for centuries.
Seaweed body wraps
are commonly found at high-end spas to fight cellulite on stomach but you can find great products to use in your own home without the price tag. Why reinvent the wheel when it comes to finding the right solution?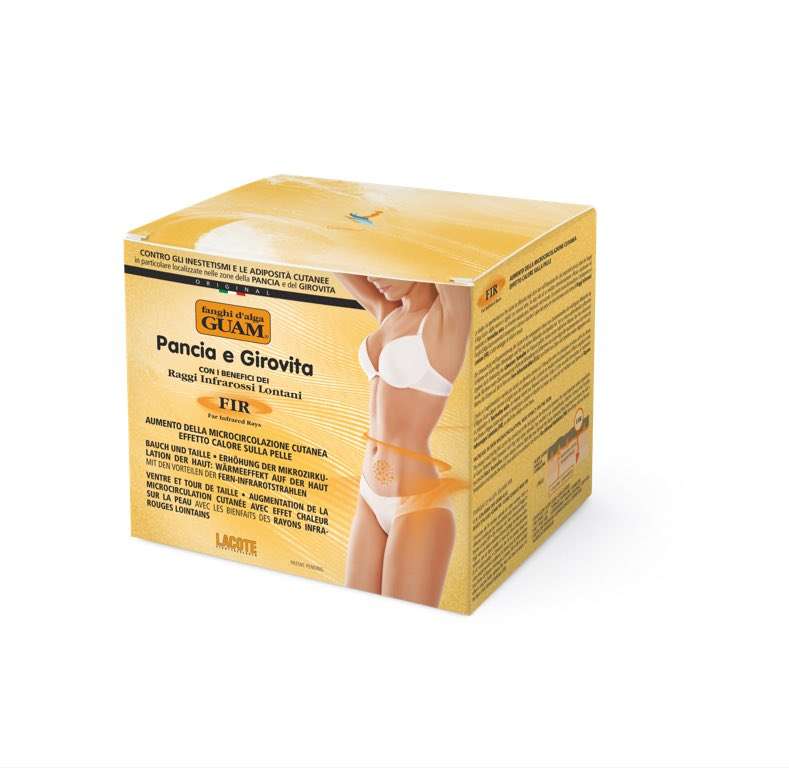 Tummy Tightening
Anti-Cellulite Body Wrap with Infrared Heat
Specifically designed to firm tummy and waist, this anti-cellulite stomach body wrap uses a special blend of natural Essential Oils and Guam Seaweed Mud with Far Infrared Rays (FIR) to get dramatic results from the very first treatment. Visibly smooths out lumps and bumps, tightens loose skin, and reduce fatty tissues for a toned tummy you can't wait to show off.


Benefits:
Instantly reduces cellulite on stomach, back, and love handles
Activates reducing fatty tissues in abdomen area
Firms loose skin and improves elasticity
Corrects puffiness, bloating, and water retention
Quick visible results of stomach-firming
Suitable for after weight loss recovery
Easy to use at home with a plastic wrap
Learn more
7. Get your daily vitamins
Flinstone vitamins have come a long way since our childhood. It's time for an upgrade from those dinosaur-shaped pills of our past. It is time to upgrade your vitamin intake by getting them through your tummy cream.


Like we mentioned before, your skin is just another organ on your body, so why treat it differently than anything else. Vitamins are vital in keeping you looking young and swaying signs of old age to look the other way. For example, Vitamin E improves hydration, protects the skin, diminishes fine lines and wrinkles, prevents collagen degradation, and protects your skin's barrier. It also prevents skin aging and saggy skin.
8. Essentials oils and extracts are well… essential
Nature has many healers. Sometimes we don't realize the peel on our orange can do wonders for our skin. skin tightening cream for tummy includes ingredients like ginger oil that accelerate the breakdown of fatty tissues and increase elasticity which provides a lifting effect that gets rid of things like cellulite and stretch marks.


Sandalwood smooths and tightens skin and rose oil helps stretch marks and surgery scars fade.
Coconut oil helps restore elasticity and tone skin on the belly, thanks to its moisturizing properties and high content of antioxidants and fatty acids.
Geranium Oil: Known for its astringent and cytophylactic properties, geranium oil may help tighten the skin and reduce the appearance of skin imperfections in belly area.
Grapefruit Oil: This essential oil has been associated with weight loss and reducing belly fat when used in massage or aromatherapy.
Ginger Oil: Often used in belly drainage blends, ginger oil may help reduce extra inches on the waist and target stubborn belly fat.
Even consuming some of these active ingredients on a daily basis can help with bloating and getting rid of toxins in the body. It's no wonder these products do wonders for people and their skin. Before buying a skin firming cream, be on the lookout for oils that make sense for you.
9. It's getting hot in here
Many
cellulite creams
on the market contain caffeine or other ingredients to make your skin tingle. That's when you know the
tummy cream with caffeine
is working.
Infrared heat
is much better than caffeine in that as it gets under the skin to really increase the efficacy of the skin firming cream for stomach. Having both infrared ingredient and caffeine is even more beneficial for your skin and tissues.
Cell-activating far infrared rays start working on the surface of your skin and penetrate down into the tissue underneath, they stimulate healthy cell metabolism, boost microcirculation, repair inflammation, and strengthen elasticity for instantly tighter, smoother skin. Essential ingredients for your skin may include the vitamins, minerals, and oils but you need something a little extra like
infrared heat
to really get your cells moving.
When looking for a
skin tightening cream for stomach
, look for the essential ingredients that will help you attain your goals. These products are not a one size fits all solution. Finding the one that fits your budget and gets rid of those pesky dimples is a match made in heaven. The best way to see if it can help you with the cellulite on stomach is to get some samples and read online reviews.
10. Things to Avoid in Stomach Tightening Creams
It's as important to be familiar with the ingredients to avoid as it is to know about the ingredient to look for in tummy firming creams. Applying the wrong or ineffective ingredients may cause more skin damage or fail to produce the desired results. Here's what you should avoid when choosing firming creams for stomach:


Parabens: These are commonly used preservatives that bind with estrogen receptors in the body. They may not be harmful in the short term, but in the long run, they can lead to serious health issues. Hence, it's better to be safe than sorry.
Artificial Fragrance: Some people are more prone to get allergic reactions to creams with artificial fragrances than others. Be sure to read the label of your stomach firming cream to avoid skin irritation, redness, or burning. Especially its important when you are looking for tummy tightening cream after pregnancy.
Synthetic Dyes: Just like artificial fragrances, certain synthetic colorants can also cause inflammation in some people. Therefore, go for a tummy firming cream with natural ingredients to limit unforeseen side effects.
PEG's: These are a group of ethylene glycol polymers that are widely used in skin and hair care products as softeners, thickeners, and solvents. They function to enhance the absorption of ingredients into the skin, including the harmful ones. So, you know why you need to stay clear of them.
11. Consider Your Tummy Skin's Individual Needs
As with any other skincare product, don't neglect the specific needs of your skin. Everyone has different skin types, concerns, and requirements. Therefore, a belly firming cream that worked magically for your friend might not be as useful for you. Always consider choosing a tummy tightening cream that meets the works best for your individual skin.

For instance, if you have extremely dry and itchy skin, you'll need a deeply-moisturizing stomach tightening cream to provide an extra dose of moisture to your skin. Otherwise, you might need to use a lot of product to reap its benefits. Similarly, choose a day or night skin tightening creams according to your convenience and preference.
FAQ
Q1: How do skin firming lotions work on aging skin?
A: Skin firming lotions typically work by hydrating and nourishing the skin, improving its texture and promoting collagen production. Ingredients like retinol, peptides, and hyaluronic acid are commonly found in skin firming lotions that help enhance firmness and elasticity in aging skin. Source:
Healthline
.

Q2: Can skin firming lotions help with crepey skin?
A: Yes, skin firming lotions can potentially improve the appearance of crepey skin. These lotions often contain ingredients like retinol, glycolic acid, or antioxidants that may help stimulate collagen production and enhance the elasticity of the skin. Source:
Mayo Clinic
.

Q3: Which are the best skin tightening creams for firmer skin?
A: Some popular ingredients to look for in skin tightening creams include retinol, caffeine, alpha hydroxy acids (AHAs), and peptides. These ingredients can help improve skin elasticity and firmness. However, the effectiveness may vary depending on individual preferences and skin types. Source:
Healthline
.

Q4: How can a skin firming lotion contribute to youthful skin?
A: Skin firming lotions can contribute to youthful-looking skin by improving hydration levels, boosting collagen production, and enhancing skin elasticity. Ingredients like hyaluronic acid, vitamin C, and niacinamide are often included in these lotions to provide anti-aging benefits. Source:
WebMD
.

Q5: Can a tummy tightening cream help reduce belly fat?
A: Tummy tightening creams are primarily designed to improve the appearance of the skin by enhancing firmness and elasticity. While they may not directly burn belly fat, regular use of these creams along with a healthy diet and exercise routine may help promote a toned and firmer-looking abdomen. Source:
Healthline
.
Takeaway
Skin tightening cream for tummy is definitely the best non-invasive and wallet-friendly solution to get rid of saggy tummy skin. The best skin tightening creams for stomach contain skin cell regulators, antioxidants, and moisturizing ingredients that penetrate deep into the skin and boost the production of collagen. Be persistent and regular because tummy firming creams may take a bit longer to deliver the promised results as compared to cosmetic procedures.


We hope you're now ready to embark on your quest to choose the right stomach tightening creams with the help of the guide provided above.

SOURCES:

Capone K, Kirchner F, Klein SL, Tierney NK. Effects of Colloidal Oatmeal Topical Atopic Dermatitis Cream on Skin Microbiome and Skin Barrier Properties. J Drugs Dermatol. 2020;19(5):524-531.

Bissett DL, Oblong JE, Berge CA. Niacinamide: A B vitamin that improves aging facial skin appearance. Dermatol Surg. 2005;31(7 Pt 2):860-865. doi:10.1111/j.1524-4725.2005.31732

Ryan R. 12 benefits of guarana(Plus side effects). Healthline.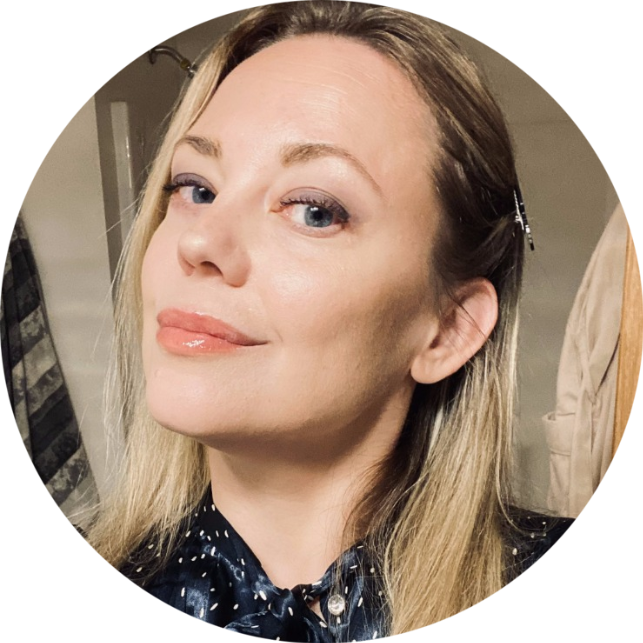 Author of the blog Yana Nesterova
Yana is the writer behind the Guam Beauty blog who firmly believes in the concept that beauty begins in a person's head, not in the mirror. Therefore, she strives to encourage her readers, who are beauty and skincare enthusiasts, to bring mindfulness into their skincare rituals by making more conscious choices. Her philosophy is to enable her readers to salvage mental peace and optimal health by living more mindfully and achieving their skin and body goals through
healthier choices.
Best Tummy Skin Tightening Cream for Stomach Firming Sale 70% Off