Best Natural Anti-Cellulite Scrubs
Those cottage cheese-like dimples on the body are a tell-tale indication of cellulite. Cellulite can happen to the best of us, whether skinny or chubby. Even celebrities and models are not immune to this annoying skin condition that seems to affect the majority of women around the globe.
We all know how that lumpy fat on our thighs,
stomach
, hips, and arms can affect us negatively. Besides making our skin appear uneven and saggy, those bums can have an adverse impact on our confidence.
Luckily, you can now find various bodycare products formulated to address different concerns related to the formation of cellulite on different parts of the body. From creams, gels, and lotions to wraps, masks, and scrubs, you can find a wide variety of body repair products in the market. Today, we'll talk about GUAM natural anti-cellulite scrubs that can help you reduce and prevent the condition. So, let's get to it!
What is Cellulite?
Before we jump to different skin solutions, let's understand what it is and what leads to its appearance. If you have lumpy or uneven skin on your upper arms, legs, hips, belly, or buttocks, this can be a sign of cellulite. It is formed when the skin on these areas of your body is drawn inward by the strands of connective tissue.

The collagen bands separate the connective tissue and the fat underlying the skin, which creates compartments or pockets. These packets of fat and connective tissue make the skin on top look uneven or bumpy. Various reasons can pave the way to the formation of cellulite, including genetics, weight gain, inadequate nutrition, pregnancy, hormones, and lack of physical inactivity.
Why You Need to Use a Scrub for Cellulite?
You might already know that scrubs or exfoliators really work to remove the dead, dry, and dull outer or epidermal layer of the skin that makes the skin appear and feel rough, uneven, and discolored. Without proper exfoliation, the dead cells, along with other pollutants like dirt, bacteria, and sebum, can accumulate into the pores and cause various problems.

Moreover, the pileup of these impurities can prevent the ingredients of your products from absorbing into the skin.
When you use a scrub for cellulite to eliminate dead skin and impurities, it prepares it for faster and deeper absorption of the products you apply afterward, such as body wraps, masks, creams, and moisturizers.

Hence, these are a vital component of comprehensive cellulite removal treatment, whether done at a spa or at home using homemade DIY remedies.
Guam Scrubs for Cellulite
Cellulite scrubs, and coffee scrub for cellulite, in particular, are among the most touted treatments. There are countless products at hand in the market when it comes to coffee scrub for cellulite. What sets GUAM products apart from the rest is the addition of 100% natural and cruelty-free compounds to the formulas, retrieved from natural marine and botanical sources.

GUAM strives to deliver its users premium-quality ingredients in their purest form and highest concentration to ensure optimal results. Currently, there are 4 different types of scrubs with different features and combinations of ingredients to cater to the varying needs of its customers.
Difference between GUAM Scrubs
At GUAM, we understand that you all have different skin types and problems. Therefore, to take care of all your specific needs, we have formulated different cellulite scrubs. Here's what each scrub does and the difference between them all to help you make the best choice:
GUAM AlgaScrub
Cellulite Scrub with Sea Salts
This scrub is packed with the benefits of seaweed, sea salts, and plenty of natural plant-derived oils. The addition of untainted Guam Seaweed works at a deeper level to alleviate the causes behind the appearance of lumpy fat and muscle pockets on the skin. Seaweed is known for its power to encourage better lymphatic drainage, improve blood circulation, and hydrate the skin.


The blend of natural oils (Sunflower, Jojoba, Lemon, Peppermint, and Rosemary) moisturize and nourish the skin, improving the overall texture and tone. The natural restoring and renewing abilities of plant-based oils help to enhance the firmness of the skin. The scrub is ideal for those who enjoy aromatherapy in the comfort of their homes, thanks to the refreshing and energizing aroma of essential oils.
SHOP NOW
GUAM AlgaScrub DREN
Drainage Cellulite Scrub
If your main skin concern is swollen or inflamed legs, thighs, abdomen, or buttocks, this is the perfect solution for you. The intense draining formula works on a cellular level to eliminate excess water and toxins retained in the connective tissue, which gives the skin a puffy and inflamed look. The draining action also leads to a reduction in the orange peel-like appearance.


Marine active ingredients in this scrub for cellulite enable faster cell growth and repair, along with removing dead skin buildup. The rich amount of plant extracts, sea salts, and natural oils also make it a great solution for nourishing, moisturizing, and hydrating the skin, leading to a firmer, even-toned, and brighter complexion.
SHOP NOW
GUAM AlgaScrub Energy
Toning and Energizing
This formula is aimed at sculpting the body and uplifting the mood and senses. What makes this scrub different from others is its rich composition that includes amino acids in addition to seaweed, sea salt, and plant oils (Rice bran, Cannabis sativa, Jojoba, Alive, and Sunflower), and essential oils (Lemon, Orange, and Cedar wood).


The AlgaScrub Energy is an ideal way of supplying your skin with an added layer of nourishment along with revitalizing the mind and body through the aromatherapy that the essential oils offer. The exfoliating effect of this scrub for cellulite leaves the body smoother and softer.
SHOP NOW
GUAM AlgaScrub BALANCE
Restoring and Recovering
The formula of AlgaScrub Balance is specialized to restore the balance of the skin by remineralizing the cells and promoting the renewal and regeneration of damaged cells, which can lead to loose and uneven skin. Also, it remineralizes and nourishes to enhance the outlines of the body and give it a slimmer and contoured appearance.


This scrub is a combination of GUAM Seaweed with herbal oils, vitamin E, and sea salts. The stimulating fragrance of natural plant oils takes the whole experience to another level. So, if your body goals include slimming and nourishing the skin, give ALgaScrub Balance a go.
SHOP NOW
Seaweed in Scrubs for Cellulite
Seaweed procured from the depths of the ocean is nature's gift that has long been used for its matchless benefits. This marine active ingredient is used in skincare products for its abundant nutritional profile that contains vitamins, minerals, amino acids, and antioxidants. Three different types or species of seaweed used in formulas are red, brown, and green seaweed.

Not only the colors of these variants of seaweed are different, but they also offer unique benefits.


The main properties of seaweed that make it a crucial component of GUAM cellulite scrubs include its powerful anti-inflammatory, anti-aging, lipolytic, remineralizing, and hydrating actions. These effects help to repair cell damage, remove lymphatic wastes, dissolve subcutaneous fat storage, and keep the skin amply hydrated. Since seaweed has an anti-inflammatory or soothing effect, it works well for sensitive, inflamed, and dry skin as well.
How to Apply Guam Scrubs
Now that you know all about Guam scrubs for cellulite, next comes the most effective way of using them. Here are the right steps to apply a scrub:
First of all, get under the shower and dampen your skin as it helps to work the scrub better and improves its efficiency.
Take an ample quantity of Guam scrub of your choice and slather it onto your damp skin.
Massage the scrub in circular movements with slight pressure to make sure you remove dead skin and impurities properly from the pores.
After massaging the scrub for the time prescribed on the scrub packaging, rinse it with warm water.
PRO TIP! Follow with GUAM Body Wrap treatment to achieve anti-cellulite, firming, and toning effects faster. To complete your at-home treatment, follow with a boosting gel or cream.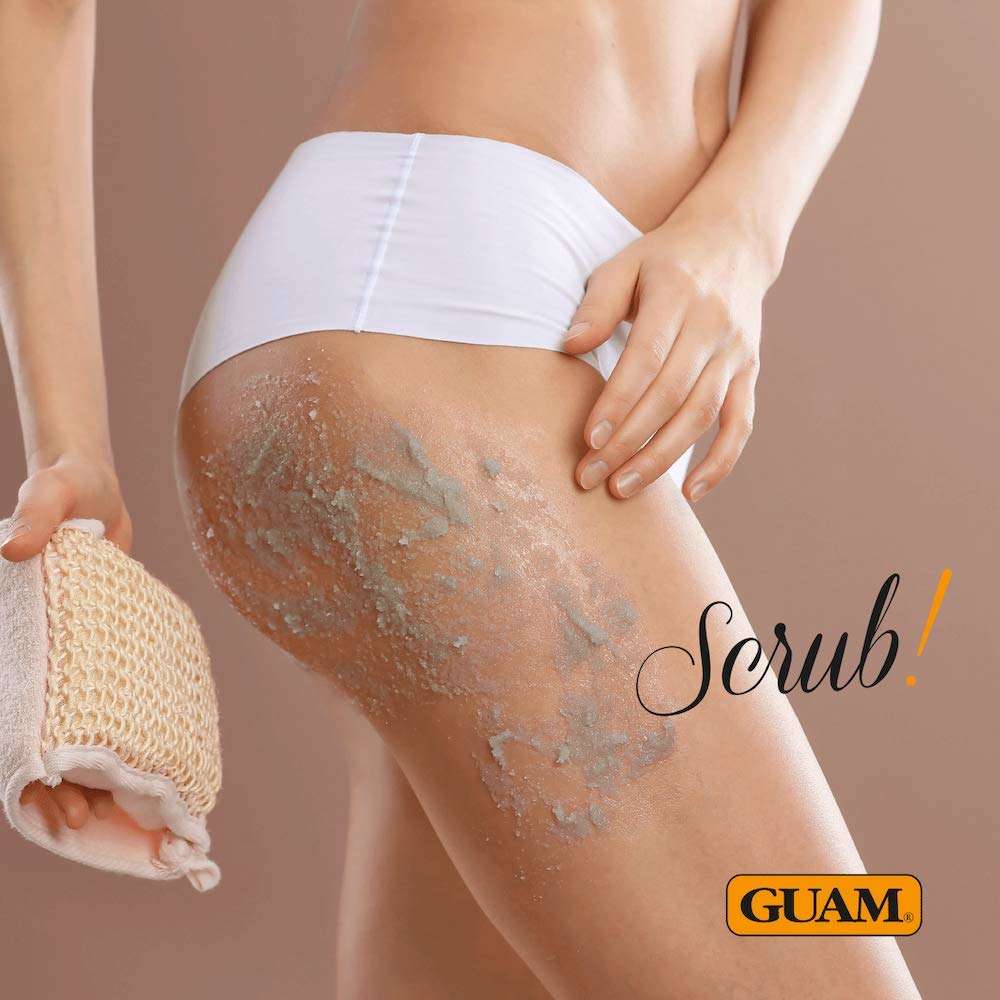 Are There Any Adverse Effects of GUAM Scrubs?
Well, the natural composition scrubs for cellulite and stretch marks makes them safe for all skin types. However, there are a few things to hold in mind while applying a scrub. Here's what you need to be careful of:
Avoid using it on the face, neck, and private areas of the body.
Also, don't use it on irritated or bruised skin to avoid irritation ad redness.
Good idea is to check the scrub reviews online too.
Last but not least, do a compatibility or patch test to see if you are not allergic to any natural ingredients in the formula.
Final Word
If you're tired of lumpy, loose, and dull skin that has dimpling and rippling and looks like cottage cheese, a cellulite scrub can help you get rid of the problem. There are various formulas containing different natural botanical ingredients. Coffee bean scrubs, DIY coffee scrub for cellulite and seaweed scrubs are among the most talked-about in the body care world.

GUAM has a range of seaweed scrubs targeted at reducing different skin problems. A cellulite scrub will not only provide powerful cleansing benefits but also prepare your skin for the next step of your treatment. So, choose the right formula that matches your type and requirements from our scrub collection to find your best body scrub for cellulite and start your spa-like treatment at home before the swimsuit season is in the swing. Also done forget to make before and after images to track your progress!
SHOP ALL GUAM PRODUCTS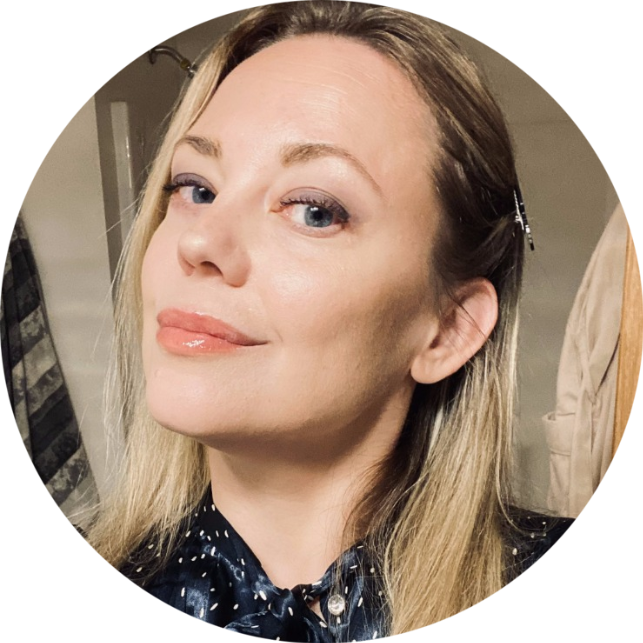 Author of the blog Yana Nesterova
Yana is the writer behind the Guam Beauty blog who firmly believes in the concept that beauty begins in a person's head, not in the mirror. Therefore, she strives to encourage her readers, who are beauty and skincare enthusiasts, to bring mindfulness into their skincare rituals by making more conscious choices. Her philosophy is to enable her readers to salvage mental peace and optimal health by living more mindfully and achieving their skin and body goals through
healthier choices.
Best Natural Scrubs For Cellulite in 2023 Sale 70% Off