Cellulite on Arms: Causes, Treatment, How to Avoid it, and more
As we all know, cellulite is a mainstream skin concern that can affect people of any size, color, or shape, and although it's commonly known to appear on the buttocks, thighs, and
stomach
, it can also show up on your arms. Those pesky and stubborn lumps and bumps or cellulite on arms can be quite infuriating and can have an adverse effect on your self-confidence. Concerns associated with these frustrating dimples on the skin can lead to questions about the causes behind their appearance, effective treatment options, and useful prevention measures or tips.

This article is aimed at delving into the considerable factors that can contribute to the development of cellulite on arms, discover suitable cellulite treatments available, and offer valuable insight on how you can get rid of arm cellulite or minimize its visibility.

So, let's explore all these points to curb your curiosity about how to get rid of cellulite on my arms without further due!
How is Cellulite on Arms Formed?
Well, just like the occurrence of these lumps on any other area of your body, arm cellulite appears in a similar manner. For those who are not familiar with how cellulite is formed, let us help you comprehend the mechanism behind its appearance. This skin condition that makes the skin look like cottage cheese is the result of fat deposits pushing through the strands of connective tissue under the skin on your arms, leading to the uneven or crumpled appearance of the outer layer of the skin.

Due to the role of underlying body fat deposits in the development of cellulite, it most commonly affects the regions of the body with a higher amount of fat cells, including thighs, buttocks, belly, and arms. However, the fatty tissues that lead to cellulite on upper arms and other areas of the body often come with misconception. Cellulite can affect anyone of any height, weight, body type, gender, and age. This is why you may even see someone skinny with some arms fat and flabby skin.
Factors behind the Appearance of Cellulite on Arms
Although there isn't enough evidence to substantiate the exact causes that can cause cellulite on upper arms and other body parts, here are a few factors that are widely known to contribute to the appearance of cellulite:
Genetics: Your genes can be one of the major determining reasons behind the formation of cellulite on arms. If someone in your close family members has been struggling with this skin issue, chances are you may also develop it.
Lifestyle Choices: If you have a sedentary lifestyle, inadequate diet, or have gained extra weight, you're more prone to getting cellulite on upper arms and other areas of the body. Smoking and other unhealthy habits can also increase your risk of getting arm cellulite.
Gender: As mentioned above, cellulite can affect people of all genders. Nonetheless, women are at a greater risk of having orange peel-like skin due to the arrangement of fat cells and the structure of connective tissue.
Skin Structure: Your skin's condition or structure, i.e., the firmness and thickness of the skin, can also have a significant effect on the appearance of orange peel skin. Since thinning of the skin occurs due to weak collagen fibers, it influences the structure of connective tissue and increases the bulging of fat deposits through the tissue.
Hormonal Imbalance: Hormones can play a profound role in the formation of cellulite on your arms. When you go through hormonal fluctuations during puberty, menopause, and pregnancy, you're much more likely to have visible cellulite on arms.
Age: As you grow old, your skin starts losing its elasticity, and the arrangement of fat cells under the skin also starts changing. As a result, cellulite starts becoming more noticeable with age.
How to Get Rid of Cellulite on Arms Fast?
Now that we have walked you through how cellulite is formed and what can lead to its development, you must be impatient to know the answer to 'how to get rid of upper arm cellulite?' While it may not be possible to get rid of cellulite in arms completely, the following options can help to minimize its appearance.

Let's explore common and effective ways to get rid of cellulite on arms:
Exercise
One of the easiest and most beneficial ways to get rid of cellulite on upper arms is to get moving. Physical activity or arm exercises can help to reduce the amount of fat cells and build more muscle, which can smooth out the outer surface of the skin and reduce cellulite dimples.

Some of the exercises specifically helpful in cellulite reduction and are bicep curls, tricep kickbacks, and overhead presses. These spot exercises can effectively build muscle but aren't suitable for getting rid of fat deposits in arms.
Hence, aerobic workouts instead of spot exercises can be more useful in targeting and burn fat in arms.

Moreover, aerobic exercises can be done to reduce cellulite deposits in arms and other body areas. Doing these exercises regularly will not only strengthen your muscles and burn excess fat but also improve the skin's elasticity. Some physical activities to add to your routine to get rid of cellulite are cardiovascular exercises, strength training, swimming, rowing, bike riding, running, dancing, elliptical machine, and walking.

Strength training exercises can Las promote circulation and fat loss if done regularly,
Massage:
Massaging cellulite-ridden areas of the body is also among the most popular ways of reducing the appearance of cellulite on upper arms. Massage can effectively treat and prevent cellulite by increasing the supply of nutrient-filled blood to the skin, encouraging better lymphatic drainage, helping with poor circulation, breakdown fat deposits under the skin, and improving the skin's firmness. Some types of massage that are particularly effective in minimizing and preventing cellulite include deep tissue massage, lymphatic drainage massage, myofascial release, cupping therapy, and specialized anti-cellulite massage offered at various spas and salons, such as cellulaze and endermologie.

Massage can yield additional skin benefits, along with helping you get rid of cellulite in arms, which include more glowing, firm, and smooth skin texture. It's important to remember that it may take a bit longer for massage to show visible and long-lasting anti-cellulite effects. Therefore, persistence and patience are required to achieve your desirable results. Also, combining massage with other treatment options can provide faster and help reduce cellulite's appearance.
Topical Anti-Cellulite Products
Plenty of topical treatments specifically formulated with active ingredients can help reduce and prevent cellulite on different parts of the body, including cellulite on arms. These skincare products work by targeting and treating the causes that lead to the emergence of an orange peel-like appearance of the skin. These products work by triggering the lipolysis of fats in deep fatty tissues, removal of lymphatic wastes, boosting microcirculation, and restoring the skin's firmness. All these actions lead to a reduction in the visibility of cellulite in upper arms.


Some of the commonly used topical products to get rid of cellulite in arms and cellulite under armpits include anti-cellulite creams, lotions, body wraps, scrubs, and gels. Body wraps, creams, scrubs, and lotions are applied to the skin to promote the breakdown of fats, better blood circulation, faster lymphatic drainage, and rejuvenation of loose skin. Anti-cellulite gels are applied afterward to further enhance the anti-cellulite effects of other products and deliver a lasting supply of active ingredients into the skin for up to 24 hours. It's always a great idea to use a combination of these products to reap optimal benefits in reducing cellulite in upper arms, or under armpits.


Some of the most touted active compounds found in topical treatments for cellulite are caffeine, seaweed, marine clay, vitamin C, retinol, green tea extract, and plant-derived essential oils. All these ingredients have been shown to improve the skin imperfections caused by lumps and bumps on the skin, including cellulite in arms.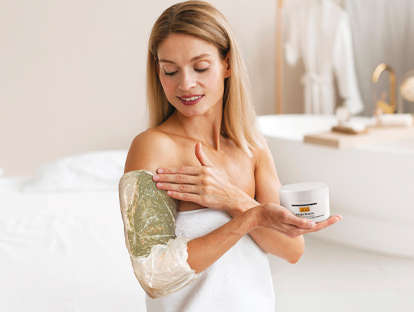 GUAM MUD for ARMS
Intensive Slimming Treatment
As time passes and a sedentary lifestyle takes its toll, the skin on our arms can become susceptible to sagging, leading to the commonly known "curtain effect."
GUAM Fango Braccia arm treatment, a remarkable solution to target localized fat deposits and skin imperfections. Specifically designed to address adipose tissue drainage, it not only enhances skin elasticity but also imparts a firming effect.

COMBATING THE LAXITY OF INNER ARM SKIN
• Rejuvenates, tones, and enhances drainage
• Minimizes skin's fatty accumulations
• Revitalizes skin microcirculation
• Promotes the synthesis of collagen
SHOP NOW
Body Firming Cream For Arms and Inner Thighs
Guam Seaweed Body Firming Cream was specifically formulated for areas prone to skin sagging such as inner thighs and arms. This body skin tightening cream formula rich with Kigelia Africana and Nannochloropsis Oculata provides a visible and immediate lifting effect, the complex of algae and plant extracts protect the cells from oxidation.
It also fights cellulite in these gentle areas, smoothes, and restores skin elasticity and firmness, and improves the appearance of arms and inner thighs.

Body Firming Cream Benefits:
Great for loose skin on arms and inner thighs
Smoothes and tightens skin
Stimulates collagen production
Keeps the skin abundantly hydrated and moisturized
SHOP NOW
In-Clinic Treatments
If you have deep-rooted cellulite or want to know how to get rid of cellulite fast, dermatological procedures might be your best option. Topical products can take some time to yield your desired outcomes. Therefore, clinical treatments are your best shot for quick results and addressing stubborn cellulite. A few of the most popular and widely performed procedures by professionals include radiofrequency, lasers, acoustic wave therapy, microdermabrasion, and ultrasound.


These procedures are powerful targeted treatments that reach deep into the skin, dissolving stubborn fat deposits, increasing blood supply, tightening the skin, and boosting the lymphatic system. This results in reducing the appearance of even deep-seated cellulite on arms. Although these treatments offer fast results, they can be pretty heavy on the pocket and may require multiple sessions to see a noticeable effect.
Healthy Diet:
The food you consume is also linked with the appearance of exasperating cellulite. A diet rich in calories and fats can lead to weight gain, pave the way to cellulite development, and make already present cellulite more noticeable. On the contrary, a balanced diet packed with essential nutrients and low in calories and fats can be effective in lessening the appearance of cellulite dimples.

By adding ample fruits, vegetables, lean proteins, seeds, and nuts to your diet, you can minimize and prevent cellulite on upper arms. Foods that enhance blood circulation and speed up the lymphatic system can be particularly helpful in this regard.


Some of the most effective foods to get rid of cellulite in arms include ginger, cayenne pepper, cinnamon, turmeric, parsley, leafy green vegetables, citrus fruits, berries, tomatoes, cherries, nuts, seeds, and oily fish. Furthermore, drinking plenty of water can also help to flush out lymphatic wastes, boost microcirculation, and keep the skin plump and hydrated.
How to Get Rid of Cellulite on Arms Naturally?
Wondering how to get rid of cellulite on my arms at home? This article has got it all covered for you. You can use at-home topical products formulated to address the factors behind cellulite formation without stressing about the safety and effectiveness of the constituents. Some other ways to reduce and prevent arm cellulite are:
Home-made Scrub: You can prepare your at-home cellulite scrub using coffee, which contains caffeine. This scrub can improve blood flow to the skin by dilating blood vessels and encouraging the breakdown of fat cells.
Massage: Massaging the skin is another promising home remedy that can be the answer to your question 'how to get rid of cellulite on arms fast' or 'how to get rid of cellulite on arms naturally'. You can do it yourself or get the help of a certified massage therapist.
Proper Diet: A diet packed with fruits, vegetables, nuts, and seeds containing high amounts of fatty acids, antioxidants, minerals, and vitamins can help you reduce orange peel and arm fat and prevent more cellulite on upper arms from appearing
The Bottom Line
Cellulite on any part of the body can be annoying. However, they are more confidence-shattering when appearing in areas often visible to others, such as cellulite on arms. For effective treatment and to get rid of cellulite in arms and cellulite under armpits, it's crucial to understand the underlying reasons behind the formation of arm cellulite. Having in-depth knowledge of the causes behind cellulite on upper arms and cellulite under armpits is the first and most important step in addressing this skin woe effectively.

A range of factors, such as hormonal anomalies, genetics, lifestyle choices, etc., can be at play. Luckily a number of treatments and preventive strategies can help you know 'how to get rid of cellulite on arms naturally'. We hope with this article, you'll know how to get rid of cellulite fast or how to get rid of arm cellulite and gain the confidence to wear your sleeveless clothing again.
Join Guam Beauty Newsletter
for more articles like this and special in-email only exclusive promotions!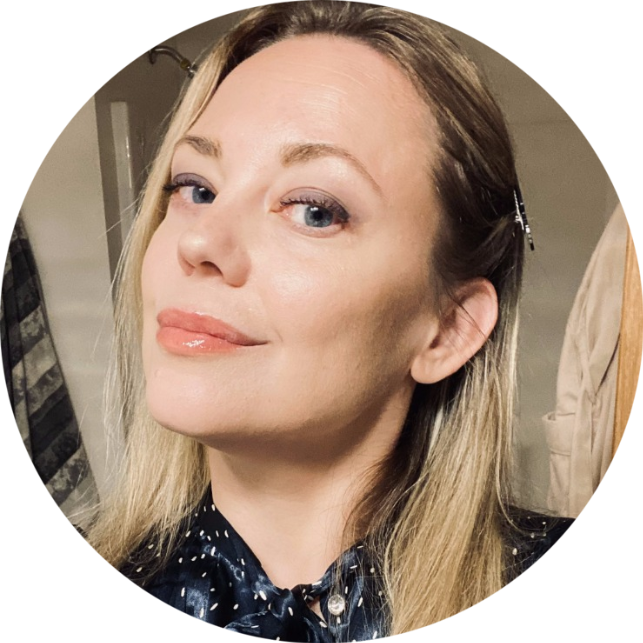 Author of the blog Yana Nesterova
Yana is the writer behind the Guam Beauty blog who firmly believes in the concept that beauty begins in a person's head, not in the mirror. Therefore, she strives to encourage her readers, who are beauty and skincare enthusiasts, to bring mindfulness into their skincare rituals by making more conscious choices. Her philosophy is to enable her readers to salvage mental peace and optimal health by living more mindfully and achieving their skin and body goals through
healthier choices.
Cellulite on Arms: Causes, Treatment, How to Avoid it, and more Sale 70% Off