Can yoga reduce cellulite by improving muscle tone?
The development of cottage cheese-like lumps on the skin is one of the most dreaded skin banes that mostly affect women, regardless of their age, size, ethnicity, height, etc. Cellulite is basically a cosmetic skin issue that results from changes in the connective tissues, adipose fats, lymphatic fluids, and microcirculation under the skin and alters the way the skin appears on the outside. It usually appears on the areas of the body with higher concentration fat cells, such as thighs, stomach, buttocks, and upper arms.


A multifaceted treatment plan is best suited to reduce and prevent this skin issue, which mainly includes a proper diet, topical treatments, a healthy lifestyle, and exercise. Yoga is among the physical activities that can offer potential benefits in helping to reduce lumps and bumps on the skin. So if you're curious to find out 'does yoga help with cellulite', whether you can do yoga to help bloating, and useful yoga poses for cellulite, keep on reading!
Does Yoga Help with Cellulite?
This annoying skin condition, often called orange peel-like skin, is characterized by the distribution of fat deposits in connective tissue under the skin, changes to the structure of connective tissue strands, accumulation of excess fluid, and a compromised blood supply to the skin. Since one of the factors behind the formation of cellulite is loss of muscle tone or shape, various types of physical activities can yield beneficial results, helping to enhance muscle tone and structure.


Yoga is one of the ways to improve muscle firmness and flexibility, which can lessen the appearance of cellulite in different areas of the body. Although yoga poses for cellulite can improve muscle tone and strength, it may not be sufficient when used as a standalone treatment for minimizing cellulite. Strength-enhancing yoga poses for cellulite target and work on the muscles of affected areas and tighten and tone the muscles, making the crumpled skin appear smoother and firmer.
How Does Yoga Help with Cellulite?
Here are a few ways practicing different yoga poses for cellulite can help to reduce and prevent the development of cellulite:


Improve Muscle Tone: Yoga requires you to stay in a particular pose, which involves engaging different muscles in the target areas. This helps in strengthening those muscles, enhancing muscle tone and elasticity. Also, it can aid in reducing the storage of underlying connective tissue fat deposits.
Stimulate Microcirculation: Since yoga poses involve you moving various parts of the body and muscles in those areas, this helps to improve the circulation of blood to the muscles. A better blood supply doesn't just provide more nourishment and oxygen but can also assist in the lipolysis of adipose tissue.
Better Lymphatic Drainage: One of the reasons behind the appearance of cellulite is slow or obstructed lymphatic flow. Yoga poses can help to mobilize the muscles and trigger faster removal of lymphatic wastes. Hence, you can practice yoga poses for cellulite, yoga to help bloating, and yoga for stomach bloating as well.
Reduced Stress Level: Stress is one of the elements that can contribute to an unhealthy lifestyle and weight gain, which can lay the grounds for the appearance of cellulite. Yoga helps to reduce stress by inducing calmness and mindfulness and supporting overall well-being.
·Aid Weight Loss: Practicing different yoga poses for cellulite regularly can help you lose weight by burning calories at the rate of around 183 calories per hour. Some yoga poses for cellulite or yoga for bloating relief can help you burn even more calories by speeding up the metabolic rate of fat cells in the body.
Yoga Poses for Cellulite
Certain types of yoga that target cellulite-ridden parts of the body can assist in improving the tone and structure of the specific muscles in the buttocks, thighs, hips, arms, and abdomen. Yoga and cellulite before and after photos can help you keep tabs on your progress on your journey of yoga to get rid of cellulite.


You can add the following yoga poses for cellulite to your daily anti-cellulite regimen, in addition to other treatment methods, like topical products, diet, and massage.
Eagle Pose
Eagle pose is known as one of the most useful yoga poses for cellulite that works on firming and toning the inner and outer thigh muscles. You can notice yoga cellulite before after results after a few days of practicing this pose. So, how does yoga help with cellulite? Eagle yoga poses for cellulite engage your lower half body, specifically your core, to yield optimal outcome by squeezing the muscles of your thighs tightly.


To practice this yoga pose for cellulite and yoga to help bloating, start by standing straight and bending your knee, then cross your one leg/thigh over the other.
To take your yoga pose for cellulite up a notch, try to wrap your leg in a way that your foot is hooked onto your lower leg or calf.
If this isn't possible, let your foot stay outside of your bottom leg/calf or tap your toes on the floor.
The next step is to wrap your left arm below your right arm and press your palms against each other, lifting your arms up and leveling them slightly with your brows.
Now, sit and squeeze your thighs and hold this pose for around 5 to 8 breaths.
Repeat on both sides.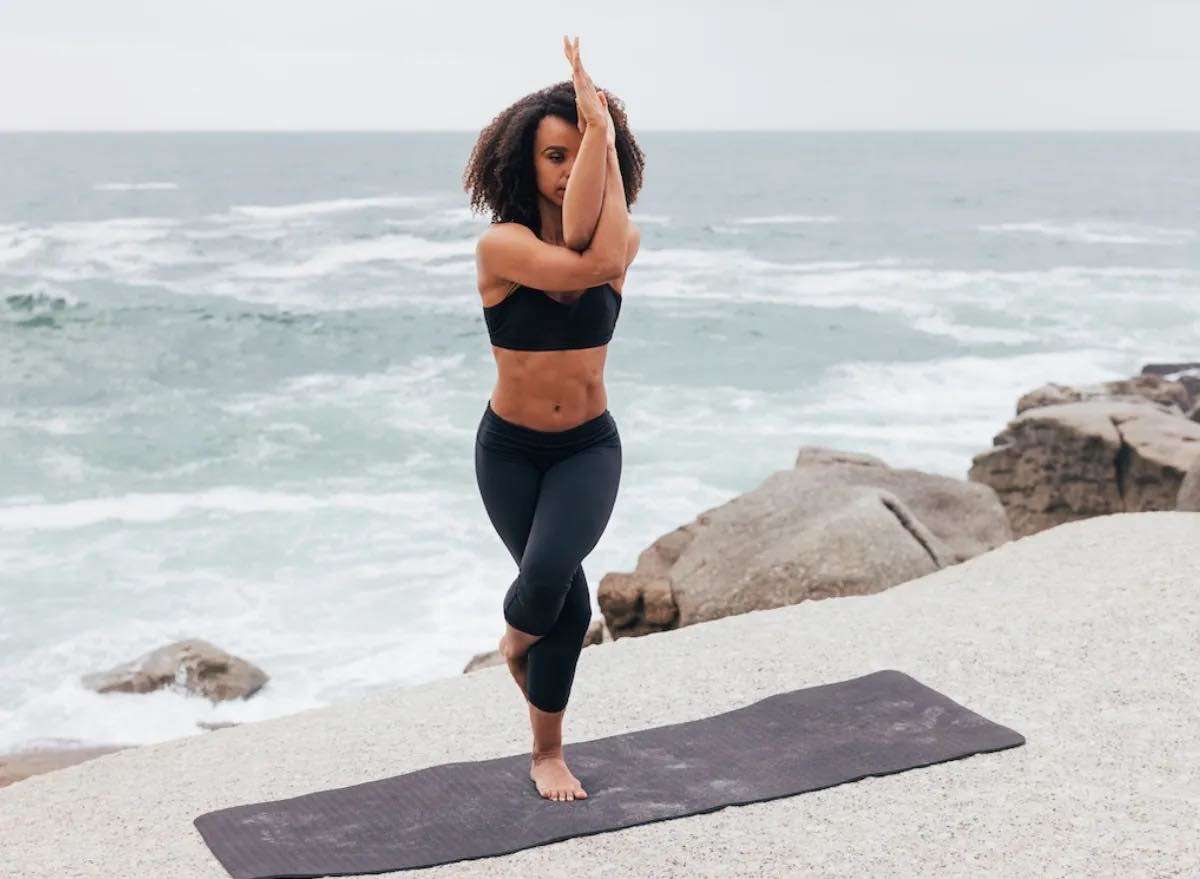 Incline Plank
If your main focus is on firming and reshaping the muscles in your hamstrings and thighs, incline plank is one of the best yoga poses for cellulite in these areas. If you're a fitness enthusiast, you must already know that planks are considered great for toning the entire body. However, this pose is particularly aimed at toning the muscles most prone to cellulite and bloating.


To perform this step of yoga for bloating relief or yoga to get rid of cellulite in your thighs, sit straight with your legs placed in front of you.
Then move your hands 10 inches behind you, facing your finger toward your bottom or forward.
Now, lift your hips up to create an inverted plank, pressing firmly into your hands and feet.
Stay in this position for 5 to 8 breaths and slowly lower your hips.
Repeat this pose at least twice.
If you've been thinking, 'does putting your legs up help bloating and cellulite' and you've been searching for exercises or yoga poses for cellulite, this move can be very helpful for you as your ultimate yoga to get rid of cellulite, yoga to help bloating,
or yoga for bloating relief.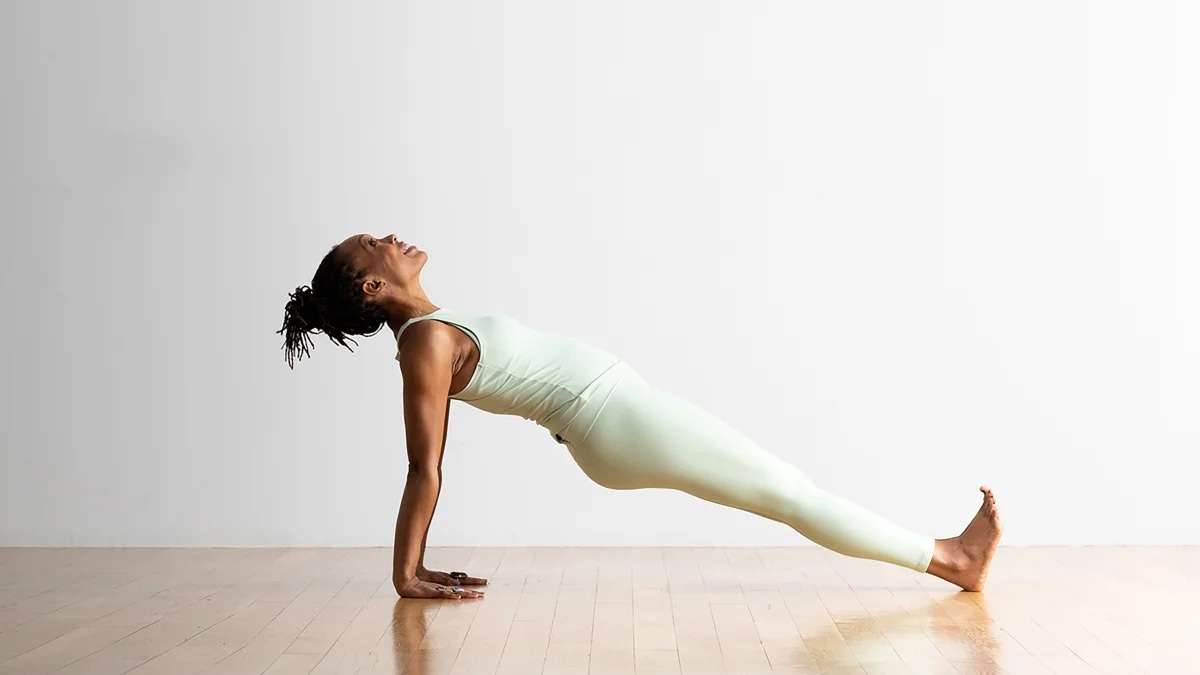 Plow Pose
This is another pose from the yoga exercises for stomach bloating and yoga poses for cellulite. To practice this yoga for bloating relief, start by lying down on your back with your arms placed alongside your upper body. Yoga and cellulite before and after photos on the internet can help you with your questions, such as does yoga help with cellulite or does putting your legs up help bloating.
Bend your knees, bringing them toward your head, and put your hands under your lower back for support, keeping your elbow on the ground.
Now straighten your legs and stretch them back above your head with your toes resting on the floor.
Stretch out your arms to reach the floor and place your palms on the floor.
Stay in this pose for 8 to 10 breaths and slowly bend your knees back toward your forehead, and gently roll your hips down to the floor.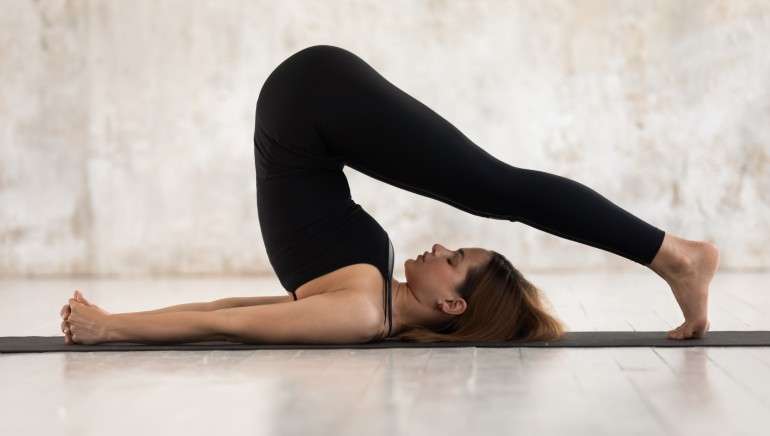 Shoulder Stand
Does putting your legs up help bloating? Well, shoulder stand is one of the yoga poses for cellulite that also works as yoga to help bloating, acts as yoga for bloating relief or yoga for gas pain, and can be practiced as yoga for bloated stomach. Yoga exercises for stomach bloating work by accelerating the lymphatic system. This type of yoga to help bloating and encourage the removal of toxins and excess fluid from the body, as well as stimulate the breakdown of fat deposits under the skin.


To reap the benefits of this yoga to get rid of cellulite and yoga for bloating relief, lie down on your back and lift your legs up with the help of using your lower abdomen to raise your hips, bringing them into plow pose. This will help you move your legs forward over your head.
The next step is to press your hands together behind your neck and move your shoulder up toward your ears.
Now bend your elbows a bit and put your hands on your lower back.
Keep practicing this pose by repeatedly raising your legs and lengthening your lower back, engaging your thighs.
Also, remember to press your elbows into your sides while performing this yoga for stomach bloating and yoga for bloating relief.
Repeat these moves and hold 8 to 10 breaths.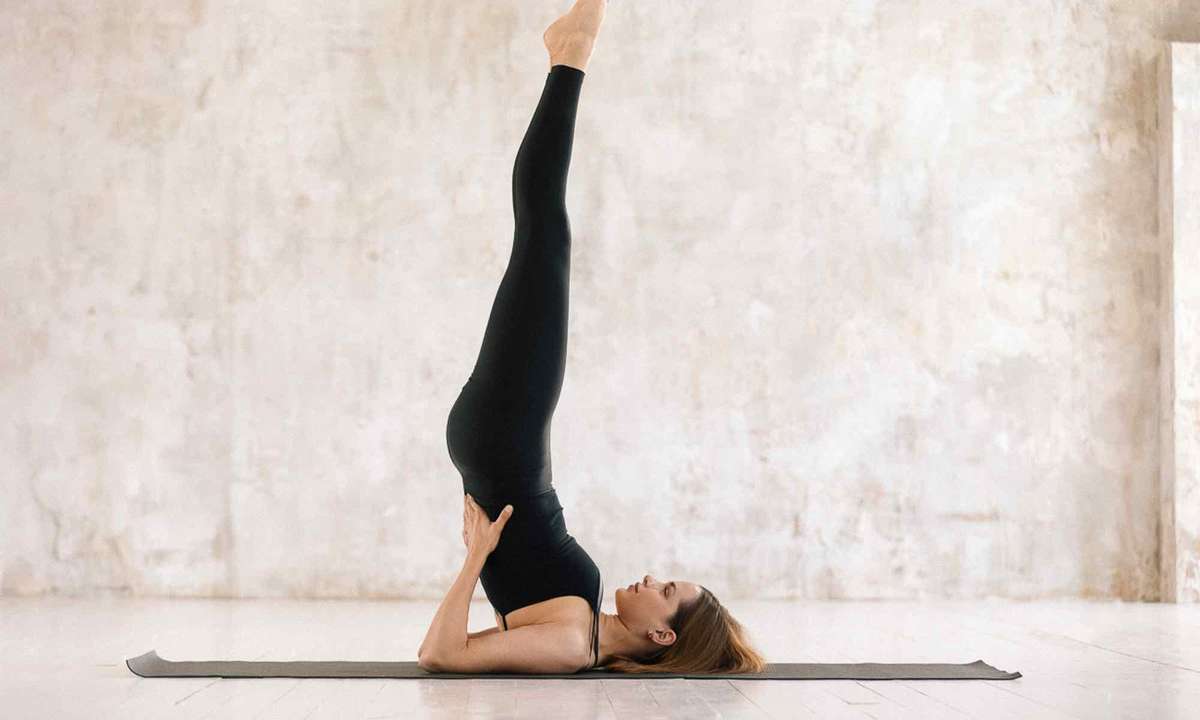 Side Leg Lifts
This yoga exercise is effective in getting rid of cellulite and bloating on your lower body as it targets and tones the muscles of your inner and outer thighs. If you're struggling with bloating in your legs, this is the perfect yoga to help bloating and yoga to get rid of cellulite. One of the reasons behind cellulite development is fat accumulation due to unused muscles. This yoga pose can help you activate the muscles, improving their tone and firmness.


To perform this yoga pose for cellulite, you'll need to grab a resistance band.
Start by sitting on your yoga mat, wrapping your resistance band around your ankles, and bringing it all the way up to your thighs.
Now shift your weight to one side of your body, left or right, and use the elbow and forearm of the other side to maintain balance.
Now extend the leg of the same side as high in the air as you can and hold this pose for at least 30 seconds.
Now switch to the other side and replicate the same motions.

This pose recommended for minimizing the appearance of lumps and bumps on the thighs and tightening the hamstring muscles.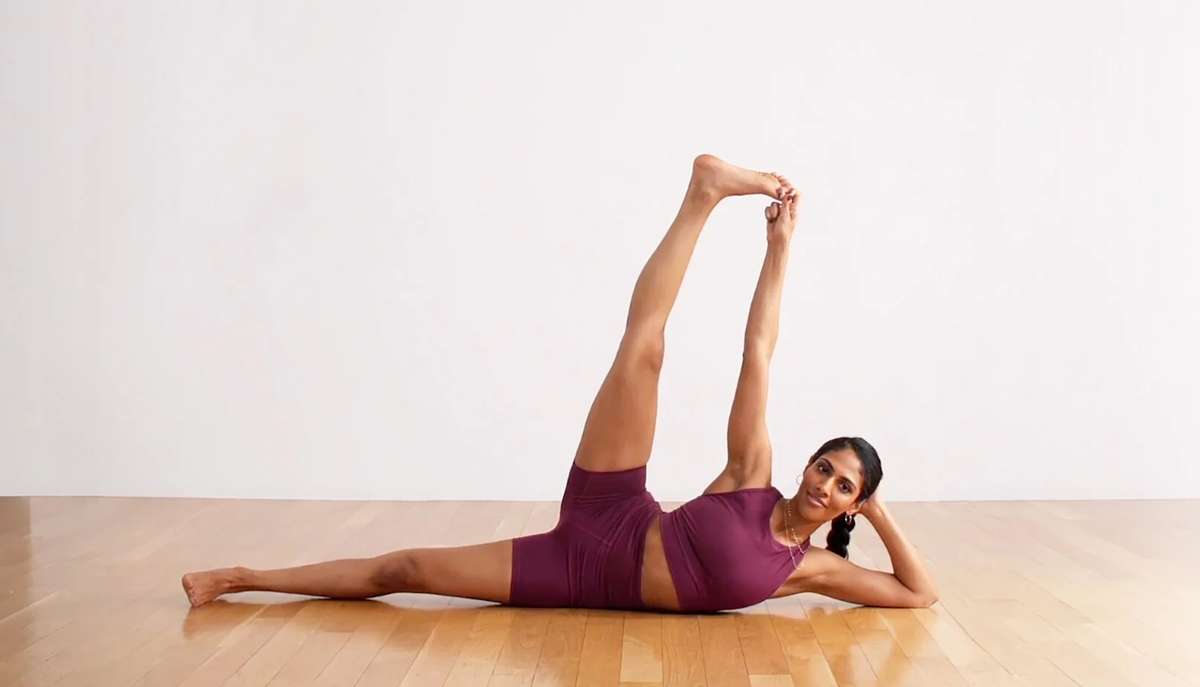 Best Yoga Pants for Cellulite
Guam Pro Massage
Anti-Cellulite Leggings
Guam Seaweed Body Firming Cream was specifically formulated for areas prone to skin sagging such as inner thighs and arms. This body skin tightening cream formula rich with Kigelia Africana and Nannochloropsis Oculata provides a visible and immediate lifting effect, the complex of algae and plant extracts protect the cells from oxidation.
It also fights cellulite in these gentle areas, smoothes, and restores skin elasticity and firmness, and improves the appearance of arms and inner thighs.

Body Firming Cream Benefits:
Great for loose skin on arms and inner thighs
Smoothes and tightens skin
Stimulates collagen production
Keeps the skin abundantly hydrated and moisturized
SHOP NOW
Guam POWER FIT
Remodeling Yoga Pants
As time passes and a sedentary lifestyle takes its toll, the skin on our arms can become susceptible to sagging, leading to the commonly known "curtain effect."
GUAM Fango Braccia arm treatment, a remarkable solution to target localized fat deposits and skin imperfections. Specifically designed to address adipose tissue drainage, it not only enhances skin elasticity but also imparts a firming effect.

COMBATING THE LAXITY OF INNER ARM SKIN
• Rejuvenates, tones, and enhances drainage
• Minimizes skin's fatty accumulations
• Revitalizes skin microcirculation
• Promotes the synthesis of collagen
SHOP NOW
Does Yoga Help with Cellulite Alone?
You might be wondering if only practicing yoga to get rid of cellulite or yoga to help bloating is enough. Well, yoga may not be the sole solution to your lumpy-looking skin. Nonetheless, it can be beneficial in decreasing cellulite and yield other benefits, such as yoga for gas pains, yoga for bloating relief, yoga for bloated stomach, etc.

Yoga poses for cellulite and yoga to help bloating can provide cellulite-reducing effects by strengthening the muscles and eliminating the storage of excess lymphatic wastes in the cellulite-prone areas of the body. Hence, while yoga poses for cellulite are effective, it's imperative to have realistic expectations and adopt a balanced approach to target and reduce cellulite.

Also, you should consult with your healthcare expert or fitness professional to obtain personalized advice and plan according to your individual needs and skin condition.
The Bottom Line
Getting rid of cellulite can be quite challenging due to the multifactorial and complicated nature of this skin condition. However, a conjunction of different factors can contribute to a reduction in the appearance of orange peel-like skin, which includes exercise, appropriate diet, skincare products, and avoiding unhealthy habits.


Yoga can play a helpful role in making cellulite appear less visible by encouraging muscle firmness and tone. You can see yoga and cellulite before and after images and other peoples' experiences online to know more about it.


Moreover, the above-suggested yoga moves can help you feel great about yourself, improving your confidence and overall well-being. So, get ready to rock your swimsuits and crop tops with a toned and reshaped body.
Sources:
Join Guam Beauty Newsletter
for more articles like this and special in-email only exclusive promotions!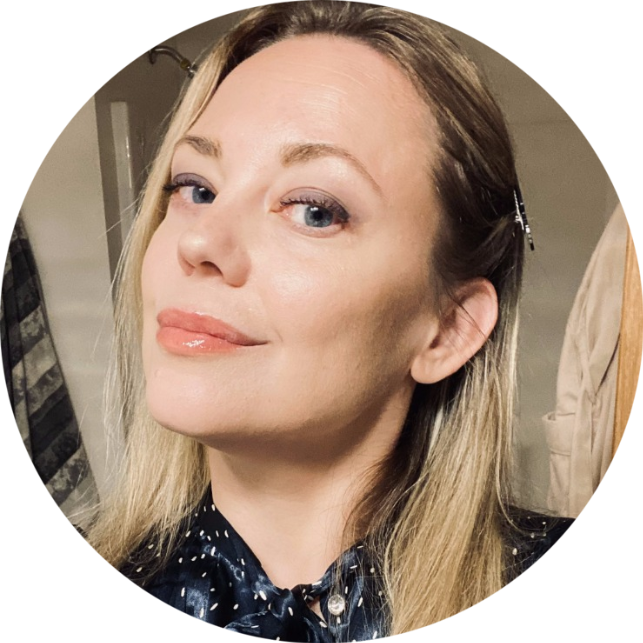 Author of the blog Yana Nesterova
Yana is the writer behind the Guam Beauty blog who firmly believes in the concept that beauty begins in a person's head, not in the mirror. Therefore, she strives to encourage her readers, who are beauty and skincare enthusiasts, to bring mindfulness into their skincare rituals by making more conscious choices. Her philosophy is to enable her readers to salvage mental peace and optimal health by living more mindfully and achieving their skin and body goals through
healthier choices.
Can Yoga Reduce Cellulite by Improving Muscle Tone? Sale 70% Off