Why Guam Seaweed Mud Cold Formula May Be a Great Choice
Guam is continuously striving to bring its customers innovative and powerful skin tightening creams and cellulite wraps to deal with all sorts of skin woes at the comfort of their homes. Guam Seaweed Mud Cold Formula are one of the countless products manufactured by Guam. The addition of a cooling complex to these formulas yields a myriad of additional benefits. If you're intrigued by what Guam cold formulas are and how they can help you with your problems, we're here to help you crack that.

This article will help you comprehend everything about the mechanism of cold formulas and a list of our cold formulas to choose from according to your body specific requirements. So, keep on reading!
1. Efficacy of Cold Therapy
Cold therapy
isn't something new. It has been around for hundreds of years as a natural remedial practice. We hope all of you are familiar with what it is and the benefits it has to offer. If not, let us walk you through it quickly. Cold therapy works by constricting blood vessels, boosting microcirculation, and
eliminating inflammation
due to the buildup of toxins, excess water, and broken capillaries.
Cold therapy is commonly used after heavy physical exercise or sports to relieve muscle pain and accelerate the body's natural healing/recovery process. Furthermore, it's used for skincare purposes to soothe and reduce inflammation, improve the supply of oxygen and nutrient-rich blood, and enhance the elasticity.
2. Why Guam Seaweed Mud Cold Formula?
You must be wondering what makes Guam Seaweed Mud cold formulas different from the rest of our formulas, especially the hot ones. Well, duh, Guam hot formulas produce a heating sensation when applied to the skin and may not be suitable for everyone. Some people struggle with sensitive skin and certain medical conditions that make them intolerant to heat. Applying heat may only make things worse and exacerbate the issues instead of providing any benefits. This is where Guam Cold Formulas come to the rescue.


Guam cold product line is specifically designed to incorporate the benefits of cold therapy mentioned above into the formulas. The cooling effect brought on by these formulas makes the products ideal for all skin types and concerns, even if you have sensitive and problematic one.


Moreover, cold formulas work on the principles of decades-old cold therapy to draw out impurities from the skin. This detoxifying action is especially helpful for those susceptible to swelling, resulting due to the accumulation of excess fluid. The natural active compounds in flush out extra water, reducing inflammation and puffiness.
3. Who Can Benefit From Guam Seaweed Mud Cold Formula?
Well, basically, anyone can use and benefit from Guam cold formulas. However, these are particularly touted as a safe, effective, and easy at-home treatment for people with skin conditions that leave it itchy, reddened, scaly, and sore. Some of the problems that prevent people from applying heat to the lower part of their bodies, such as thighs, lower abdomen, legs, and buttocks, include:
Skin sensitivity
Swelling from water retention
Fragile capillaries
Inflamed tissues
Eczema
Dermatitis
4. Ingredients that Make the Guam Cold Formula Special
Guam has carefully selected natural active ingredients to incorporate into their cold formulas to make sure you can achieve smooth, firm, and radiant skin without having to worry about aggravation. In addition to anti-cellulite, firming, and rejuvenating ingredients, it include a cooling complex, mainly containing menthol, to soothe and revitalize the skin.


Menthol is touted for its refreshing aroma and cooling effect in the skincare world. However, this invigorating compound also possesses natural antibiotic, anti-inflammatory, and tonic properties. Using products with menthol aid in healing damaged, inflamed, and irritated skin. When used topically, it also acts as an analgesic agent and relieves pain and discomfort.


Menthol doesn't produce a cooling sensation by reducing body temperature. Instead, it inhibits calcium current along the nerves that detect temperature, so the nerve endings receive the message that your body is cooling down. Another way menthol helps is by causing vasodilation, which provides a better blood supply with higher amounts of nutrients.
GUAM Cellulite Wraps, Cold Formulas to Choose From
Sculpting and Firming
Cooling Cellulite Body Wrap for Legs
The combination of various cellulite-reducing natural actives targets and treat all the underlying reasons behind the appearance of uneven and dimply skin. Furthermore, this seaweed body wrap enhances the contours of the legs by improving the elasticity.

The formula is intended to reduce swelling in the legs caused by water and toxin retention. Other than de-puffing the swollen tissues, the cooling effect of menthol in it soothes irritated and sensitive skin.
Learn more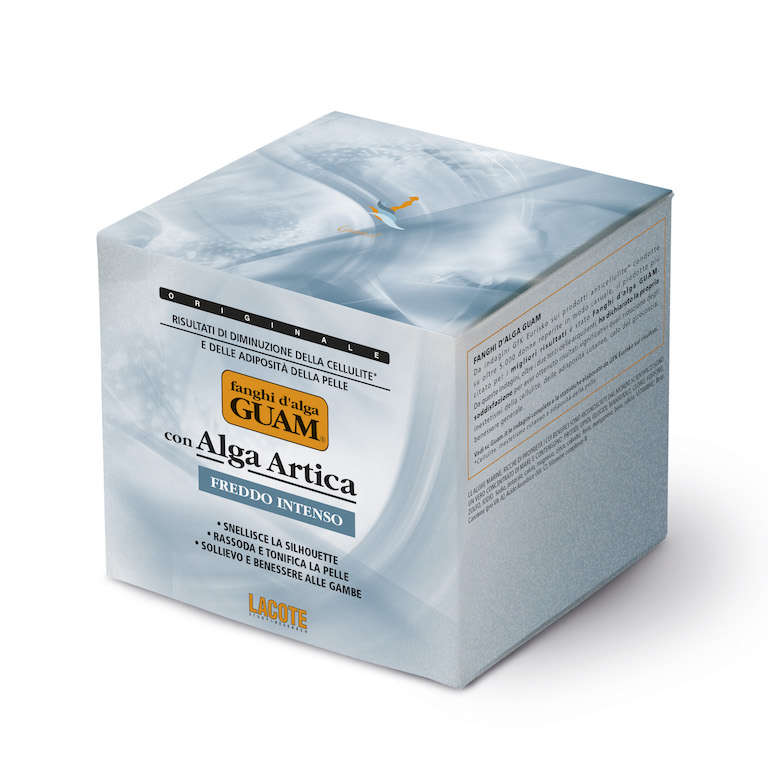 Arctic Cold
Intense Cooling Seaweed Body Wrap
The intense cooling sensation produced by this seaweed body wrap refreshes the skin and draws out extra fluid and toxic impurities from the cells, yielding firmer and smoother legs appearance.

The synergy of seaweed, phyto-extracts, natural clays, essential oils, and menthol works on a deeper level to break down fat deposits, alleviate inflammation, and restore the skin's firmness. As a result, you'll achieve slimmer and cellulite-free legs, thighs, and hips naturally.
Learn more
Economy Pack
Guam Cellulite Seaweed Mud & Strengthening Gel
If you're in search of a comprehensive anti-cellulite treatment, look no further. This economy pack comes with Guam Cellulite Seaweed Cold Mud and an after-wrap Strengthening Gel, skin tightening cream, that boosts the anti-cellulite effect of the cellulite wrap for 24 hours while also releasing additional active anti-cellulite ingredients.

The products work in synergy to de-puff the tissues, flush out lymphatic wastes, reduce cellulite, and soothe the skin on hips, thighs, and calves. This combo is carefully designed to work even better when paired together.
Learn more
GUAM Cooling Skin Tightening Creams
Cooling 24hr Boosting
Anti-Cellulite Gel, After-wrap
This menthol-infused cellulite gel is basically a booster for your cellulite treatment, which extends the effect of your cellulite wrap for 24 hours. It means that your skin will receive the goodness of natural ingredients in cellulite wrap for good 24 hours.

The gel prolongs the detoxifying, anti-inflammatory, and tightening effect of Guam cellulite wraps and delivers an extra supply of cellulite-busting and detoxifying elements. it also works as daily skin tightening cream with anti-cellulite properties.
Learn more
Frangocrema Fresco
Guam Seaweed Anti-cellulite Cream
Another one of Guam's cold formulas, targeted at treating cellulite and tightening loose skin. Marine clay, Guam seaweed, phyto-complex, caffeine, and menthol in the cream give it restoring, fat-metabolizing, and detoxifying properties.

The cream is ideal for use after Guam body wraps to take your anti-cellulite treatment up a notch. However, it can also be used on its own. Use this mud-based cream twice a day, massage gently, and allow it to work on a cellular level to tone, soothe, and firm the skin.
Learn more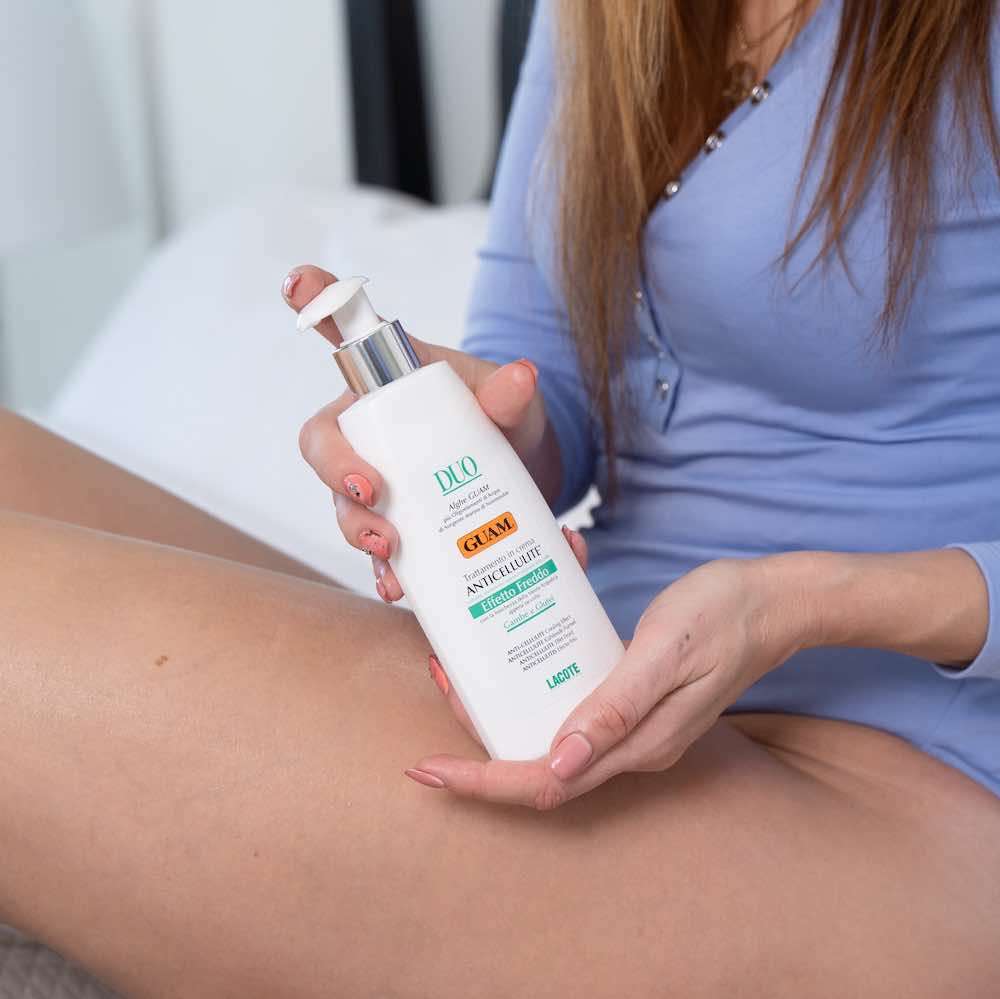 GUAM Duo Anti-Cellulite Cream
for Legs and Buttocks
The formula is specialized to provide anti-cellulite, lifting, and antioxidant effects. The mixture of seaweed, trace minerals, verbena extract, glycerin, menthol, and glycosaminoglycans boost fat metabolism, collagen synthesis, microcirculation, and lymphatic drainage.

All these actions treat the causes of cellulite on legs and buttocks and reduce and prevent their appearance. The cooling sensation gives the added benefit of reviving and calming the skin.
Learn more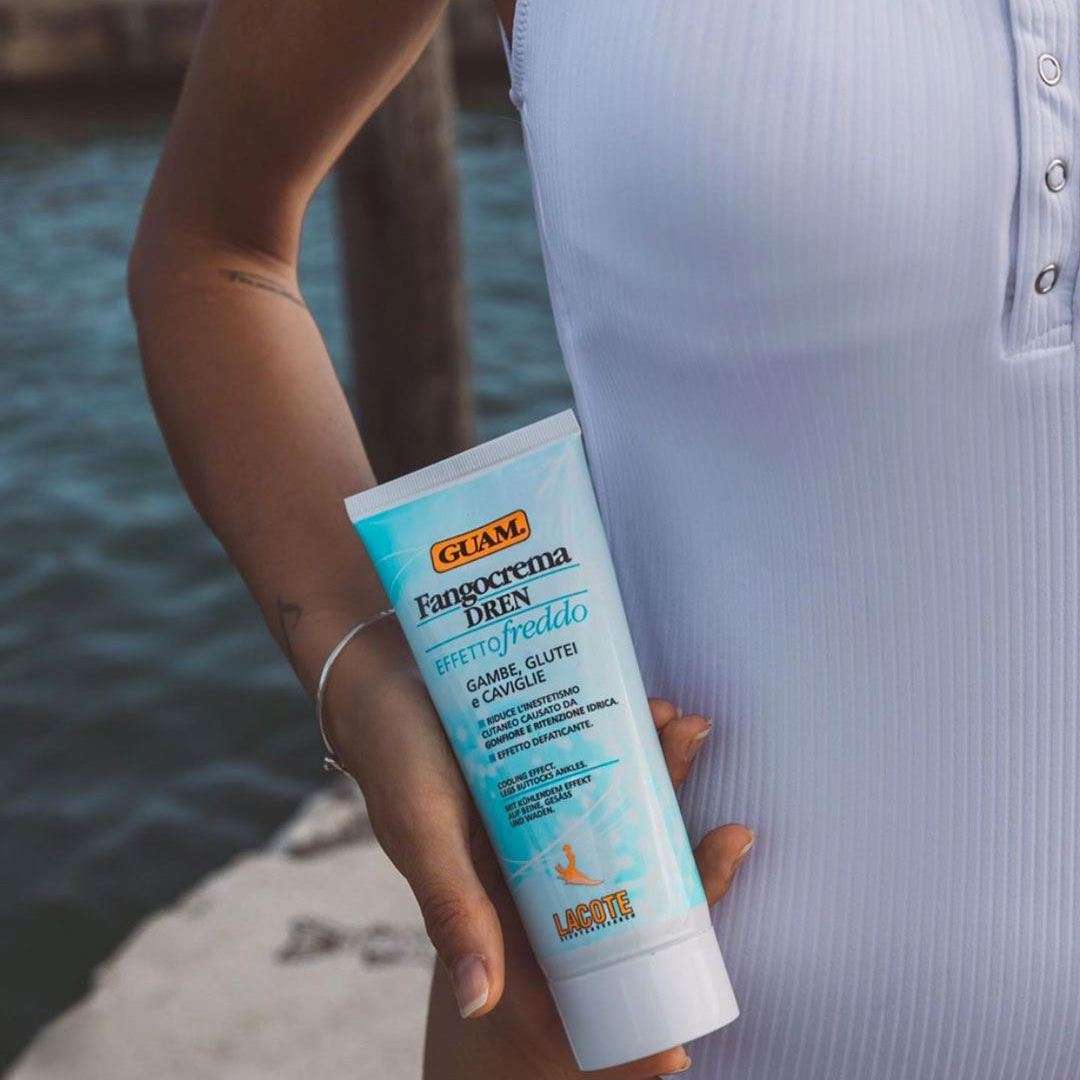 GUAM Frangocrema Dren Cream
with Draining Effect
This potent detoxifying and firming cream is packed with natural active ingredients, like seaweed, caffeine, sea salts, marine clay, cooling complex, and plant extracts.

The formula enters into the deeper layers of the skin and provides a powerful draining effect, eliminating excess water and toxins from the inflamed tissues in the legs and buttocks. The soothing effect and gentle formula of the skin tightening cream is suitable for all skin types, even sensitive ones. The cream is recommended for use before bedtime to let it work throughout the night.
Learn more
Final Word
The power of GUAM Algae Cooling Line allows you to cater to the specific needs of your skin and get rid of various problems at the comfort of your home. The formulas are tailored using natural soothing and cooling ingredients that not only refresh the skin but also help to remove excess water and toxins from the tissues, along with protecting it and reducing inflammation.

So, if you have swollen water retention issues that cause swelling or vulnerable to products with a heating effect, Guam Cold Formulas are your best alternative.
SHOP GUAM COLD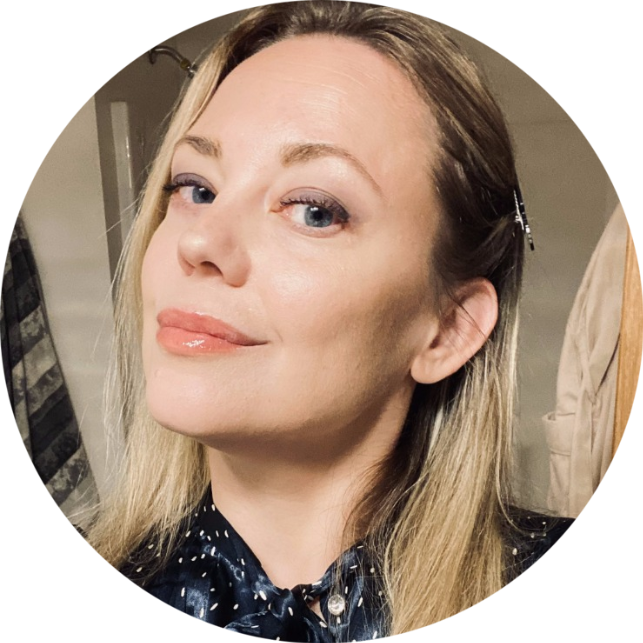 Author of the blog Yana Nesterova
Yana is the writer behind the Guam Beauty blog who firmly believes in the concept that beauty begins in a person's head, not in the mirror. Therefore, she strives to encourage her readers, who are beauty and skincare enthusiasts, to bring mindfulness into their skincare rituals by making more conscious choices. Her philosophy is to enable her readers to salvage mental peace and optimal health by living more mindfully and achieving their skin and body goals through
healthier choices.
Everything You Need to Know About Cold Seaweed Body Wraps
Sale 70% Off