Do Cellulite Creams Work?
If you've been struggling to reduce cottage cheese-like skin on your tummy, thighs, buttocks, arms, or any other part of the body, you probably already know how hard it can be. Getting rid of cellulite is one of the biggest banes of many women around the world, as this skin condition is far more common among women than men. While these harmless dimples don't cause any pain or discomfort, most women still want to reduce their appearance and achieve smooth and firm skin. Fortunately, there is an unlimited range of treatment options to help you combat this problem.

Skincare products are among the most touted bump-minimizing treatments. Dimple-fighting skincare formulas, particularly crams, are packed with active ingredients that target the underlying causes of these lumps and banish them, making the skin even and lump-free. Although these creams are revered as non-invasive, easy-to-use, and affordable treatments for dimples, are they really effective? If you're thinking about investing in a cellulite cream but are not sure if it will work, we've got you covered. Keep reading to find out the answer!
What Causes Cellulite?
Before we discuss the effectiveness of these creams, let's start by understanding what leads to the formation of an orange peel-like complexion on your body. The lumpy skin is caused by the fibrous bands of your connective tissue that are attached to your skin, and underlying muscles start pulling downward. This allows the fat cells in connective tissue to bulge up and create pockets of fats under the skin, giving a bumpy look to the surface of the skin on top.
Dimpled skin can get worse as you age, and your skin loses its elasticity due to faster collagen breakdown and slowed cell renewal. Also, estrogen is related to the amount of collagen and fat cells produced. Lower levels of estrogen due to aging also make the areas, such as hips,
stomach
, thighs, and buttocks, with more fat reserves highly susceptible to dimples.
Is It Possible to Get Rid of Cellulite?
As we can assess by the anatomy and etiology of cellulite that it's a complex skin problem that occurs deep within the skin, implying that it can be really difficult to treat and reduce. While there may not be any easy and quick fix to these unwanted bumps on the body, there are countless topical treatments that can help to minimize the appearance of unattractive-looking dimples on the skin.

Cellulite creams come with varying formulations and benefits that aim to target and treat specific parts of the body and different degrees of dimples. These creams work by eliminating the contributory problems that clear the way for the emergence of lumpy skin, such as inflammation, enlarged fat cells, compromised blood circulation, and collagen breakdown. There are many skincare brands committed to creating powerful and effective topical solution that can assist in diminishing the appearance of jelly-like skin with regular use.
What Cream is Good for Cellulite?
The most significant and deciding factor while buying a cellulite cream is to look for a formula that offers skin benefits relevant to reducing skin conditions that trigger the development of bumps in various areas of the body. The defining features of a good cellulite cream are its ability to reduce or prevent the storage of fat cells under the skin, accelerate the synthesis of collagen in connective tissue, draw out excess water and toxins through lymphatic drainage, and boost the delivery of blood to the treated body parts.

When a cellulite cream contains the right ingredients to address the targeted skin problem and delivers the promised results, it can be called a good cellulite cream. You'll have to try different ingredients or products to find out which cream is the most suitable for you. Once you manage to find the best cream for you, you just have to apply it regularly and let its active compounds work their magic.
What is in Cellulite Cream?
Since this skin issue arises due to the abnormal accumulation of
fat deposits,
water retention, reduced blood flow, and breakdown of collagen due to certain internal or outside elements, a cellulite cream is designed to fight all these underlying factors. This specialized cellulite product aims and reduces the appearance of bumps and indentations on the outer layer of the skin. Anti-cellulite cream is made with active compounds mostly procured from natural botanical resources known for their ability to improve the problems that lead to dimpled skin.
One of the most popular
ingredients
added to these creams is caffeine.
Caffeine body creams
possess natural skin-firming, microcirculation-encouraging, and anti-inflammatory effects. Some of the other commonly used ingredients for this purpose include
seaweed, vitamin E, fatty acids, natural clays, minerals, retinol, vitamin C, peptides, botanical extracts, and essential oils.
Why Should You Opt for a Cellulite Cream?
With an unlimited range of anti-cellulite treatments and products out there, what makes dimple-fighting creams so special? For starters, if you don't have enough budget to spend on expensive clinical procedures, these creams are a great alternative. In-office treatments can be quite heavy on the pocket, and you might need to go for multiple sessions, at least 4 to 6, to see noticeable results. When you choose a cellulite cream, you don't have to stress about breaking the bank.

Another reason why you need to buy a cellulite cream is that you will not need time for recovery, as creams have no downtime. Cosmetic procedures, on the contrary, come with some degree of recovery time needed to heal the skin, which can make it difficult for you to manage your daily occupational, interpersonal, or social life.

Furthermore, when you decide to go for a clinical procedure or professional treatment, you'll have to get the help of a dermatologist or spa technician. This can be hard for many people to spare time and put in the effort to get their treatment done. With cellulite creams, you don't have to visit a spa or clinic. These creams are gentle and completely safe for use at home. You can achieve professional-grade outcomes without any hassle while still being in the comfort of your home.
What is the Best Cellulite Cream on the Market?
Once you have identified that this is the right time for you to start using a cellulite cream, the next step is finding the right formula. You should start your journey to reducing bumpy look by exploring different options in dimple-reducing creams available on the market. This will help you choose a cream that will work appropriately for your individual skin and its requirements.


While there are plenty of cellulite creams by different cosmetic brands claiming to improve dimpled complexion and yield smooth, tight, and healthy skin, you might need to try quite a few before making a final choice. Let's not forget that it can be quite time-consuming and expensive to try different formulas before finding your holy grail. This is why we recommend
GUAM cellulite creams
. Wondering what makes GUAM creams so unique? Keep on reading!
Why You Need to Try GUAM Cellulite Cream?
GUAM Beauty
operates over 35 years
in the skin repair industry and offers a range of creams containing a plethora of natural active compounds that help to combat bumpy mattress-like appearance and make the skin texture even and firm. Each cream in the range is specifically
formulated to target and treat particular areas of the body
and possesses the incredible benefits of bioactive extracts, oils, minerals, and other potent ingredients that seep deep into the body to provide the promised results. Some of the
highly efficient active components
are GUAM algae seaweed, glycosaminoglycans, noirmoutier spring water, black tourmaline, menthol, glycerin, verbena extract, methyl nicotinate,
caffeine
, and plant-derived oils.
The effect of these natural and powerful ingredients and further improved by the use of state-of-the-art technology to manufacture these creams. Innovative techniques such as Far Infrared Rays are utilized to ensure that the resulting product enters into the deeper layers of the skin and performs at the cellular level. The delivery of active ingredients into the cells is responsible for the fast and visible anti-cellulite action of these creams. The high-quality ingredients in their highest possible concentrations are added to produce matchless rejuvenating, antioxidant, anti-inflammatory, and nourishing effects on the treated areas.

Different cellulite creams are carefully designed to work on different areas, such as thighs, buttocks, and tummy, to enhance the breakdown of fat deposits, remove lymphatic wastes, speed up microcirculation, and amp up the production of collagen. Thanks to all these amazing benefits of natural active ingredients, GUAM cellulite creams have become the rage in the beauty and cosmetic realm.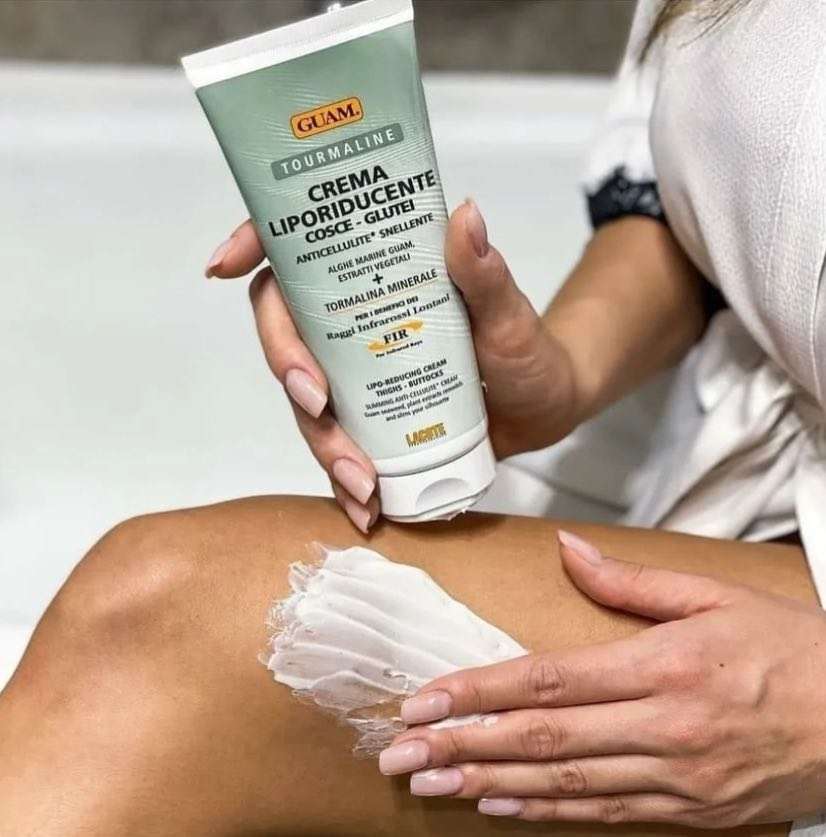 Extra Slimming Anti-cellulite Cream for Thighs, Buttocks
This highly potent slimming body cream is a treatment that reduces fat deposits under the skin caused by cellulite. This hot fat reducing cream targets the most stubborn fat deposits localized on the thighs and buttocks.

The innovative formula of the cream contains Caffeine and provides Far Infrared Rays effect, produced by nanoparticles of Black Tourmaline mineral, which significantly enhances the lipolytic and anti-cellulite effect, firming and reducing buttocks.
LEARN MORE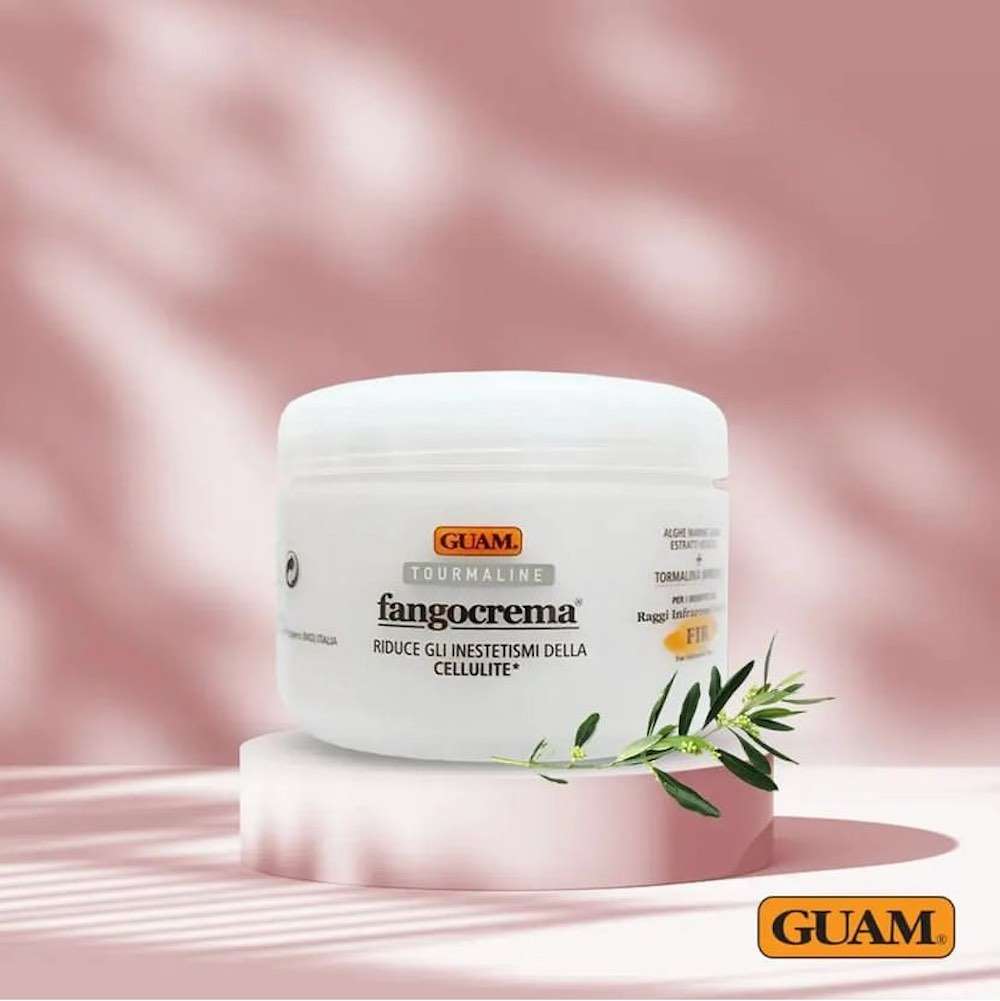 GUAM Fangocreama Tourmaline Heating Anti-Cellulite Cream
Say goodbye to stubborn lumps and bumps with our bestselling Guam Fangocrema Tourmaline, an Original Seaweed Anti-Cellulite Cream.

Rich in Guam Algae, Marine Extracts, and Essential Oils, this innovative, easy-to-use Infrared tightening cream harnesses your natural body heat to revitalize your skin (Far Infrared Rays), stimulate healthy microcirculation, smooth away cellulite on legs, thighs, buttocks and tummy, visibly reshape and slim your body silhouette.
LEARN MORE
GUAM Tummy Tightening Cream for Stomach Cellulite
Transform your mid-section with Pancia e Girovita - Guam Tummy Tightening Cream. Enriched with the power of Black Tourmaline, this infrared tummy tightening cream reduces fat and evens out stubborn
cellulite on the stomach
for radiantly smooth results that you won't be able to resist.
LEARN MORE
How do GUAM Cellulite Creams Work?
As mentioned above, GUAM cellulite creams consist of powerful natural ingredients obtained from marine, botanical, and mineral resources and are combined with cutting-edge technology to form the best dimple-fighting creams available on the market. The creams work on a deeper level to target the connective tissue, subcutaneous fat deposits, and lymphatic wastes that create the dimpling effect on the body. The active forms of natural compounds speed up the elimination of excess fluid and toxins trapped in the tissue, accelerate the metabolism of fat reserves in the tissue, and stimulate the synthesis of collagen. Furthermore, the warming and cooling actions of certain ingredients in the creams improve the functioning of the circulatory system and calm inflammation.


These creams essentially work in two ways.
- Firstly, they reduce and prevent the development of orange peel-like impressions in the body.
- Secondly, they yield the additional benefit of lifting up and slimming down the treated areas of the body.
Therefore, these powerful fast-acting formulas provide a toning and contouring effect that improves the overall shape and silhouette of the legs,
thighs
, buttocks, tummy, arms. You can choose from a range of cellulite creams, including pre-workout cream, night cream, infrared cream with warming action, and cooling cream, depending on your particular needs and preferences.
How to Improve the Results of Your Cellulite Cream?
While cellulite creams are tailored to meet the special needs of cellulite-ridden areas of your body and have the potential to deliver the desired outcomes in the suggested time, you can enhance their effect by making some changes to your lifestyle and daily habits.
Stay Active: You might have heard that one of the major reasons why you can get dimples is because of an inactive lifestyle. If you don't move around much due to the nature of your job or any other factor, allocate some time for daily exercise. Regular exercise is known to reduce the amount of fat in the body and tone up the muscle, which can be helpful for you in getting rid of lumpy complexion. If you can't join a gym, there is no need to worry because you can find innumerable exercises online targeted at reducing uneven skin.
Eat Right: Another thing that can take the effects of your cellulite treatment up a notch is an appropriate diet. There are various foods that have been linked with the development of lumps, such as food with high glycemic index and fat content. Besides avoiding these foods, make sure to add more foods with high amounts of antioxidants, vitamins, minerals, and fatty acids. These compounds can also be useful in speeding up the action of your cellulite cream by encouraging healthier skin and reducing the amount or size of fat cells.
How to use Cellulite Cream?
Those of you who have been trying on different products and treatments to reduce and prevent this skin woe are probably already familiar with what cellulite cream is used for. It is a specialized skincare product that is prepared with the intent to address specific skin concerns that cause the development of fat and connective tissue pockets under the skin, leading to the appearance of a cottage cheese-like texture of the skin.

You have to apply a cellulite cream directly to the problem area, massage it into the skin, and leave it on to allow the constituents to deliver their benefits. These creams are to be used regularly every day for a couple of weeks or months, depending on the duration recommended by the manufacturer, to see visible results. Most creams take 2 to 3 weeks to start showing their effect and relieve skin problems associated with the development and maintenance of dimples on the skin.
Who Can Benefit From Cellulite Creams?
Are you wondering if you need to invest in a cellulite cream or not and whether it will work for your issue or not? Well, basically anyone who has dimpled skin on any area of their body, especially thighs, belly, buttocks, and hips, can improve his skin problem by using these creams. If you're not sure whether you really have dimples or not, try this quick and easy method of making sure. Use your pointer finger and thumb to pinch or squeeze a large part of the affected area of your body.

Do you notice uneven skin that resembles an orange peel? If yes, you're an ideal candidate for using a cellulite cream because these dents are a sign of cellulite. It's recommended to consider starting your cellulite treatment as soon as possible to repair skin damage and prevent further damage that can pave the way for more cellulite or cause the existing lumps to be deeper. If you can't come up with an answer, dermatologists are there to help you on your voyage to finding the right cream.
Final Word
We are all aware of the toll dimpled skin can take on our self-image and confidence. This is why most of us strive to get rid of it through various products and procedures. Cellulite creams are one of the most widely used treatment methods to
decrease the appearance of bumps and lumps on the skin
. Anyone belonging to any age group and having any body type or weight can be affected by bumps and hence can benefit from these creams.
The key to making sure your cellulite creams work for your skin concern is to get your hands on a formula containing premium-quality active ingredients in their potent forms. Cellulite creams with natural bioactive components are your best bet at fighting off this annoying skin woe. Also, know your skin and its specific needs to find out the most suitable fit for yourself. Your cream can be worth your money, time, and effort if chosen carefully. So, invest in the right dimple-reducing cream today and say goodbye to floppy and uneven skin. Just stay consistent and patient to let your dimple-removal cream do its job.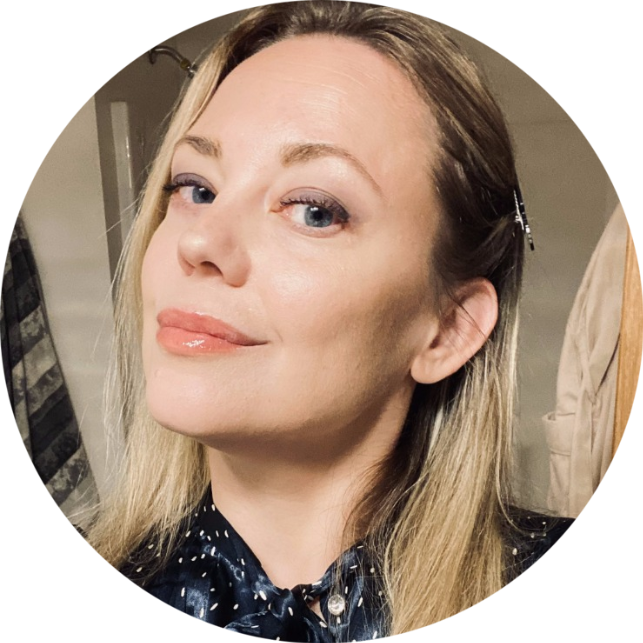 Author of the blog Yana Nesterova
Yana is the writer behind the Guam Beauty blog who firmly believes in the concept that beauty begins in a person's head, not in the mirror. Therefore, she strives to encourage her readers, who are beauty and skincare enthusiasts, to bring mindfulness into their skincare rituals by making more conscious choices. Her philosophy is to enable her readers to salvage mental peace and optimal health by living more mindfully and achieving their skin and body goals through
healthier choices.
Do Cellulite Creams Work? Sale 70% Off