Menopause Skincare for Body and Nutrition: Tips for Healthy Weight Loss
Menopause is a natural and physiological process that marks the end of the reproductive phase in women. It is characterized by a series of hormonal changes that can lead to various symptoms such as hot flashes, mood swings, insomnia, and
weight gain
. During menopause, it is essential to adopt a healthy lifestyle to maintain physical and mental well-being. In particular, nutrition plays a fundamental role in counteracting the effects of hormonal changes and preventing weight gain.
Why do women tend to gain weight during menopause?
One of the crucial problems during menopause is weight gain, especially in the abdominal fat, which can lead to physical and mental health problems. Women no longer see themselves in shape as before and therefore wonder what to do to lose weight again.


During a woman's fertile period, the balance of hormones, especially estrogen and progesterone, is essential to keep the basal metabolism functioning properly. Estrogens also regulate correct intestinal motility.


When menopause occurs, the levels of these hormones decrease, which leads the body to consume fewer calories, resulting in weight gain and a change in the distribution of body fat that concentrates mainly around the waist.


The lack of estrogen also promotes an increase in cortisol, which in turn induces the so-called "nervous hunger" that makes us prefer carbohydrates and sweets. A correct diet during menopause must take into account these fundamental changes. Here are some tips for losing weight during menopause:
How to lose weight during menopause: nutrition tips
We have seen how the decrease in estrogen levels leads to a slowing of metabolism, which has the consequence of weight gain, especially around the waist. Therefore, it is important, once menopause is reached, to pay more attention to what you eat and the type of food you eat.
Specifically, it is better to decrease the consumption of carbohydrates and increase the intake of proteins and good fats, which also have a protective effect on blood pressure and cholesterol. It is also advisable to prefer carbohydrates derived from whole foods, which are rich in fiber and have a lower impact on blood sugar. It is important to reduce the consumption of saturated fats and prefer simple cooking methods, such as steaming or baking, reducing more elaborate ones such as sauces and fried foods.
What diet to follow during menopause?
Prevention is always better than cure, so at the first signs of menopause, it is important to reduce any excess weight through a healthy diet and balanced lifestyle, which includes the right amount of physical activity. Let's see in detail what specialists advise to maintain or recover the ideal weight. Here are some tips:
1. Eat a balanced and varied diet
During menopause, it is essential to follow a balanced and varied diet that includes all the necessary nutrients. In particular, it is important to increase the intake of calcium and vitamin D to prevent osteoporosis, a disease that affects many women after menopause.
Foods rich in calcium include dairy products, leafy green vegetables, and nuts, while vitamin D can be obtained from exposure to sunlight, oily fish, and eggs. It is also important to limit the consumption of foods high in fat, sugar, and salt, as they can increase the risk of cardiovascular disease and diabetes.
2. Increase physical activity
Physical activity is essential for maintaining good health and preventing weight gain during menopause. Regular exercise can help improve mood, reduce hot flashes, and prevent bone loss. It is recommended to do at least 30 minutes of moderate-intensity exercise, such as brisk walking or cycling, every day.
Strength training is also important for maintaining muscle mass, which can decrease during menopause. Exercises that involve weights or resistance bands can help strengthen the muscles and bones.
3. Stay hydrated
Drinking plenty of water is essential for maintaining good health and preventing weight gain during menopause. Water helps to keep the body hydrated and can also help to reduce hot flashes.


The Mediterranean diet is once again ideal: rich in vegetables, fruits, whole grains, legumes, and extra-virgin olive oil. However, it is necessary to avoid salt, which can cause water retention that contributes to weight gain. There are also foods that cause bloating which, in addition to being annoying and sometimes painful, contribute to the perception of a greater weight gain.
Foods that cause belly bloating during menopause
Menopause can bring many changes to a woman's body, including an increased risk of belly bloating. As hormone levels fluctuate, it can lead to a buildup of gas and other digestive issues that can cause discomfort and bloating in the abdominal area. In addition, changes in metabolism and lifestyle factors can also contribute to belly bloating during menopause.
Here are some common foods that may cause belly bloating during menopause:


Carbonated drinks: Carbonated drinks like soda, sparkling water, and beer can introduce excess gas into the digestive system, leading to bloating.
Cruciferous vegetables: Vegetables like broccoli, cauliflower, and cabbage are high in fiber and healthy nutrients, but they can also be hard to digest and lead to gas and bloating.
Legumes: Beans, lentils, and chickpeas are another source of fiber and protein, but they can also cause gas and bloating, especially if they're not cooked properly.
Dairy products: Some women may become lactose intolerant during menopause, which can lead to digestive issues and bloating after consuming dairy products like milk, cheese, and yogurt.
Fatty foods: High-fat foods like fried foods, processed meats, and creamy sauces can be difficult to digest, leading to bloating and discomfort.
Artificial sweeteners: Some artificial sweeteners like sorbitol and xylitol can cause bloating and digestive issues, so it's important to read labels and be mindful of your intake.
To
reduce belly
bloating during menopause, it's important to stay hydrated, exercise regularly, and eat a well-balanced diet that's rich in whole, unprocessed foods. It may also be helpful to keep a food diary and track how certain foods make you feel, so you can identify potential triggers and adjust your diet accordingly.
Menopause Skincare Products: Extra help from nature
In addition to following a good diet and doing targeted exercises, it is possible to slim down during menopause with the support of some specific products.
Menopause can bring a number of changes to a woman's body, including changes in skin health. Specifically, menopausal women may experience localized fat deposits, which can be difficult to target with traditional weight loss methods. Fortunately, there are menopause skincare products available that can help to reduce these fat deposits and improve skin health.
One of the best skincare for menopausal skin products available is the
GUAM DUO Menopause, Slimming and Firming cream
. This cream acts on localized fat deposits typical of menopausal women, helping to streamline and firm up the skin, particularly in areas such as the thighs, stomach, and buttocks. It contains Guam Algae, including Corallina officinalis and Filacanta fibrosa, as well as trace elements from Noirmoutier marine spring water. These ingredients work together to provide a high lipolytic effect against the localized fat deposits typical of menopausal women. In addition, the cream also contains Glycosaminoglycans (GAGs) which are essential for good skin trophism.
For those with dry menopausal skin, it is important to choose the best lotion for menopausal dry skin. Look for products that contain natural ingredients, such as coconut oil or shea butter, as well as ingredients that can help to hydrate and plump the skin, such as hyaluronic acid. Some of the best natural skincare for menopause include products from brands like CeraVe, La Roche-Posay, and Neutrogena. It is also important to remember to use a body lotion for menopausal skin daily, paying particular attention to dry areas such as the arms and legs. With the right skincare routine, women can improve the health and appearance of their post-menopausal skin.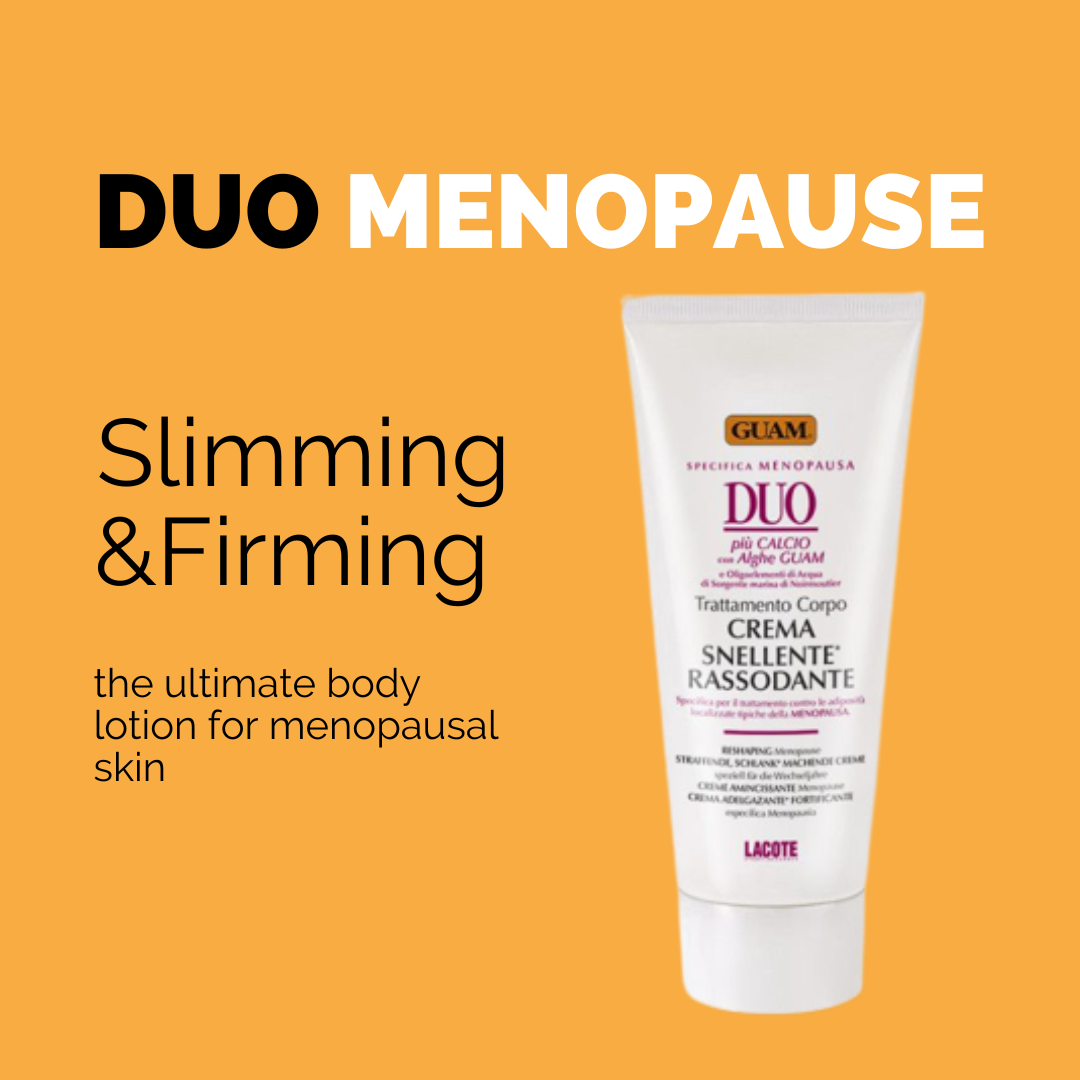 GUAM DUO Slimming & Firming cream for Menopause
This body lotion for menopausal skin acts on localized fat deposits typical of menopausal women. It helps to slim and firm the skin, reducing localized fat deposits, especially on thighs, belly and buttocks.

Cream benefits:
Reduces localized fat deposits
Helps to slim and firm the skin
Enriched with Alghe Guam and oligoelements from Noirmoutier's sea spring water
Lipolytic effect against the toughest fat deposits typical of menopausal women
Protects the skin against environmental pollution
SHOP HERE
Exercises to eliminate abdominal fat during menopause
In addition to following a healthy and balanced diet, it is important to stay active to counteract weight gain during menopause. It is also important to do physical exercises that aim to prevent the risk of cardiovascular diseases and the loss of muscle tone, which is very common when entering menopause.
Having toned muscles increases metabolism and helps prevent the loss of mass, making us feel more fit. So go ahead with activities that burn fat while toning the entire body in a functional way, such as Pilates, swimming, and brisk walking. These will allow you to burn fat and have a good calorie expenditure, while at the same time toning the muscles.
SOURCES:

Plaster body wrap: effects on abdominal fat
https://pubmed.ncbi.nlm.nih.gov/28664067/

Sauna-Induced Body Mass Loss in Young Sedentary Women and Men
https://www.ncbi.nlm.nih.gov/pmc/articles/PMC4295591/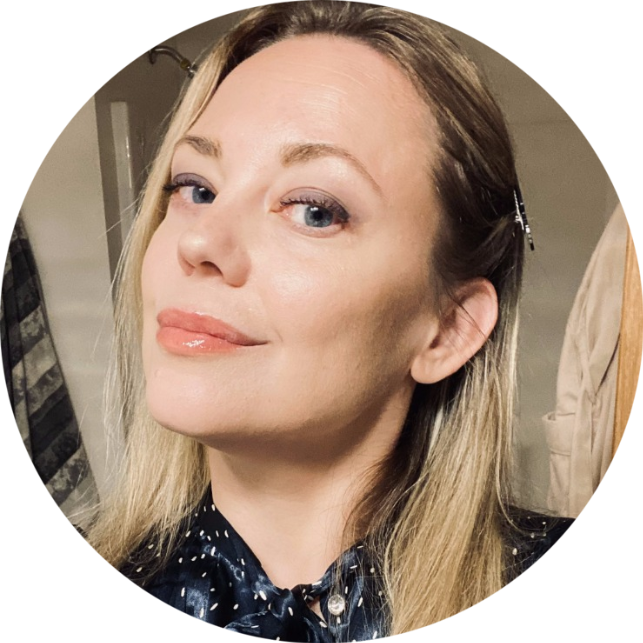 Author of the blog Yana Nesterova
Yana is the writer behind the Guam Beauty blog who firmly believes in the concept that beauty begins in a person's head, not in the mirror. Therefore, she strives to encourage her readers, who are beauty and skincare enthusiasts, to bring mindfulness into their skincare rituals by making more conscious choices. Her philosophy is to enable her readers to salvage mental peace and optimal health by living more mindfully and achieving their skin and body goals through
healthier choices.
Menopause Skincare for Body and Nutrition: Tips for Healthy Weight Loss Sale 70% Off